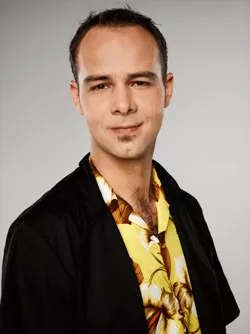 As one of 12 contestants on Bravo's new program "Around the World in 80 Plates," which begins airing May 9 at 10 p.m., Nick Lacasse can be seen traveling to cities around the globe and running a gauntlet of international culinary challenges. The native of Burlington's New North End says his New England Culinary Institute training prepared him well for the experience. "Working under a chef like [NECI's original executive chef, Michel ] LeBorgne or [chef-instructor] André Burnier, when I was in France, [even though] I don't speak a word of French, I knew you could get by as long as you say it with a French accent," he jokes.
When he isn't on camera, Lacasse, 33, is executive chef at the Drawing Room in Chicago, where the style of his cuisine wouldn't be out of place back home in Vermont. Seasonality and creativity are paramount for him, says Lacasse. Those values show in his dishes, such as spring-lamb breast with caramelized rhubarb, roasted asparagus and mint coulis.
Before NECI, Lacasse got his start as a dishwasher at the now-defunct Dockside Restaurant. After that, he put in four years at the Daily Planet supporting chef Ty Formel, now of Junior's Italian in Colchester. Lacasse bounced between kitchens in Burlington and Seattle before landing at NECI. While in culinary school, he interned at Hugo's in Portland, Maine, with James Beard Foundation award-winning chef Rob Evans; and staged at celebrated New York restaurants Tabla and Aureole. From the chefs at those three establishments, says Lacasse, he learned "endless creativity and respect for the product."
Lacasse admits he generally returns to Burlington only "for weddings and funerals," but this summer he does plan to hit the Queen City for a visit. His must-eat list includes Bove's (where he'll order his usual antipasto salad with extra salami) and the brand-new Misery Loves Co. food truck owned by his lifelong pals Aaron Josinsky and Laura Wade. Get your autograph pens ready.