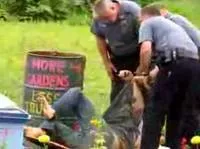 BRATTLEBORO — Maybe it was the chili peppers they were planting, or just the hot, humid weather that sent tempers flaring. Either way, Brattleboro Police brought down the heat last week on two protesters who were illegally gardening on private property and refused to obey a police order to leave. Now the heat is on the cops for allegedly using electronic stun guns repeatedly on the green-thumbed guerillas, in an effort to force them to unchain themselves from a barrel.
Brattleboro Police Chief John Martin told Seven Days last week that he has launched an internal investigation to determine whether the officers' use of Tasers on two unarmed and nonviolent protesters was appropriate and consistent with the department's use-of-force policies. Martin declined further comment on the specifics of the case. On Saturday, the town selectboard ordered the police department to stop using Tasers until stun-gun policies and procedures can be reviewed.
On July 24, Jonathan "Slugger" Crowell, 32, and his girlfriend, Samantha Kilmurray, 32, both of Dummerston, were arrested and charged with trespassing after the couple spent a night on a vacant lot on Putney Road, not far from exit 3 on Interstate 89. Crowell and Kilmurray were among some 20 activists who planned to stage a three-day vigil or "occupation" of the property. They were protesting the landowner's intention to build a truck stop and convenience store on the property, which until recently was the site of a defunct bowling alley.
According to Crowell, the group wanted to "transform the vacant lot into something the community could actually benefit from," such as a community garden, playground or low-income housing project. Armed with gardening tools and dozens of plants, including tree saplings, flowers, tomatoes, basil and peppers, the protesters arrived on July 23 and began tilling the soil and planting.
The protesters weren't blocking traffic, impeding construction or preventing access to the land — plans for the truck stop and convenience store haven't gone through the permitting process yet. Still, the landowner asked the police to evict the demonstrators. Crowell and Kilmurray refused to leave and locked their arms with carabiners inside a metal barrel in an act of civil disobedience.
"The police surprised us at 7 a.m. the next day and immediately began intimidating us and threatening us with Tasers," Crowell said. "We kept saying, 'There are other ways!'"
Shortly thereafter, Crowell claims, he was shocked "five or six times" with a Taser; Kilmurray was shocked twice before the couple agreed to unlock themselves and be arrested. Both suffered minor burns on their arms from the incident, Crowell adds, though neither required medical treatment. They were charged and released on their own recognizance under the condition they not return to the property.
"Basically, I didn't want to subject myself anymore to what I thought was torture," Crowell added. "Five seconds of having this charge go through your body is a long time. It's really scary and throws your electrical system totally out of whack."
Tasers are hand-held weapons that deliver a painful, 50,000-volt electrical shock that momentarily disables a subject's neuromuscular controls. Marketed as "less-than-lethal" weapons that cause no lasting injuries, they have become a weapon of choice among police, corrections officers and even military units. The manufacturer — Taser International of Scottsdale, Arizona — claims that more than 11,000 law enforcement agencies, including more than a dozen in Vermont, now use some form of the technology.
Proponents of Tasers and similar electro-stun devices claim they're a safer alternative to conventional weapons such as batons, mace and pepper spray. Police who use them say they're especially effective when used against subjects who are armed, delusional and/or under the influence of drugs or alcohol. Departments that deploy them report fewer and less severe injuries to officers, suspects and innocent bystanders. The usual alternatives to Tasers — pepper spray, mace or other chemical irritants — can occasion medical assistance or time-consuming decontamination.
The Burlington Police Department, which began issuing Tasers to its officers in May 2006, now has nearly 50. The police forces of the University of Vermont, the airport and South Burlington also carry them. According to Burlington Deputy Chief Walt Decker, since their deployment, "Not one hour of lost officer time has occurred involving an officer injury from struggling with a combative subject."
Chief Martin at the Brattleboro P.D. reports a similar success rate. "The injury to officers and the injury to suspects is almost nonexistent compared to years ago when both were frequently injured," he said.
One irony of last week's incident is that the Brattleboro P.D. started carrying Tasers in response to criticism it received after the shooting death of an armed and emotionally disturbed suspect nearly six years ago. On December 2, 2001, Robert "Woody" Woodward was killed by two Brattleboro cops after he entered the All Souls Unitarian Universalist Church in Brattleboro, brandished a knife and threatened to kill himself. Following strong public condemnations of the officers' handling of that incident, several Tasers were donated to the department.
But despite Tasers' popularity in the law enforcement community, the weapons still evoke criticism from human rights and civil liberties groups, which say they are prone to misuse and more dangerous than the company advertises. In 2004, Amnesty International published a detailed report on Taser use and abuse [see PDF document]. It claims that since 2001, at least 70 people in the United States and Canada have died after being "tased." While some of those deaths had complicating factors, such as underlying heart conditions and drug intoxication, others appear to have been the direct consequence of repeated Taser use — not unlike what happened in Brattleboro last week.
Vermont law is largely silent on the training and use of electro-stun guns by police. Generally speaking, departments write their own protocols and conduct their own training for the appropriate use of Tasers.
The Brattleboro Police Department's use-of-force protocol includes Tasers as one of several non-lethal options that can be used at officers' discretion, including chemical irritants, batons and bean-bag guns. However, as Martin points out, "There are so many variables that you can't sit there and draw a matrix of when it can or can't be used."
That's part of the problem, notes Allen Gilbert, executive director of the Vermont American Civil Liberties Union. Gilbert believes Tasers should only be used in situations that would otherwise require lethal force. He's critical of Vermont's lack of statewide standards for training cops, as well as of standardized requirements for logging Tasers' use and reviewing their deployment.
The Brattleboro P.D. does log every time a Taser is "used" — meaning any time an officer displays the weapon, regardless of whether it's fired — and the department conducts a review of the use of all weapons, Martin notes. Brattleboro cops "use" Tasers about once per month, he added, a rate similar to that reported by Burlington police.
But Gilbert doubts Tasers are as safe as the company claims, citing the number of deaths associated with their use and the growing number of lawsuits against municipalities where police carry them. He points to a $10,000 judgment awarded last year to two men in St. Johnsbury, who won an excessive-force case against police. Other municipalities could face similar or even higher liabilities from the use of Tasers if the weapons aren't regulated statewide.
The legal issues could become still more complicated since Taser International released a less expensive, consumer model that's specifically marketed to women as a defensive weapon. The "C2" model, which sells for $350, comes in a variety of colors and is small enough to be carried in a purse.
Part of last week's incident was captured on videotape and posted on YouTube (see vidoe), showing Crowell getting "tased." Gilbert says he isn't sure why police resorted to such extreme measures when the protesters were nonviolent and not a threat to themselves or others.
"You see four officers standing over this guy chained to a barrel and say, 'There's something wrong with this picture,'" Gilbert says. "It's just bizarre to think that they had to bring out the stun gun and shoot the guy at point-blank range."