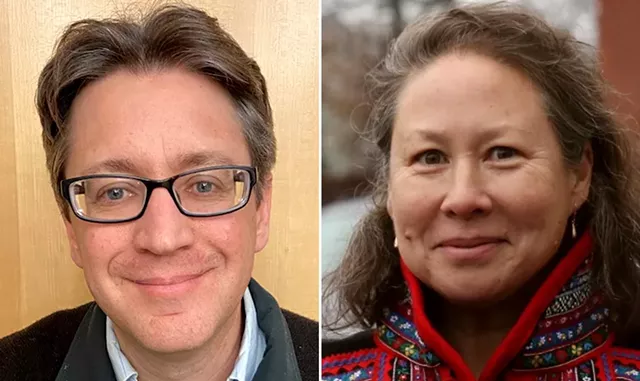 Left: Courtesy photo; Right: Courtney Lamdin (file)
Tim Doherty (left) and Maea Brandt
Newly elected Burlington City Councilor Maea Brandt (D-East District) will not run for reelection after all.
Brandt, who won her party's nomination in a caucus last month, will serve out the rest of her term, which ends in April, but won't appear on the Town Meeting Day ballot. Instead, political newcomer Tim Doherty will run as the Dems' pick in the East District. He'll face Progressive candidate Jake Schumann.
Doherty, an attorney with Downs Rachlin Martin, was nominated by the Burlington Democratic Party on Wednesday afternoon. Brandt will serve as Doherty's campaign treasurer.
"I believe [Doherty] is the best candidate to serve as the East District City Councilor," Brandt said in a statement. "He is a person I admire and trust, and I urge my constituents to rally behind him."
Brandt was elected in a December 6 special election, which was called after former Progressive councilor Jack Hanson
resigned
to apply for a job in city government. Brandt's decisive victory over her Progressive opponent gave the Democrats a plurality on the council — and momentum heading into the March elections.
The East District seat and the three other geographical "district" spots are all up for election on Town Meeting Day. The Ward 8 seat is also up for election due to the resignation of former councilor Ali House.
Seven Days
during her first campaign that she'd consider running in March if she won in December. "But it depends on the voters," she added. "I have to be sensitive to the constituents' needs and desires."
In a joint interview with Doherty on Wednesday, Brandt said there's no particular reason she's not running. Rather, Brandt explained how she had to make big decisions quickly: The deadline to inform the party of her intention to run in March was on December 5 — the day
before
the special election she'd go on to win.
Brandt said she was pleased when Doherty told her after the caucus that he was interested in running.
"It would have been a lot, along with the learning curve of the position, but I was perfectly willing [to run again]," Brandt said. "But when I found out that Tim was willing — I think he's gonna be the ideal candidate."
Brandt has known Doherty for many years, and their children both attended the Integrated Arts Academy. Doherty, a former assistant U.S. attorney and middle school principal, now works as a lawyer specializing in white-collar criminal defense, class action lawsuits and civil litigation, according to his profile on his law firm's website.
He also promises to listen.
"I really look forward to really engaging directly with our community in the East District and being a really, really good, active councilperson," Doherty said. "An important part of the job is responsiveness and attention to the folks in our area."
Unlike his opponent Schumann, Doherty doesn't support a
ballot measure
that would create an independent police oversight board. Doherty says he wants an adequately-staffed police force that treats people fairly and that is accountable to the community. "I do not believe the ballot initiative is the right tool to accomplish those goals," he said.
The item is expected to be a divisive issue in Town Meeting Day elections. Mayor Miro Weinberger, a Democrat, is urging voters to vote it down; Progressives have championed the cause.
Seven Days
reported on Tuesday that the lucrative side gig at the River Watch condos gives one neighborhood enhanced police service while residents elsewhere in the city have complained that officers are slow to respond.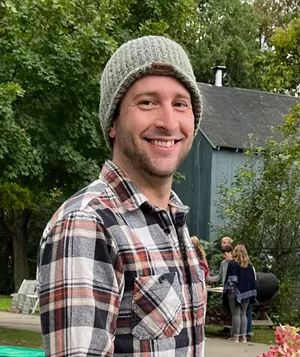 Courtesy
Jake Schumann
Schumann, a River Watch resident interviewed for the story, said he thinks the arrangement raises ethical issues. Doherty agreed that all areas of the city should be policed equally and said the solution is hiring more officers.
"Ultimately, there would be no need for this private contract because then there would be ample policing in the city," he said. "No matter if you have a private contract, people want public safety, and we need it."
Schumann agrees.
"If we give private contracts to the police association ... because we have inadequate policing citywide, it creates a snake eating its own tail situation," he said on Wednesday evening. "We need enough police to police the entire city."
The East District seat is one of four contested races this March. Independent candidates with no party affiliation have until January 30 to file petitions to get on the ballot.