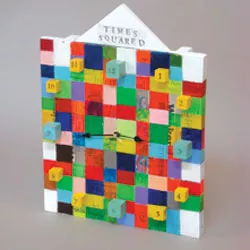 After the boxes, the stars and the sunflowers, time's up in Brandon.
Which is a way of saying that clocks will be the theme of this summer's Brandon Artists' Guild exhibit. It's the ninth in a series that started in 2003 with Plexiglas pigs decorated by local artists and, in recent years, has featured creations responding to the cues of "Thinking Outside the Box," "Starring Brandon" and "Sunflower Power 2010."
Clocks became the latest choice because "they're something practical for people's homes and something fun for artists to enhance," explains nationally popular folk artist Warren Kimble, 76, the catalytic force behind the guild and its annual art spectacle.
Kimble's contribution to this year's show, "Country Cupboard Clock" is actually doubly functional. Not only does it tell the time, its painted front panel, showing a very tall tree alongside a teensy barn, opens to reveal three storage shelves. Kimble calls it a "grandmother's clock" because the 4-and-a-half-foot timepiece is shorter than a grandfather clock.
The organizers of the show, titled "Art Makes Brandon Tick," clearly couldn't resist time-related puns, nor could a few of the artists who have clocked in.
In Sandy Mayo's "Times Squared," for example, the numbers of the hours are inscribed on blocks that protrude from a multicolored checkerboard surface. And a swaying slab of cherry wood with a small clock embedded near its top is titled — you guessed it — "Time Warp."
Rick Haver, who made that piece, also assembled the clocks used in all 20 of the creations on display. The Shoreham resident, a furniture maker by trade, says he joined the Brandon guild because of its social dimension. "They really do connect with the community," Haver observes.
Liza Myers has reprised the sunflowers-at-night composition that caused controversy during last summer's show. She caught flak from Brandon zoning officials who regarded the 16-by-4-foot sunflower painting hung on the outside wall of her downtown gallery as a sign rather than a work of art. As such, it exceeded the town's limit on the size of commercial signage.
Myers' "Moontime Sunflowers" clock isn't likely to irk anyone. It's smaller than Kimble's clock and is less showy than several of the other pieces that will fill the guild's gallery.
"Art Makes Brandon Tick" opens with a reception this Friday, May 27, in conjunction with the statewide Open Studio Weekend. All the clocks will be auctioned on October 8 as a fundraiser for local schools and the town-hall renovation.