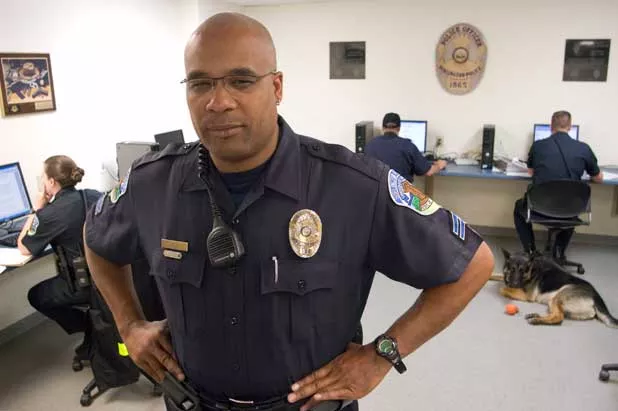 Matthew Thorsen
Detective Ray Nails
While the Burlington Police Department has succeeded in recent years in becoming less male dominated, diversifying the force along racial lines has proved a tougher challenge. Of 94 uniformed and plainclothes cops now on duty or in training, 17 are female, two are black and one is Asian. Both the gender and race ratios fall short of the city's overall makeup — 51 percent female and about 10 percent nonwhite.
Police Chief Mike Schirling and leaders of Burlington's minority communities agree that stronger efforts must be made to increase the proportion of African American, Asian American and Latino officers as the city takes on a multiracial complexion. "We believe it is important to be a reflection of the community we serve," Schirling says.
The heavily white makeup of the BPD makes it difficult to dispel longstanding suspicions among blacks with regard to police attitudes, notes Allen Robinson, an African American Vermonter from Staten Island who established the Old North End's Imani Youth and Family Center. "For young people of color who may be considering a career in law enforcement, there might be some hesitancy to sign up because they feel they won't be welcome," Robinson says.
Ray Nails, a black detective, adds that African American potential recruits probably share some of the "misconceptions" he harbored prior to joining the BPD. A native of Chicago, Nails says he had never even heard of Burlington until his brother married a woman from Colchester in 1988. Nails met the woman's sister at the wedding reception downtown and was smitten enough to enroll in Champlain College after completing a stint in the Marine Corps in 1990. He married her in 1992 and joined the BPD a year later.
To an urban African American such as himself, Burlington might appear to be "a very slow-moving town, kind of rural, with no good food and not a lot of diversity," Nails suggests. In reality, however, living in Chittenden County has been "a great experience," he says. "I've got nothing bad to say about it. This has been a good place to work and raise kids."
Even so, Nails is considering leaving Burlington for a bigger, more ethnically varied city. Interviewed by phone on July 4 while attending a family reunion in Chicago, Nails said he'd like his 8-year-old son to experience on a daily basis the racial heterogeneity the boy glimpsed over the holiday weekend.
BPD recruiters have to go to cities like Chicago, Nails says. He thinks they'd find young African Americans there who are amenable, as he once was. Nails became intrigued with cops while working as a 15-year-old in a 24-hour convenience store patronized by police on the night shift. "I saw the camaraderie, felt the twinge of potential danger, realized that in their jobs no two days are the same."
The BPD did send representatives to a recent job fair in Washington, D.C., notes John Federico, the BPD's recruitment officer. He says prospective candidates tend to view Burlington as "far and cold."
While persuading African Americans and Asian Americans to join the BPD may present unique challenges, "It's difficult to attract police officers, period," Nails points out. Statistics, nationally and locally, confirm his claim. Of the 300 applications the BPD received last year, only seven qualified for the 33-week training course. That 2.5 percent rate is actually well above average, Chief Schirling says. "Typically it's 1 or 1.5 percent," he notes.
The BPD is authorized to be 100-strong, including uniformed and plainclothes officers. It's currently 14 cops short — which is about how it's been for the past several years, according to Federico, a 17-year-veteran. Seven trainees are due to get their badges in September, which will still leave another seven positions vacant. The staffing deficit means "we'll clock a lot of overtime" during the Quad celebrations this week and next, Federico notes.
The recession is producing a larger pool of candidates, Federico says, citing the job security and "pretty competitive pay" that comes with a career in the BPD. Starting salary for someone with no police experience is currently set at $41,000 a year, along with a $2000 hiring bonus and the prospect of stipends for college tuition. But someone who has already earned a bachelor's or associate's degree may not find that salary so attractive, Nails observes. "If you've got $100,000 in loans, it's not that great a deal," he says.
A job with the BPD also entails work on holidays, overtime shifts owing to understaffing, and an element of danger.
Last month My Nguyen, a Vietnamese American officer, was attacked by another member of the local Vietnamese community who allegedly tried to gouge out the officer's eyes. Nguyen was unavailable for comment about his experiences with the department.
Dwayne Mellis, a native of Jamaica and a UVM graduate who joined the force a month ago, also did not reply to a request for an interview.
Federico likens his recruitment efforts to running on a treadmill. A Burlington police officer is eligible to retire on a partial pension after 20 years' service and on full pension after 25. That means the force loses a few cops every year, making it all the more difficult to attain full strength.
Consequently, the BPD has had to be more innovative in getting candidates into uniform and out on the streets. "We do a lot to help qualified applicants prepare for the exam," Schirling says, referring to a physical training program that the department has recently instituted at its headquarters on North Avenue. Out-of-shape recruits are scheduled for sessions with personal trainers in hopes of enabling them to meet weight and endurance criteria. The department has also enrolled a Latino candidate in an English-as-a-second-language course with the aim of helping him pass a proficiency test, Schirling notes.
The department is under no affirmative-action hiring mandates from the city, state or federal governments. But it did participate about five years ago in a federally funded program aimed at encouraging applications from racial minorities — with only "lackluster" results, Schirling reports. This "Hiring in the Spirit of Service" initiative proved disappointing "primarily because of external factors and challenges, not because the folks running that effort did not come up with creative ways to reach candidates," the chief recounts. "In essence, there are so many things pulling qualified candidates away from law enforcement that it is difficult to put together any effort robust enough to pull them in the other direction."
One BPD strategy is to showcase nontraditional officers in hopes it will prompt more members of targeted groups to seek police jobs. Schirling says it's no accident that the department chose a female public information officer. "Women see her on TV and may think they can also become cops," he says.
Nails doesn't think much of this approach, however. "I don't believe people are naïve enough to see a woman spokesperson and think, She's a woman, I'm a woman, I should be a cop, too," he says. Or maybe that approach does work. The number of women in the BPD currently exceeds the national average.
Achieving a critical mass of black police personnel might help in recruiting more African Americans, Nails allows. "But you don't get there by relying on the Internet," he cautions. "You go out to where people are, you talk to them, you answer their questions, you explain to them why working here would be a good choice."