James Buck
Lucas, 4, digging deep for some free GoGo squeeZ apple sauce
For many young Vermonters, school isn't just where they learn — it's where they eat. And with schools closed due to the spread of the novel coronavirus, many students and families have to find another source of nourishment.

In Burlington's Old North End, families are turning to the Boys & Girls Club of Burlington. The nonprofit typically provides a variety of afterschool programs and summer camps, serving 250 kids a day. Now that their doors are closed because of the coronavirus, "we're really focused on food," said executive director Tanya Benosky.
From 9:30 to 11 a.m. on Mondays, Wednesdays and Fridays, she and her staff work in conjunction with the Burlington School District to serve free grab-and-go breakfast and lunch items and other food in Roosevelt Park, across the street from their main Clubhouse.
To fund these essential services, the organization also relies on support from local restaurants, retailers and other enterprises. "Local businesses mean everything to us," Benosky said. "Our work literally could not exist without support from the community."
'Always Willing to Help'
James Buck
Tanya Benosky handing out food to kids in the Old North End's Roosevelt Park
Some business owners are the Club's closest friends, like Jeffrey Myers of
Myers Container Service
. "He's always on the other end of the phone, always willing to help," Benosky said. Other leaders from local banks, manufacturing businesses, insurance companies and real estate agencies serve on the organization's board.
Many offer financial support. The COVID-19 outbreak forced the cancellation of the organization's largest annual fundraiser — the Derby Gala scheduled for May 2, which usually raises $140,000 for the club's summer programs. Benosky noted that not a single one of the corporate sponsors has asked for their money back. "This shows incredible heart and incredible generosity at a time when we need it," she said.
On March 20, the club received several cases of prepackaged items like Goldfish crackers and pretzels from the staff of the Spirit of Ethan Allen. "They delivered 3,000 snacks to us!" Benosky exclaimed. "Isn't that amazing?"
Reflecting on these contributions, she said, "In times like this, it becomes extra clear that having jobs and offering jobs, is really the end all and be all of making a community work."
'Our Friends Are Hurting'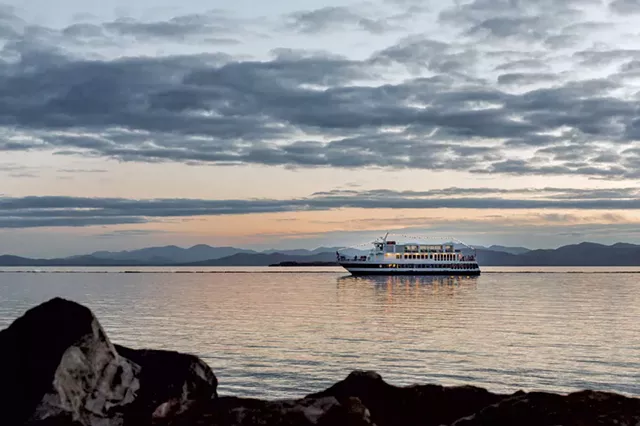 Courtesy Of spirit Of Ethan Allen
Spirit of Ethan Allen III sunset cruise
The pandemic has disrupted that economic ecosystem. The Spirit of Ethan Allen III, for example, is sailing into serious headwinds.
In a phone interview, marketing director Kristin Bogovich pointed out that the family-owned cruise ship company operates a tourist attraction, a restaurant and a venue for weddings and corporate gatherings. "We're hit in all three of those areas," she said. She's already seeing summer wedding cancellations.
And the company will have to adjust its recruitment efforts: College students have gone home, and seasonal foreign workers may not be able to enter the country due to COVID-19-related travel restrictions. The company's head chef is in Vermont on a work visa; in the winters he works for Sugarbush Resort. When Sugarbush closed early because of the coronavirus, Bogovich and her colleagues started scrambling to find a way to employ him during what remains of their off-season, so he wouldn't have to leave the country.
"Our first thought was, Why don't we make food?" she said. So she put out a call on Facebook: "We are currently seeking programs where we can donate a warm meal for children who are potentially displaced from receiving school meals. We have a wonderful chef with international accolades who is ready to prepare something special for children who may need us during this pandemic."
That's how Bogovich connected with the Boys & Girls Club. Instead of a warm meal, the group requested prepackaged snacks. "They specifically asked for those things," said Bogovich, "so we gave them everything they asked for."
She took photos of the snack delivery and posted them on Facebook with an uplifting message: "Our industry is hurting. Our friends are hurting. Our families are hurting. We felt an immense need to do something to make the community start healing for just a moment. Pass it on, friends, and share all the good you can to keep your 'spirit' high!"
The company's Facebook fans appreciated the gesture. "This is what the world needs more of!" one man wrote. "Thank you!"
Said the Boys & Girls Club: "Thanks to the amazing team from the Spirit of Ethan Allen III we have an abundance of snacks to supplement our Roosevelt Park food distribution. Such a wonderful example of our community coming together. We are so grateful for your support."

How can you help local businesses?
Restaurants, retailers and other businesses play a vital role in our community, and right now, they're struggling. It's time to #SaveLocalVT.
Order from a local restaurant. Find Vermont restaurants offering takeout, delivery and curbside service at Seven Days' new directory: goodtogovermont.com.
Buy a gift card or season pass. For example, to support the Spirit of Ethan Allen III, you can order a gift card or a 2020 Season Passport. Paying for services in advance will help them stay afloat.
Shop local online. Some Vermont retailers are still fulfilling orders through their websites and even offering discounts on in-state delivery.
Call a local store to get the latest info. Don't just rely on online information or social media — pick up the phone. During the coronavirus chaos, many small businesses don't have time to update their websites.
Pay a little extra to support a local retailer. Consider it an investment in your community. Think you found a better deal on Amazon? Ask yourself: When was the last time Amazon donated to local charities or sponsored local events?

---
What are you doing to break the Amazon habit?
Share your story about buying local on social media with the hashtag #SaveLocalVT or fill out the form below. You'll be entered to win a gift card to a local restaurant or store — extra credit for creativity! Dazzle us, and we'll publish your contributions to inspire your neighbors.
This article was commissioned and paid for by Pomerleau Real Estate.