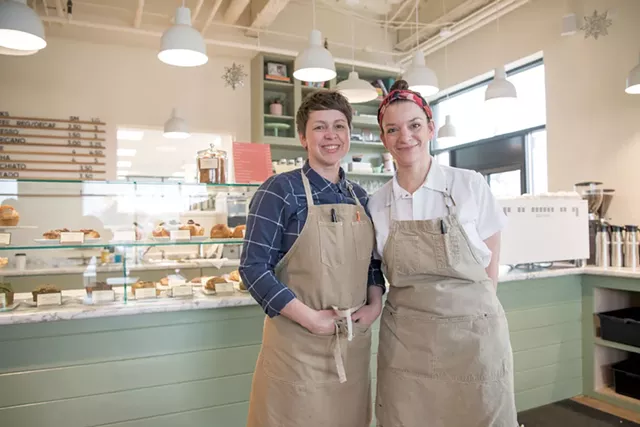 Daria Bishop
Owners MK (left) and Stacey Daley
After a busy first three months, Boxcar Bakery owners MK and Stacey Daley thought the first week of January would be slow. They were wrong. Apparently, their customers echoed the thinking behind our Bakery Month series: More pastries, please. And cakes. And flourless chocolate mousse-cake-pie-tortes. (I'll explain that one later.)
The Daley sisters-in-law opened their bright retail bakery and café in a window-filled corner of Essex Junction's new Park Street Apartments building in October. Since then, Boxcar has drawn dedicated regulars who stop in all day long — for morning croissants and coffees, afterschool cookies, or take-home treats.
"The community has been amazing," Stacey said. "We don't know what they did before. But they love us, and it's an honor to be part of their daily lives."
During my visits on consecutive Monday mornings, MK and the friendly front-of-house staff took several orders for "the usual," though usually with an extra slice of cake from the new winter menu or a bonus peanut-butter-cup cookie.
Daria Bishop
Ham-and-cheese croissants speared with cornichons
As a new customer, I was wowed by the showy Boston cream croissant cups ($5); the long, delicate cinnamon twists ($3.25); and the plump ham-and-cheese croissants ($5.25). The latter are speared with tiny cornichons and easily the cutest croissants I've ever seen. I left covered in flaky crumbs, as one should when eating a well-made croissant. The ham and cheese — an early hit, Stacey said — offered a hearty smear of whole-grain mustard as a hidden surprise.
While Stacey, 47, now lives in Essex Junction, the cinnamon twist is a nod to her southern Vermont hometown. She grew up eating a puff-pastry version from Chester's now-closed Baba à Louis Bakery.
MK, 45, is originally from Milton and now lives in Richmond. "We love our Vermont roots," she said.
That shows in Boxcar's ingredients, which include King Arthur Baking flour, Cabot Creamery butter, produce from local farms, Vermont Artisan Coffee & Tea, and maple syrup from family friends at Templeton Farm in East Montpelier. The bakery also gives back, collecting donations for the Essex High School food drive and donating leftover pastries to Aunt Dot's Place, a food shelf in Essex.
A fully staffed team of 10 helps Stacey and MK keep Boxcar running, from creating new drinks (try the peppermint matcha) to designing the cake menu. Thanks to their input and skills, Boxcar is now open every day except Tuesday, from 7 a.m. to 5 p.m.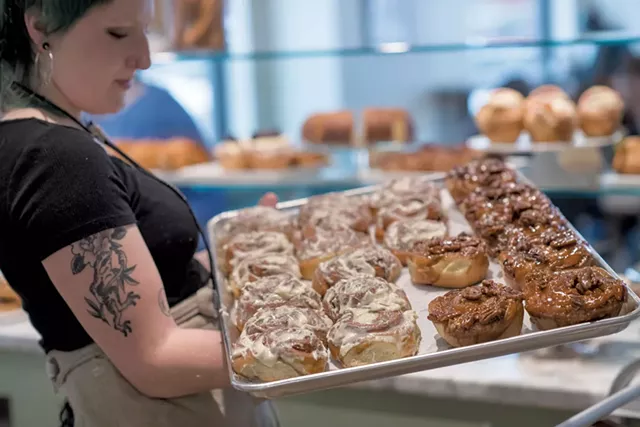 Daria Bishop
Sara Casper holding a tray of maple-pecan sticky buns and cinnamon rolls with cream cheese frosting
The Daleys are restaurant industry pros with complementary specialties: MK runs the front of house, and Stacey runs the kitchen. They previously worked together at Guild Tavern in South Burlington and Sweet Simone's in Richmond. While technically sisters-in-law (Stacey married MK's brother), they've known each other for 25 years.
"If she thinks I need a snack, she'll tell me I need a snack," MK said. "With that depth of friendship and sisterhood, I can tell when she needs a snack, too."
Stacey is a "chocolate-chip-cookie-for-dessert person," she said; Boxcar's version is a little salty and doesn't have too much chocolate, just how she likes it. MK's current favorite is the chocolate-mousse torte — she recently brought home two slices to share with her wife and promptly ate both.
"That's my hot ticket right now, but I can't seem to get the name," MK said with a laugh. "I ask customers, 'Have you tried our flourless chocolate mousse-cake-pie-torte?' Then I just point them to it."
Whatever it's called, I'll have two, too.