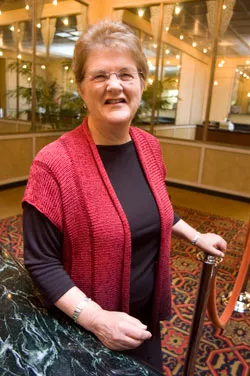 Matthew Thorsen
Andrea Rogers
The "Flynn Block" on Burlington's Main Street was all lit up last Saturday night. Two illuminated marquees announced the night's performing arts offerings: On the MainStage, the area's most successful theater company, Vermont Stage, was celebrating its 10-year residence at the Flynn — a dramatic departure, since VSC usually operates out of the more intimate FlynnSpace. But its MainStage gala made room for local lesbian comedian Martha Tormey to play the smaller venue. Her Flynn-sponsored solo show was a big step up for the "local comedy diva" who got her start on a shared bill at Higher Ground.
Anyone concerned that the star-studded Flynn Center doesn't support enough Vermont talent would have admired that view from City Hall Park.
Only one thing was missing from the scene: executive director Andrea Rogers. The theater's grande dame was taking a rare night off from the performing arts center she helped to found 29 years ago. Two days later, in a carefully planned press conference, she announced what some culture vultures thought they'd never hear: Rogers, 69, will be leaving the Flynn in June. In her prepared remarks, she said she had made the "difficult but important decision" to retire after almost 30 years in a job she "never envisioned" for herself. She left it to the organization's first-ever board chair, John Gravel, to remind the crowd that without her, the former moribund Flynn movie theater could never have been transformed into the award-winning performing arts center that it is today.
What details did Gravel leave out? In her zeal to build the Flynn, Rogers rubbed some people the wrong way. But even her detractors have to concede that no single individual has done more to shape Vermont's cultural landscape over the past three decades. The question now is, can the next generation follow her act?
Truth is, Rogers shaped me, too. She was my first real boss when I got a yearlong, paid internship at the Flynn after graduating from college in 1983. Back then, the Flynn was not the august institution it is today; it was a start-up arts organization determined to bring a beleaguered building back to life. The mission was challenged by broken pipes, taxation scares, loser shows and a raging turf battle with the UVM Lane Series, which at the time was presenting world-class orchestras at Memorial Auditorium.
From a front-row seat, I watched the Flynn restore its art-deco décor, launch a regional box office, cofound the jazz festival with fledgling Burlington City Arts and start bussing in kids for the student matinee series. Burlington began to see the world-class dance, music and theater acts in a setting as elegant as the occasions.
I also got a good look at Rogers, who was heading two simultaneous fundraising efforts: a $1 million capital campaign to pay for the building's rehab and a membership drive to support the Flynn's ongoing operations. Until the theater got adequate offices, she worked out of a second-story space on the Bennington Potters block of College Street. Then artistic director Tony Micocci operated from a windowless room off the theater's lobby that is now a handicapped bathroom. I worked for them both, doing marketing, graphic design, education, development and public relations.
On the development side, Rogers was single-minded and tenacious. "That's what it took," recalls Doreen Kraft, who was the first director of Burlington City Arts when then-Mayor Bernie Sanders established it in 1981. "This was not a town that had established philanthropy," Kraft says, crediting Rogers with blazing a trail of dollars that has made it easier for every arts organization that has followed, including City Arts. "She had to bushwhack through unknown territory and bring donors forward to really care," Kraft continues. "It took every breath she had to convince people … She had to help people see what she saw."
What I saw was that Rogers never seemed to leave the Flynn — except to meet with someone who might help the organization. She added personal, handwritten notes to donor thank-yous. She worked and reworked ad, brochure and newsletter copy until it had just the tone she wanted. Modeling the behavior she was asking of others, she gave large sums to the Flynn herself and often dug into her own pockets to show appreciation for all the volunteers — ushers, envelope stuffers, interns — who contributed time and energy to the cause. Over time, it became her cause.
Micocci was hired on the assumption that he would assume the directorship of the Flynn when the capital campaign was complete. But Rogers proved so indispensable to the organization that the board kept her on as executive director. Micocci became the first of four "artistic directors" with whom Rogers worked over the years.
"Tony was bold — sometimes brash — but bold. And lovable," Rogers says in an effort to explain why the board established two leadership positions at the Flynn. "There needed to be a balance of some kind." The artistic director curates the Flynn "season," choosing the acts that will entertain and educate the community. The executive director supports those efforts with fundraising, strategic planning and board management. It's Rogers' job to keep the organization growing, and on solid financial ground. The Flynn's endowment is valued at around $6 million.
Arnie Malina has Miccoci's job today. Technically, Rogers is his boss, but neither of them can remember an instance where she used her veto power to shoot down a show. Rogers loves challenging art. She consumes it, collects it and shares it with the community by encouraging Malina's most adventurous programming choices, from experimental jazz to postmodern dance. "She has a great deal of knowledge and wisdom and business savvy, so I rely on and learn from that," says Malina, who has served as artistic director since 1998. "She gives me her guidance, and then I do what I think is best." Joking, he calls theirs "a beautiful, dysfunctional relationship."
Rogers "was always really good at math" growing up in New Britain, Conn., where her father ran an electric valve manufacturing company that later sold to Honeywell. "He always wanted me to take accounting," she recalls, but "I wanted to deal with people." She majored in history, French and art history at the University of Michigan.
Her first job out of college, for the New York-based American Field Service, almost qualified as social work. A part of it involved dealing with "problem kids," resolving conflicts in families and schools. Rogers built on those skills when she moved to Vermont, in 1970, and took an organizing job with the Vermont Division of Alcohol and Drug Abuse.
"I got a lot of experience walking into difficult situations and just trusting that I could get through it," says Rogers. That confidence came in handy later when she had to personally ask donors to contribute to the Flynn.
Rogers left the state job for an opportunity that called for vision and real business acumen: She developed and ran the Church Street Center, UVM's noncredit community education program, at a time when adult classes in yoga and creative writing were few and far between. Within five years, "libraries, bookstores, fabric stores, high schools were all doing this stuff," Rogers notes.
It wasn't the competition that finally made her resign, though. "I had no power," she says. "It wasn't self-sustaining; there was no capacity to raise money." Then two top-ranking administrators who had supported the program left the university. More worrisome for Rogers, as she looks back from her present perspective, is what happened after she left the Center: "They hired someone who was perfectly nice, and three years later — same board, same this, same that — it just died."
What does it take to keep an organization vital? "I love the strategic challenge of thinking of what's next, and kind of trying to orchestrate in that direction," says Rogers. "Process" plays a big part in her approach — there have been eight "five-year plans" and seven multimillion-dollar capital campaigns over the decades. True to form, Rogers hired a consultant to assist in hiring her replacement. The day I interviewed her, Margaret Genovese was in the middle of talking to everyone on the Flynn staff — and some key outside players — to get a better read on Rogers and what qualities her successor should have.
"You have to be constantly awake. You have to be constantly thinking. You have to know that all your relationships are somehow connected," Rogers offers. "You're always selling the organization, in a good way. I read the paper, and I cut something out. I think, Oh, we should be doing that, or Let's make this connection or call so and so. It's just constant, and it's exciting."
You learned to expect this vigilance from your boss as a member of the Flynn staff. I recall that Rogers never stopped reminding me to make sure the front doors shut properly behind me when I was the last one to leave the theater. She couldn't believe that anyone — let alone an intern — fully grasped the importance of this security detail, when in fact I had already adopted her anxiety and couldn't leave without double-checking every door.
But Rogers brings her "Flynncentric" view, as Malina dubs it, to virtually every encounter. And that has ruffled some feathers over the years. She's the first to admit that, "some people may be more discreet, tactful, gentle." More to the point, she often fails to acknowledge the successes of other organizations, or she sees them as competitors. Rogers sounds more like a corporate CEO when she explains, "I have my own paranoias, too, you know, every time someone makes a move — the university talks about a new facility, or City Arts starts up another festival — all those things. You just have to be alert, because it's a constantly changing environment."
It's no wonder this successful, almost-70 businesswoman plays tennis in her spare time. Rogers also loves to read, cook, sail and garden.
Kraft and Rogers had some battles early on — "I was a competitor, no question," Kraft recalls. But over 30 years, she has come to understand and appreciate where Rogers was coming from. "When you're first on the block, and you've fought that hard, you're always seeing it in the context of what you've tried to nurture," she says. "It's hard for people who are coming second and third and tenth. They misinterpret the skill set that was necessary for survival as ... not generous."
To her credit, Rogers rose above her territorial instincts and became a mentor to Kraft. "She seems formidable to most people, but she has an enormous heart," Kraft says. The younger arts maven recalls a gift from Rogers after a particularly challenging phase of the Firehouse Gallery restoration project. "She brought me a wonderful gold bag, and in it was a pair of red velvet slippers," says Kraft, noting the two women share a love of red boots. "Dorothy in the Wizard of Oz had red slippers. It was very symbolic. It was acknowledgment of my survival of a very, very difficult time. She was the only one in Burlington who really understood it."
Kraft has had plenty of opportunity to study Rogers, and to learn from her, over the course of what she calls "the longest enduring partnership of any two Vermont arts organizations I can think of." The two regularly compare notes on market trends, for example. She's come to appreciate how Rogers uses processes to get board and staff to buy into an idea. Kraft has also learned that the only way to gain Rogers' trust — and ultimately her friendship — is to convince her that you have the Flynn's best interests in mind. "Then you can have a much deeper relationship with her," she adds. "I don't think a lot of people have gone there."
It's lonely at the top of an organization with a $6 million budget and a staff of 32 . But that's not why Rogers has decided it's time to exit. Or rather, convinced herself it's the best thing for the Flynn. "I don't even really want to leave, but the fact is, after 30 years, organizations need new blood," she says. "I don't want to end up, they're having to kick me out because I've got Alzheimer's disease or something."
She's kidding — sort of. "I'm not at my best anymore," she states, offering a single missed grant deadline as evidence. Scarier for her is that "I started forgetting people's names. I'll have a really great conversation with somebody and, three days later, I've totally forgotten it. What makes you good at this job is that you build on every connection you make ... I'm just not at the top of my game."
Even when Rogers' worst performance still wins the point, it's not sufficiently excellent for her. "Everyone says, 'This is ridiculous, Andrea. Just because you forget a few things.' But I used to remember everything."
There are lifestyle considerations, too. "I don't want to miss anything when I'm in charge of it," Rogers fesses. The Flynn's schedule is packed all year round now, leaving little time for real vacations or for free evenings with her husband, retired engineer Avery Hall.
But what really convinced Rogers it was time to pass the torch was the weariness she felt when imagining the Flynn's next capital campaign: "The idea of doing that again, and starting the three- to four-year planning process, was, like, Oh, I just can't face it." Without prompting, she starts thinking out loud about the goals of the campaign — almost as if I weren't there. "We need new seats. It's not like it's urgent, but as soon as we do them, we have to deal with handicapped accessibility, and that's another issue..."
All those things will be the responsibility of her successor, if Rogers' plan plays out as envisioned. A national search starts this week.
But how do you replace the "First Lady of the Flynn," as Gravel called her back in the early '80s? Rogers says the ideal candidate needs to "partner with everybody," "balance business and programming excellence" and "embrace new possibilities." And don't forget those grant deadlines. Rogers has used grants to bring in more than $5 million over the years — just for the physical building.
Kraft would add, "Teach the next generation how to be philanthropic." She's concerned that, as wealth gets passed from parents to children — "$8 trillion is changing hands right now" — the recipients may not embrace charitable giving the way their forebears did. She predicts that "there's a whole new nurturing process that will have to take place" in the post-Rogers era. The area's fragile arts ecology may hang in the balance.
The first step is to cherish what we've got. In the case of the Flynn, "It's a unique institution, a national treasure," says Kraft. "I remember when Tony Bennett was at the Flynn this summer. He said, 'Look up at those details. Look at the extraordinary beauty of this building.' He made the audience appreciate it in a way only an outsider can. That's what Andrea accomplished."