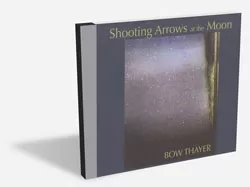 (Self-released, CD)
With Shooting Arrows at the Moon, Orange County musician Bow Thayer has created an introspective gem of an album featuring sparse instrumentation and a pure sound.
Thayer was the front man for Boston newgrass heroes The Benders. More recently, he was a favorite at the dearly departed Middle Earth Music Hall in Bradford, where he rocked the house with his band Perfect Trainwreck. Thayer still plays with his big band, which has a benefit gig scheduled at Randolph's Chandler Music Hall on January 30. But his new recording features a much more compact band, with Thayer on vocals, guitar, banjo and ukulele, brilliant Montpelier fiddler Patrick Ross and the gloriously talented Kristina Stykos — one of Vermont's great rhythm guitarists and also the engineer of this CD.
Thayer and Stykos seem to get along just fine in every way, which lends the album a sense of musical comfort throughout. And when Stykos sings harmonies alongside Thayer's lead lines, it's definitely more than the sum of just two voices.
Thayer's 14 originals reveal classy influences. He has recorded with Levon Helm and, much like every member of The Band, Thayer has the ability to write new material that sounds like an instant string-band classic.
Most of the tracks feature Thayer's unadorned vocals, matched with just the right amount of acoustic accompaniment: strummed guitar, banjo figures and sinuous fiddle.
"The Tango Rose" has a rhythmic groove that sounds as if a young Steve Earle had decided to have a tea party with Jerry Garcia.
"Way of the Gun" contains high lonesome sparkle centered on Ross' exquisite fiddle work, Thayer's delicate banjo picking and another great vocal duet with Stykos.
"Allston Brighton," a requiem for drug casualties and other departed friends, is just about perfectly sad. Bow Thayer is quite a songwriter.
The combination of Thayer's talents as a musician and composer and producer Stykos' sensitive touch in the studio has resulted in a highly pleasurable album. It leaves me hoping the pair might collaborate again sometime soon.
Shooting Arrows at the Moon is available at www.bowthayer.com.