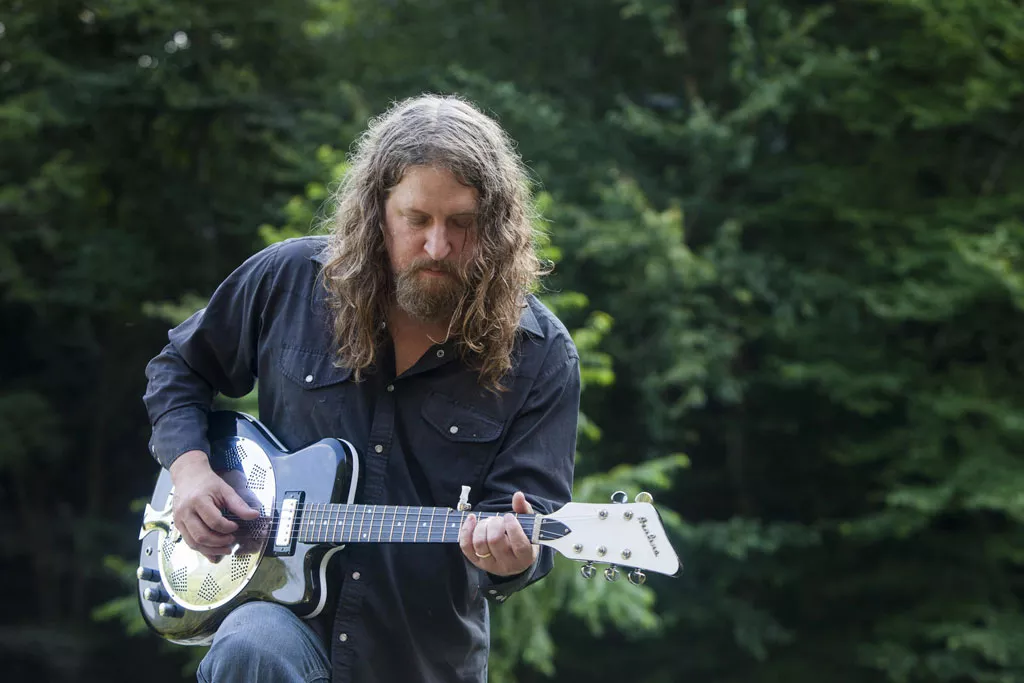 At the Tweed River Music Festival in Waitsfield earlier this month, Bow Thayer owned the main stage on Saturday night. And why not? He's the founder of the fest. Thayer fronted a top-notch band that slinked its way through "Funeral Crasher," a track from his standout new record Sundowser. And he was playing the tune on the bojotar, a hybrid stringed instrument he created for Eastwood Guitars.
That sums up life for Thayer, who's a bit of a hybrid himself: musician, promoter, inventor. Really, does the guy ever sleep?
In a recent post-festival phone interview, the affable Vermont musician admits with a chuckle, "Well, I do have a hard time sleeping."
A life of late-night gigs might have something to do with that. Thayer formed his first band in Hingham, Mass., when he was in junior high. He went on to play with a number of Boston bands, notably the punk-roots-reggae 7 League Boots and the swamp-blues band Elbow.
After moving to Gaysville, Vt., in 1999, Thayer settled in for a three-year stint playing with the Benders. That Boston-based bluegrass band features Sean Staples, who might be familiar to Vermonters as a former member of Session Americana.
Thayer's home became a retreat for a number of Boston musicians, who made their way north for weekend picking parties, including his annual Fourth of July bash. Before long, Thayer had a full-blown festival on his hands.
The Tweed River Music Festival got its start in 2008. It took a year off in 2014, when Act 250 concerns that would have constrained camping forced it from its original home in Stockbridge. (Thayer stresses that this had nothing to do with the landowners, whom he describes as incredibly supportive.)
"I wasn't sure we'd continue after that," Thayer says. "I'd shut it down for sure if I heard one person say, 'It was better last year.'" After searching for a new venue, he settled on Waitsfield's Kenyon Field, and the fest resumed this year. Unfortunately, curfew issues in Waitsfield rendered the Tweed's future there uncertain.
"We broke the rules," Thayer says, acknowledging that music was played too late and too loud. But, after delivering a personal apology to the Waitsfield Selectboard on August 24, he's hopeful. "My feeling is that the town appreciated the gesture, and they're receptive to having the festival back," he says. "I guess time will tell."
It takes a lot of effort to create a good festival, and the otherwise stellar reputation of the Tweed is a testament to Thayer's constant effort to create the better thing. A better festival. A better record. And, always, a better sound.
Which brings us to the bojotar, the hybrid instrument Thayer invented in 2014. Up close, it looks like the spawn of a three-way among an electric six-string guitar, a banjo and a dobro. And that's pretty much what it is.
"I've always been a banjo player," Thayer says. "And I've always been frustrated by my inability to work the banjo into an electric band. A banjo is always the loudest instrument in the world — until you try to mic it. It doesn't have the sustain it needs to be heard with drums, guitar and bass."
To improve on that, Thayer started experimenting. He swapped out strings on his Telecaster. He put a banjo neck on another electric guitar. As he tinkered, he got some key support from a friend, Vermont guitar slinger Joey Leone, who had put out three signature models with Eastwood Guitars.
"Before I knew it," Thayer says, "I was on the phone with Michael Robinson, the Eastwood president."
Eastwood agreed to move ahead with the bojotar, and they shipped Thayer a big box of Eastman parts to play with. Some Yankee ingenuity ensued, involving, as Thayer recalls, hack saws, tuning pegs, humbucker pickups and the like.
The result was a prototype that has been since modified into Eastwood's Airline bojotar. The instrument features an electric guitar's pickups and body, augmented with the resonator from a dobro. A six-string's standard low E string is swapped out with a banjo fifth-peg drone string.
The bojotar rolled out in a limited run of about 50. It's now Thayer's job to see if it will catch on. As part of this effort, he has put the instrument into the hands of some of the best players on Earth, from guitarists Richard Thompson and Warren Haynes to banjo god Béla Fleck. The response, Thayer says, has been overwhelmingly positive. The players liked the bojo, and he got some solid marketing advice from Fleck.
"Béla told me the best way to sell people on the thing is to become a master of it myself," Thayer says, "to find out what it can really do and blow people away."
So what, exactly, can the bojotar do? If you want to get a good idea, Sundowser, which was produced in the solar-powered post-and-beam studio Thayer built himself, might be a good place to start.
Sundowser brings serious depth to everything from bluegrass and psychedelic rock to folk and prog-rock. The playing throughout the record, including Thayer's work on the bojotar, is inventive and complex. And the poetic lyrics meet the strength of the playing on tune after tune.
"I've been in a lot of bands," Thayer says. "I've done the heavy rock thing. The bluegrass thing. The singer-songwriter thing. And it all started out in junior high, trying to play the classic stuff — the Stones, the Who. The Beatles. In this record, it all came out."
With the record now released, Thayer is ready to support it with performance dates, including a September residency at Radio Bean in Burlington.
Next up: a tribute to a couple of Thayer's heroes.
"I'm thinking about a live EP with just bojotar and bass," he says. "I want to do covers of the two people who started me out: Mississippi Fred McDowell and Dock Boggs. I think it would be great."
And with that hint of the future, Thayer signs off — but probably not to take a nap.