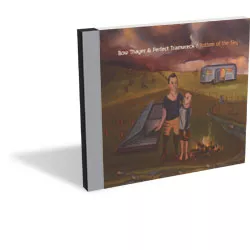 (Tweed River Productions, CD)
Bow Thayer is the epitome of the "songwriter's songwriter." The local tunesmith has been plugging away for the better part of the last 20 years, both as a solo artist and the front man for Americana and rock acts such as Elbow and the late, great, alt-country string band the Benders. Thayer is greatly admired by his peers — the Band's Levon Helm, for one — and by knowledgeable roots fans, but true breakout success has proved elusive. On Bottom of the Sky, the ninth full-length album bearing his name and second with Perfect Trainwreck, Thayer once again justifies his reputation as a sublimely gifted artist. And, this time, he may have finally created the record that will introduce him to listeners beyond New England.
"Buffalo Joe" opens the record with a bluesy groove reminiscent of late-1970s Tom Petty & the Heartbreakers. It's a smartly crafted pop-rock gem, with Thayer's laid-back, reedy croon balanced by swirling organ and stinging guitar leads.
"Epitome" melds the best of the Benders' rootsy acoustic twang with Trainwreck's rock sensibilities. Thayer's banjo ripples through a wash of piano and organ, pushing the mid-tempo tune past a few perilous moments of nearly eddying in the jam pool.
"Dark Light" is an irreverent head-bobber, as Thayer's banjo and James Rohr's piano jostle for space amid the song's springy textures, which belie the singer's melancholy musings.
"Dawning" blooms like daybreak as Trainwreck cuts through Thayer's overcast introspection; an increasingly bright arrangement builds to a brilliant solo section just before the song's conclusion.
"Good Time to Holler" is a backwoods stomper and leads into "Gilead's Roses," perhaps the record's most ambitious cut. Thayer is gritty and focused, leading Trainwreck through a dazzling arrangement that simmers with angst and tension.
The title track is classic Thayer. The mostly acoustic number swells over a buoyant groove that seemingly materializes out of nowhere before releasing in an airy gust of harmony, steel and organ.
"Slow Blossom" is a lighter-worthy piano ballad. Thayer's delivery is sweet and vulnerable, framed by swelling organ sustains and faint, dovetailing guitar lines.
Bottom of the Sky closes with "Your Heart Is Not Your First Car," a clever paean to youth, and loving and living wild. "Trash your first car, and walk safely away," sings Thayer, before concluding, "Remember, your heart is not your first car."
Bow Thayer and Perfect Trainwreck celebrate the release of Bottom of the Sky this Saturday, November 20, at the Tupelo Music Hall in White River Junction.