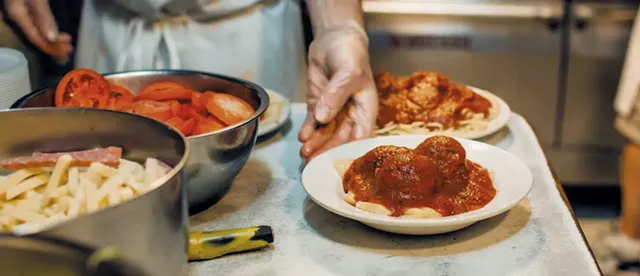 Courtesy Of Bove's Of Vermont
Bove's of Vermont
Burlington locals shed more than a few tears when Bove's restaurant served its final whorls of pasta on December 23, 2015. Now, those saddened by the Pearl Street café's closure can tuck into a bowl of red-sauce nostalgia on Friday, October 5, at the first of a monthly dinner series at the Bove's of Vermont sauce plant in Milton.
"We want to make sure that people know Bove's is still here," factory administrator Justin Keene told Seven Days on Monday. Those curious about the sauce operation can watch marinara and alfredo go from crock to bottle through a "giant viewing window" in the factory's on-site catering hall, he added.
The factory dining room, which seats up to 70 people, recalls the Bove family's Burlington roots with artifacts from the original location, including vinyl booths, a neon sign and the jukebox.
The $18 set menu includes antipasto salad and the choice of lasagna or spaghetti and meatballs, and it includes tax and tip. To drink? Water, Keene said, but guests are welcome to bring their own beverages.
Prices are higher than they were on Pearl Street, and the meal is payable by credit card only. As at the original restaurant, tables will be available on a first-come, first-served basis. But if that proves cumbersome in practice, the no-reservations policy is still up for discussion, Keene noted. "We'll see how the first one goes," he said, "but I think there's going to be a large turnout."