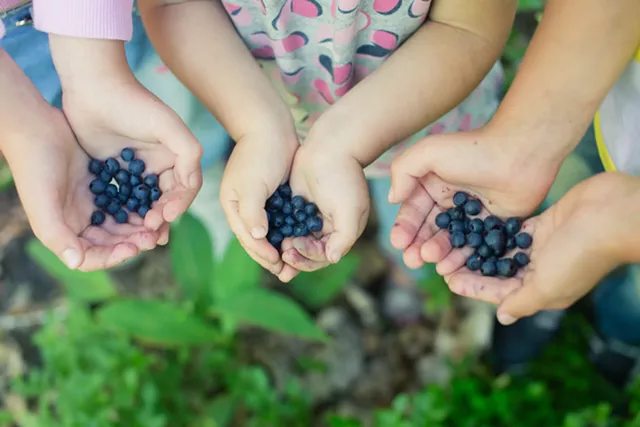 This time of year, fresh berries abound in Vermont. Whether you're looking to bake a pie or fill your freezer for winter smoothies, berry picking is a fun activity the whole family can get behind. To help sweeten the deal, we've compiled a list of pick-your-own blueberry and raspberry farms perfect for little pickers. Before heading out into the fields, here are a few suggestions to make your expedition run smoothly:
Always call or check the farm's website before you go. Often, farms close for a few days if ripe berries are picked out, or for weather-related reasons. Many farms list up-to-date info on their answering machines or websites.



Full sun is needed to ripen fruit, so expect little shade. Slather on sunscreen, wear hats and pack plenty of water.



Not all farms accept debit or credit cards; carry cash or checks.



A small fee may be charged for boxes, so bringing your own containers is a smart, and eco-friendly, choice. Remember, you'll be leaving with berries, too, so make some space in your car for your juicy treasures. Toss in a towel to cover your haul on the way home.



Above all, berry patches are farmers' homes and livelihoods. Remind your small ones to behave respectfully around berries and bushes — while having fun, of course.
[jump]

Adam's Berry Farm
features organic blueberries, raspberries and vegetables. 985 Bingham Brook Rd., Charlotte. Info, 578-9093
Fisher Brothers Farm
grows blueberries and raspberries — plus other berry varieties, sweet corn and sunflowers. 4947 Spear St., Shelburne. Info, 735-0005
Located on an open hillside,
Browns Beautiful Blueberries
boasts a stunning view of the Northeast Kingdom's Craftsbury Common. Wide-spaced bushes make for easy picking. Bring your own containers. 493 Coburn Hill Rd., Craftsbury. Info, 586-2202
Farmer Mike at
Isham Family Farm
welcomes youngsters for blueberry and raspberry picking in his off-the-road fields where chickens are used for pest control. 3515 Oak Hill Rd., Williston. Info, 872-1525
In addition to regular hours,
Owl's Head Blueberry Farm
offers live music most Tuesday evenings. Berry pickers are welcome to bring a picnic, blanket and chairs. 263 Blueberry Farm Rd., Richmond. Info, 434-3387
Sam Mazza's You-Pick Berries
is part of their 350-acre farm, which grows blueberries and raspberries, and has a retail market, bakery and greenhouses. 277 Lavigne Rd., Colchester. Info, 655-3440
In addition to blueberries, vegetables galore and a maple sugarhouse,
Hartshorn Farm
also offers educational summer camps. 54 Quarry Rd. in Waitsfield. Info, 496-3081
Cedar Circle Farm & Education Center
encourages families to take their time and enjoy raspberry and blueberry picking, the sandbox, kid-friendly chickens and a self-guided farm tour. Enjoy lunch at the café or bring your own picnic fixings. 225 Pavillion Rd., East Thetford. Info, 785-4737
Norris Berry Farm
raises abundant blueberries, raspberries and vegetables. 686 Davis Rd. in Hinesburg. Info, 453-3793