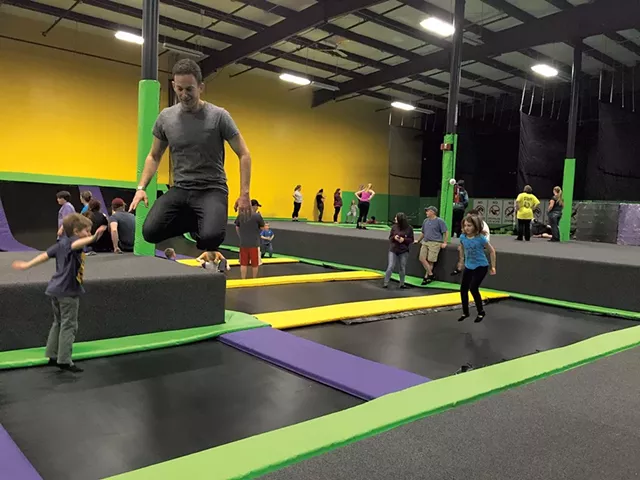 Theo, Jeff and Mira jump in the trampoline field
I've been semi-stalking Get Air Vermont's Facebook page since I learned several months ago that the chain trampoline park was expanding to Williston. So when a post appeared in mid-March announcing opening weekend, I jumped at the chance to try it out.
Get Air Vermont has set up shop in a nondescript office park near the big-box stores at Taft Corners. When my family of four arrived on a Sunday morning, it was apparent from the sealed plastic bags of black, green and purple foam blocks that Get Air wasn't fully set up yet. But that didn't deter me, my husband, Jeff, 8-year-old daughter, Mira, and 6-year-old son, Theo, from jumping our hearts out.
After filling out an electronic waiver, watching a short safety video, and shelling out upwards of 70 bucks for special sticky jump socks and bracelets that entitled us to one hour of all-access jumping, we were in. We started with the dodgeball section, where jumpers can hurl lightweight balls at each other from different sides of a trampoline-covered court. After that, we bypassed Little Air — a section designated for jumpers under 46 inches — and headed for the foam pits, where Mira and Theo bounced down a short runway into a heaping pile of soft, squishy blocks and tested their balance on a wobbly rope ladder.
The biggest area is a huge field of trampolines, punctuated with carpeted platforms that offered us a little extra bounce. There's also a row of curved tramps we could run up and jump down from.
We worked up a sweat quickly bouncing from tramp to tramp. I was glad we'd remembered our water bottles but wished I had worn short sleeves. Overall, it was an exhilarating experience, but watching older kids do backflips and tricks nearby gave me a few pangs of anxiety. I envisioned them crashing into my kids or, worse, severely injuring themselves. Safety referees, clad in black-and-white-striped shirts, monitored the scene, but they looked young and like they were just learning the ropes.
An hour of jumping felt like plenty that day, but Mira and I returned several weekends later to check out the features that hadn't been open when we first went. It was considerably more crowded the second time around; at 10:15 a.m. on a Sunday, we waited in line for half an hour to get bracelets. The cargo nets, swinging sacks of foam blocks and climbing walls that comprised the obstacle courses proved fun but challenging for Mira, though teenagers seemed to navigate them with ease.
The throngs of people who flooded into the place that day were evidence that there's clearly a desire to "get air" in Vermont. But because of the steep price and the slightly chaotic atmosphere, we'll probably only visit occasionally to burn some energy as a family.
Details
Get Air Vermont is open Monday through Thursday, 10 a.m. to 10 p.m.; Friday and Saturday, 10 a.m. to midnight; and Sunday, 10 a.m. to 8 p.m. One hour of jumping costs $15 per person; two hours is $24. For kids under 46 inches, the cost is $9 for one hour and $15 for two hours. Reusable jump socks cost $3, or bring your own socks with sticky bottoms. Fill out an online waiver on the website prior to visiting to save time.
Pros
Great exercise. Little ones can work out their wiggles, and adults can skip the gym and sweat alongside their kids.
Good for all ages. Preschoolers can play in the Small Air section while teens challenge themselves on the obstacle courses.
Fun! Jumping alongside your kids creates a feeling of joy that you won't get bowling or playing video games.
Cons
Crowded — expect to wait in line. Arrive early to beat the rush.
Expensive, especially if every member of your family decides to jump.
No food or drinks available, so bring a water bottle and snacks for a post-jumping refuel.
Get Air Vermont, 25 Omega Drive, Williston, 497-5031