Ben Deflorio ©️ Seven Days
Perry Armstrong (left) and Peter Martel
Vermont may have flattened the curve of projected COVID-19-related hospitalizations, but the vital signs of the state's lifeblood — its economy — are deeply troubling. Many local businesses are struggling to survive. Postponed nuptials have sidelined photographers, caterers and florists. Closing the border to Canadian tourists keeps them from patronizing Vermont restaurants and stores that rely on their dollars. A whole summer of indoor and outdoor events has been canceled.
The response of Vermont's commercial enterprises and the employees who keep them humming: Work harder. Leverage aid dollars to stay afloat. Employ Yankee ingenuity to identify a new need and fill the niche.
In June, Seven Days launched Bottom Line, a weekly account of how individual businesses are responding to the pandemic. Businesses are, in a sense, like people; each has its story, and some of those are happier than others.
We've described how a huge company, GlobalFoundries, instituted protocols to keep 2,300 employees working as it produces computer chips at its sprawling Essex Junction campus. We detailed how a small Middlebury-based mail-order company, Beau Ties LTD, quickly added dozens of patterned face masks to its offerings, sewing up the dapper mask market.
Many Vermont employers have gotten temporary financial assistance through the federal CARES Act, hurried through the U.S. Congress in response to the pandemic. Nearly 12,000 of them, including Seven Days, have gotten a total of $1.2 billion in aid through the Paycheck Protection Program, aka PPP, which offers forgivable loans to employers that retain workers.
The State of Vermont got a big chunk of federal money, too. Last week the Agency of Commerce and Community Development put some of it to use by accepting applications for grants of up to $50,000 for local businesses that have lost significant revenue. The state has set aside $152 million to provide that relief.
This week, Seven Days is telling the stories of seven businesses affected by the pandemic — for better or worse.
Got a tip about a business? Email bottomline@sevendaysvt.com.
Shelter From the Storm
Rain or Shine Tent and Events, 14 Hull Street, Randolph
Wedding professionals try to keep smiling even when things aren't going well, because their clients expect them to create magical, memorable moments. But last week, on a conference call with U.S. Rep. Peter Welch (D-Vt.), more than 40 of Vermont's caterers, photographers, florists, innkeepers and equipment-rental entrepreneurs looked grim. Many in the state's $400 million wedding industry said they expect to lose 80 to 90 percent of their income in 2020.
Perry Armstrong, owner and president of Rain or Shine Tent and Events in Randolph, was among them. In a typical year, his company handles 200 to 250 weddings from May through October, accounting for 65 to 70 percent of his revenue. Another 15 to 20 percent comes from corporate retreats, and the rest from graduations and other small events.
Normally, Armstrong would have 35 to 40 people on staff for the summer. And today?
"Nobody. We had to lay everybody off because we ran out of PPP money," Armstrong told Seven Days. "I've been through four recessions. Never, ever have I seen something like this."
Armstrong, 63, is a seventh-generation Vermonter who started Rain or Shine in 1986 as a side gig to make extra cash. At the time, he recalled, Vermont had few tent rental companies, and most didn't work weddings. Armstrong offered multicolored auctioneer tents, not the fancy white ones with windows and walls that have since become the industry standard. But after Armstrong purchased a white big top at a Houston trade show in 1988, he became known in Vermont as "the white tent guy."
"That first summer, I think I booked that tent 16 times," he recalled.
In the late 1990s, Armstrong handled his first million-dollar affair, a 700-guest wedding at the Quechee Inn at Marshland Farm, hosted by a wealthy New York family. By the mid-2000s, some clients were spending $1.5 million to $2 million on their events. In the years since, Vermont has become one of the nation's premier marriage destinations, hosting an estimated 2,200 to 2,400 weddings annually for out-of-staters. Today, the state has 10 tent companies.
Rain or Shine started getting cancellations in March from schools and colleges. Armstrong said he wasn't too worried at first because graduations aren't high-margin gigs. He assumed business would rebound by July.
"By the second week in April, we knew we were done," he said. Virtually every wedding he had booked for this year had been canceled.
That same month, Armstrong applied for a PPP loan and was approved for $130,000. However, due to the federal government's initial ambiguity about how the money had to be spent, Armstrong returned $60,000 of it.
Since then, the company has picked up small jobs, such as erecting two tents for Central Vermont Medical Center in Berlin for COVID-19 testing and another to provide the Vermont Foodbank more storage space. But those longer-term rentals don't make Armstrong much money because they don't involve the additional equipment he typically rents for weddings: tables, chairs, lights and dance floors.
In recent weeks, Armstrong has booked a few small, socially distanced parties for couples who still want to get married this year. All are new clients, he noted.
Previously scheduled ones have stuck with him, too. "We haven't lost a single client," he said with pride. "They're all postponed until next year."
Assuming, that is, Rain or Shine survives. For weeks, Armstrong has been talking and writing to anyone who will listen — bankers, lobbyists, state and federal lawmakers — about ways to "park," or delay payments on, his debt. As Armstrong explained, wedding equipment companies are constantly adding new inventory.
"Just when you think you've got enough, someone decides to change the style of chairs," he said, noting that he just bought a new set for $130,000 a few years ago. "I've got a million bucks' worth of trucks sitting in the dooryard. I don't know any restaurants with that kind of overhead."
Armstrong said he plans to apply for a new state-administered grant program intended for businesses that have lost at least 75 percent of their revenue. Additionally, he is seeking to take advantage of a program through the federal Small Business Administration, which would defer or even assume some of his debt payments for up to nine months; that application is due by late September. If he's approved, the bridge could carry Rain or Shine to 2021.
Armstrong is just hoping he doesn't get left at the altar.
— K.P.
A Rising Tide
Small Boat Exchange, 2649 Shelburne Road, Shelburne
Bear Cieri ©️ Seven Days
John Freeman
If you're looking to escape the heat and socially distance on Vermont's lakes and rivers, be warned: Kayaks are in short supply. John Freeman, the owner of Small Boat Exchange in Shelburne, said he's sold more than 100 in the past few months, and interest doesn't appear to be waning.
Customers want to put down deposits on boats that haven't even arrived at his store yet. "It's like, 'I need that boat. You've got to save one for me,'" Freeman said. "People are just frantic." Watercraft — not just kayaks, but paddleboards, sailboats, pontoons and just about anything else that floats — are about as available today as toilet paper was in April.
Like that unforeseen shortage, this one is somewhat surprising. During times of economic hardship, boat sales typically take a dive. In December 2007, NPR reported that "skittish" boat buyers could be harbingers of a recession, and they were. Boats are a luxury item, and it took several years for the market to fully rebound from the Great Recession, according to Freeman.
But this economic crisis is playing out differently. With prospects of travel limited and the virus lingering, Vermont's waterways offer an alluring escape.
Boating is "a great family activity, and it's a great activity to not be around people," Freeman said. He's seen many first-time boat buyers and, yes, lots of out-of-staters who are visiting Vermont. "A lot of people, I think, are fed up with being at home ... and I think they're looking at the future and saying, 'This may not just be a flash in the pan.'"
Freeman, 65, grew up with wooden boats. He repaired them as a youth and later while he attended the University of Vermont. He opened his shop in 1984, buying and selling both used and new boats and offering service and repairs, too. During the winter, he tends to focus on selling fleets of small boats to camps and resorts.
In retrospect, Freeman picked a good time to start his business. The Small Boat Exchange has been riding a wave for more than three decades. "When I started, families were boating families or hiking families or golfing families," he said. "In the '80s, early '90s, people were like, 'Oh, we can do a little bit of everything.'"
Then kayaks got popular. "Burlington's got a lot of single people, and kayaking seems to suit that" is Freeman's theory. In the 2000s, standup paddleboarding caught on.
This year, when it became obvious that the pandemic would stretch into summer, Freeman's smallest watercrafts were the first to go. More recently, the bigger ones have begun to sell, including 20-foot pontoon boats that run $30,000. Freeman speculated that older people, who have more money to spare and less energy for paddling, are feeling more comfortable leaving their houses to pursue an outdoor activity with trusted family members.
In the end, Freeman expects his sales to be up 20 percent in 2020. He hasn't felt the need to apply for any business assistance, but that doesn't mean it's been easy: On July 3, Freeman and his two-man crew delivered 16 boats so people could have them in time for the holiday weekend — a grueling amount of work on a hot day. He's had to turn quite a few interested buyers away, too, but said he knows his competitors are in the same, um, boat.
"There's no new boats in the pipeline," Freeman said. "If somebody hasn't bought something by now, they're going to be waiting."
— M.G.
Last Lunch?
Red Onion Café, 140 1/2 Church Street, Burlington, 865-2563
Luke Awtry ©️ Seven Days
Red Onion Café Zachary James making sandwiches at Red Onion Café
It was hard to pull Mickey West aside for a 20-minute interview last week. She was busy filling orders in her small kitchen at the Red Onion Café — something she's been doing seven days a week for most of the last 30 years. She can't remember exactly when she opened the lunch spot famous for jaw-stretching sandwiches on thick homemade bread, such as the Famous Red Onion: turkey, bacon, apples, red onions and smoked cheddar cheese with sun-dried tomatoes and mayo.
West, 67, took a seat at a wrought-iron café table wearing a white apron. Her cozy, pink-walled dining room was closed, but a front window was open for takeout orders. She paused as the bells rang at Burlington City Hall, across Church Street, before giving a frank assessment of the pandemic's effect on her café.
"I'm not going to be here this winter," she said. "I can't afford this place."
"There are going to be empty storefronts all over the place," West said of downtown. "The government responds like a snail to this ... I'm watching just about everybody I know struggle."
Red Onion closed for just a single day when Gov. Phil Scott's "Stay Home, Stay Safe" order took effect. West quickly laid off four of her six staffers, reopened for takeout and added late-night hours.
She hired everybody back when she got a PPP loan, but the program wasn't set up with restaurants in mind, she said, and there wasn't enough for them to do.
Last week she applied for a state-administered grant. "Now we're all sitting here on our fingers waiting for notification about who got the grants and who didn't get them, and how much," West said. Some restaurateurs have already called it quits, she added. "I just happen to be a little more stubborn."
She's also scared. "I am. This is my life. It's where I've raised both of my children." Her young daughter and her friends used to have free run of the place and drew pictures on giant rolls of butcher's paper, which West hung in the windows. She carried her infant son around in a backpack while working. As the kids got older, they worked in the café.
"Both of them can actually cook," West added proudly. West's husband bought out her original business partner, Michael Bourassa, and helped her run Red Onion until he died around 15 years ago.
West herself has always loved to prepare food for people and relishes the moment when someone declares, "This is so good." When she opened the restaurant, Bourassa was the baker. Curious, West watched and learned. Now, on a busy day, she might knead 90 to 100 loaves by hand. Some get sliced up for sandwiches, and some are sold wholesale.
"My fingers are all crooked now," West said, displaying her hands with a chuckle.
Luke Awtry ©️ Seven Days
Red Onion Café
Hard work might not be enough to bring her business back, though. It's roughly 30 percent of what it was, West said, noting that many of her usual summer customers tended to be Canadians.
In early June, at the urging of her daughter, West agreed to write a message for a GoFundMe online campaign, acknowledging that, without significant help from the community, Red Onion might not survive.
"I didn't want to do this," West said. But even before COVID-19, she was "in a hole" with her landlord. Typically, West struggles to make rent in the winter, but she earns just enough in the summer to make up for it. The campaign's goal of $20,000 would help her pay back rent and move the restaurant to a cheaper location. So far, the fundraiser has brought in just over $1,000.
West said she has no idea what the future will bring. But as she spoke with a Seven Days reporter, she eyed the front window as a few customers began ordering.
"It's getting busy. I have to go," she said, hustling back into the kitchen.
— M.G.
Surreal Estate
Coldwell Banker Carlson Real Estate, 91 Main Street, Stowe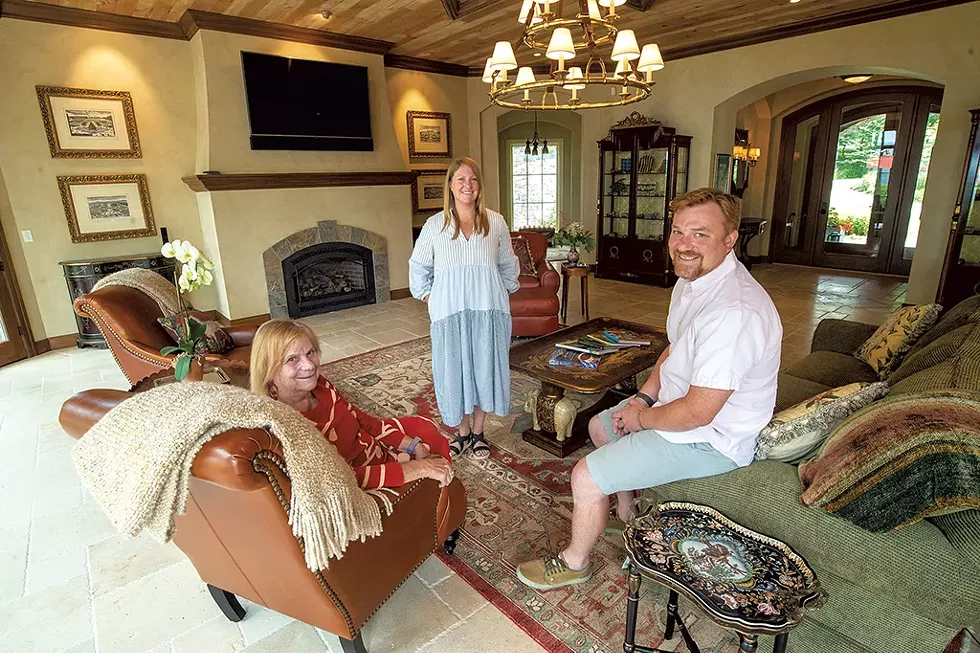 Jeb Wallace-brodeur ©️ Seven Days
From left: Peggy Smith and Maggie and McKee Macdonald
In Stowe, a $6.5 million estate will soon hit the market. A chalet at that price point is hardly noteworthy in a town where two-thirds of all residential properties are second homes, but this one features an on-site brewery and, in climate-controlled storage, enough food to sustain a family of four for two years. The seller "provisioned" his storeroom before the pandemic, according to McKee Macdonald, co-owner and broker of Coldwell Banker Carlson Real Estate; regrettably, he noted, the cache includes only a two-week supply of wine.
The luxury food bunker represents the extreme end of the Stowe real estate spectrum, though it is by no means the most expensive option; that distinction belongs to a $10.95 million compound with 11 bedrooms, 16 bathrooms and heated garage space for more than a dozen vehicles. ("Yacht-like fit & finish...extravagant mini golf," purrs the Four Seasons Sotheby's International Realty blurb.) That listing has been on the market for almost two years.
But many other properties in the million-dollar-plus range have been moving steadily since late spring, when the real estate market in Vermont began to emerge from its pandemic-induced hibernation. Homes around the median price point — in Stowe, just under $700,000 — are getting snapped up even more quickly, said Macdonald, who worked for the Corcoran Group in New York City before moving back to Stowe, where he grew up. For the past decade, he has co-owned Coldwell Banker Carlson with his sister, Maggie Macdonald, and his mother, Peggy Smith, who has been selling real estate in Lamoille County for 44 years.
Much of the interest, he noted, has been coming from out-of-state buyers, who are drawn to Stowe for the usual reasons — its proximity to outdoor recreation; its lush, getaway feel — plus a new, zombie-apocalypse one: relatively low infection rates. "Right now, there's an urban flight to Vermont, and specifically to Stowe," he said. "People are looking for safe, alternative options that line up with their interest in skiing, mountain biking and the arts."
Over the past couple of months, Macdonald has been fielding calls from prospective clients in cities around the Northeast, from New York City to Washington, D.C. Real estate agents across the state are reporting a similar spike in inquiries, propelled by low mortgage interest rates and, presumably, the general sense that the world is hurtling toward cataclysm. "What we're seeing is very much like what we experienced after 9/11," said Macdonald.
The pandemic has altered the structure of people's daily lives in ways that seem likely to endure. After months of working from home, said Macdonald, city dwellers who came to quarantine in their vacation properties are contemplating making Vermont their primary residence.
Recently, Macdonald showed houses in Stowe and the Mad River Valley to a couple of middle-aged professionals from Boston who had previously been thinking about moving to Jackson Hole, Wyo. But when the pandemic struck, they realized they didn't want to be halfway across the country from their family in New England. "The desire to get on an airplane has dropped, and Vermont is a drivable distance from most major cities on the East Coast," said Macdonald. "If people can do their jobs remotely, then they can go anywhere, as long as there's Wi-Fi." The internet and cellphone coverage situation in Stowe is somewhat haphazard; Macdonald has a landline in his office downtown, where service is notoriously unreliable.
The spotty bandwidth creates some light difficulties for virtual showings: Whenever Macdonald does a FaceTime home tour, he has to make sure that he's connected to the property owner's Wi-Fi. Technological strangeness notwithstanding, Macdonald estimates that half a dozen clients have put in offers on homes they toured virtually. Last week, a couple from Boston closed on a million-dollar home that Macdonald showed them on FaceTime.
Between March and June, the firm sold 39 houses and condos, compared to 52 over the same period in 2019 — not a very big drop, considering Macdonald and his brokers couldn't get into homes after the lockdown to offer virtual tours until mid-April. In addition to Macdonald's mother and sister, the brokerage employs eight realtors as independent contractors, some of whom received PPP loans; Macdonald, an independent contractor himself, secured a PPP loan to cover the salaries of the firm's two administrative employees.
Other measures of the market give him hope. Demand — tracked in inquiries and web traffic — remains high, which Macdonald chalks up to the quarantine-related increase in screen time. Since June 1, 28 of Coldwell Banker Carlson's 32 listings have gone under contract.
Given the appeal of rural refuges, it would seem like a strategic moment for homeowners to sell. But Macdonald isn't seeing new properties on the market: "Generally, these homeowners aren't struggling to carry their houses" — in other words, they're not worried about money — "and COVID has given them pause. If it's a second home, they're probably using it."
Meanwhile, the children of would-be buyers appear to be taking this new reality in stride. A few weeks ago, Macdonald said, he showed a townhome in Stowe — butcher-block kitchen island, granite countertops, subway-tile backsplash — to a family from Boston. The unit, in a development that's still under construction, was near a giant concrete hole, a future townhouse basement. It gave the couple's elementary-school-age son an idea.
"Daddy," he said, "can we have a bunker?"
— C.E.
Sweet Deal
Runamok Maple, 293 Fletcher Road, Fairfax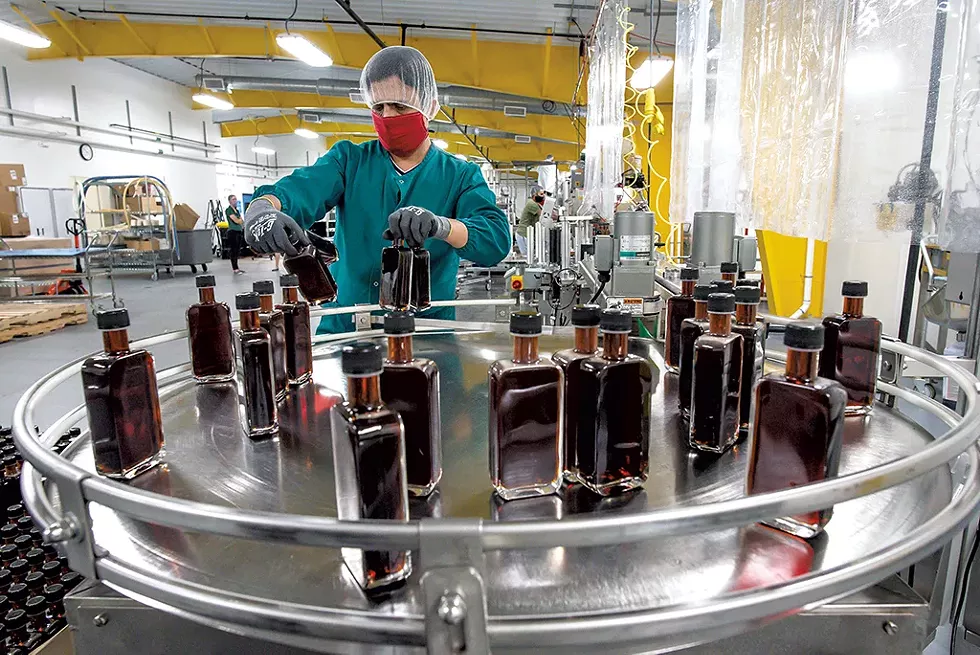 Glenn Russell ©️ Seven Days
Krishna Upadhyay checking bottles of maple syrup
It smelled unseasonably like Christmas in the Runamok Maple plant in Fairfax. On a hot day in July, a production team of six was infusing maple syrup with crushed cinnamon sticks and whole vanilla beans to fill a parade of elegant, square-shouldered glass bottles.
Cinnamon-vanilla is one of Runamok Maple's most popular flavors, said Laura Sorkin. The chef-farmer cofounded the company in 2016 with her husband, Eric, a former environmental lawyer, and Curt Alpeter, who was an executive at IDX Systems and MyWebGrocer.
Revenue was doubling annually — until the coronavirus emerged. The staff had grown, too. In addition to the 45 employees working in the renovated Scrabble factory, 10 more run the Sorkins' 1,200-acre Cambridge sugarbush, a separate business entity that supplies about a quarter of Runamok's syrup; the rest comes from two dozen other Vermont sugarmakers.
Prior to the pandemic, Runamok's infused, smoked and barrel-aged syrups sold briskly through more than 1,500 outlets, including Whole Foods Markets nationwide thanks, in part, to glowing reviews from tastemakers such as the New York Times and Oprah Winfrey.
Then, in the thick of sugaring season, hotel and restaurant sales plummeted to almost zero. At the same time, grocery sales increased, and labor-intensive online sales leapt 600 percent. Only half-jokingly, Eric credits that to dads in lockdown making pancakes.
But the gains did not make up for food-service losses.
As a stopgap measure, Runamok partnered with Barr Hill of Montpelier for several weeks on and off starting in April to bottle hand sanitizer produced with help from three other Vermont beverage businesses. The co-packing fee covered operating overhead. "We didn't profit off it, but it kept the business going," Eric said, "and it felt great to be able to help."
But what Runamok really needed was a serious infusion of cash. The growing business had been poised to raise more operating capital when "our funding options virtually evaporated overnight," Eric said.
The partners also wanted to avoid layoffs and ensure employee safety. Beyond paychecks, "What does it mean to do right by our employees?" Eric reflected. "You remember how quickly things were moving and changing? I don't think I've ever less wanted to be a business owner."
Runamok applied for and received a PPP loan for just over $553,000; the sugaring operation received another $81,200. The funds helped support more than 50 jobs with paid sick leave and health care benefits.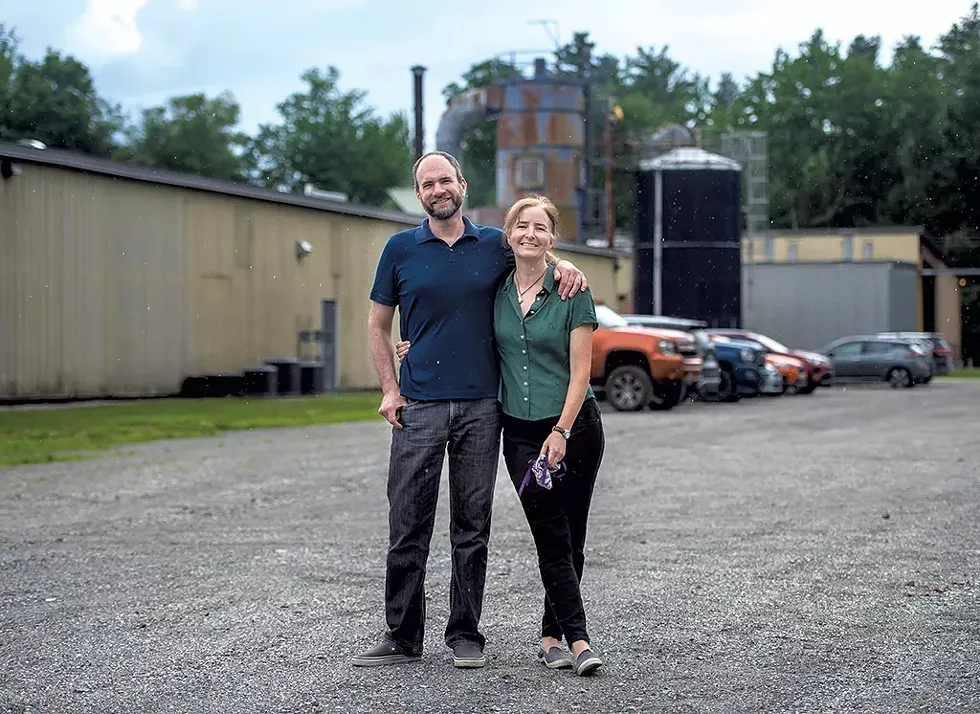 Glenn Russell ©️ Seven Days
Eric and Laura Sorkin
Before Gov. Scott's "Stay Home, Stay Safe" order, Runamok had shifted all desk jobs to remote work. The 25 employees working on-site drew on their federal food production safety standards training. "We already had handwashing guidelines where you have to sing 'Twinkle, Twinkle, Little Star' twice," Eric explained.
Runamok required employees to wear masks well ahead of the federal Centers for Disease Control and Prevention recommendation, established as much social distancing as possible, and instituted daily health questionnaires and temperature checks pre-state guidance.
Questionnaires are in English, Somali and Nepali because seven of Runamok's staffers are New Americans. Along with several other employees, most live in Winooski and Burlington; some commute to work together.
As everyone adjusted to the new normal, the early June coronavirus outbreak in Winooski compelled management to ask about potential exposure. "We had to balance privacy with everyone's fears," Laura said.
When one person shared that a neighbor might have tested positive, that employee plus three carpool-mates were asked if they were willing to get tested with paid leave while awaiting results. After two weeks, all proved healthy, but their absence "backed us up really badly," Eric said, expressing frustration with the lack of state guidance and slow test turnaround.
Today the team is cautiously optimistic. Overall, sales are back on projection. "We set conservative targets,' Eric explained, "and most of our business is in the second half of the year."
— M.P.
Ahead in the Cloud
Reconciled, 1 Lawson Lane, Suite 40, Burlington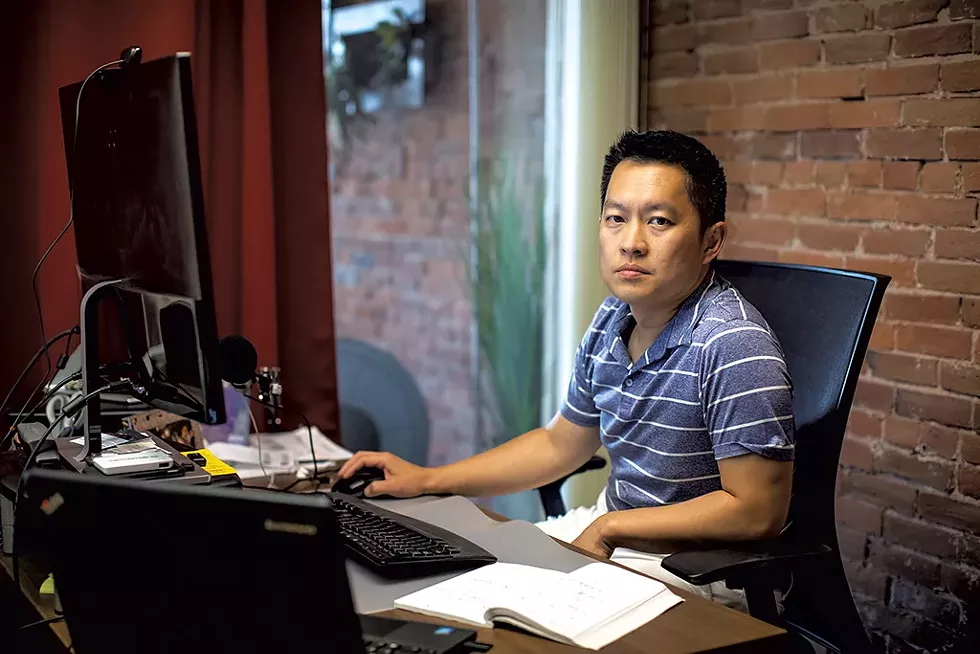 Luke Awtry ©️ Seven Days
Michael Ly
Michael Ly and his staff of 28 didn't miss a beat in March, when many of Vermont's brick-and-mortar businesses closed or sent employees home to work.
"Our business was well prepared for something like this, because we were already running all of our services with a remote and distributed team," said Ly, cofounder and CEO of Reconciled, an online Burlington-based bookkeeping and accounting firm founded five years ago. Its secure, cloud-based systems enabled it to service its clients without interruption.
Ly, 38, is a Tempe, Ariz., native and the son of Cambodian refugees who came to the U.S. in 1981 and eventually started their own businesses; his mother worked as a seamstress, and his father owned Chinese restaurants. Ly is a self-described serial entrepreneur who also worked for years for companies as comptroller and chief financial officer. He relocated from Seattle to Vermont in 2011 to be closer to his wife's family in Highgate Springs. For several years he worked as an independent consultant before he and business partner Bonnie Reese launched what was then called Reconciled It in 2015.
Why an online company? As Ly explained, operating in the virtual space offers him the freedom to spend more time with his family while also tapping into a workforce that wants a similar lifestyle. Reconciled's business model attracts stay-at-home parents, as well as young professionals who envision careers in bookkeeping and accounting outside of traditional firms.
Hiring a remote workforce provides other advantages, Ly added. It saves the company office infrastructure expenses. It enables Reconciled to hire bookkeepers, accountants and financial consultants anywhere in the United States; Ly's staff is spread across nine states. And it attracts clients whose own operations are completely virtual, including e-commerce companies, online consulting firms and digital marketing agencies.
"Because we had such a high concentration of that kind of customer," Ly added, "we've seen our customer base thrive during this time, because they were already working from home or serving the online consumer marketplace."
Even as many businesses took financial hits at the start of the pandemic, Reconciled continued to grow. In mid-March and early April, when some clients — mostly restaurants and small retail stores — shut down, Reconciled offered them discounted fees. The firm accepted a $207,000 PPP loan "to ensure we could keep all employees on payroll," Ly said, and helped its clients apply for similar assistance.
Then, as street demonstrations against racism and police violence swept the country, Ly posted a message on the company's home page offering pro bono services to small, minority-owned businesses in communities adversely affected by protests, COVID-19 or both.
Even after offering reduced rates and donating "plenty" of services, Ly said, Reconciled remains on pace to do $3 million in revenue this year, up from previous years. In fact, he expects to add five to seven employees by year's end.
"The only real interruption for us was that all the kids of our employees are home now," he noted. Most employees' partners have also been working remotely, and the couples divide their childcare duties.
Since the lockdown began, Reconciled has been invited to lend its expertise on effective ways to work virtually. Ly and his team have put together webinars on how to hire, manage and retain remote workers, including a recent one for the Vermont Human Resource Association.
"A lot of industries that always assumed they couldn't do work remotely quickly figured out that they could when they were put under pressure," he said.
Among the most common questions Ly hears: How do I keep remote workers involved and engaged? And: How do I ensure that my employees feel physically safe and financially secure during the pandemic?
Ly's advice: Stay connected. Business owners need to create ways for employees to interact socially online, he said.
Reconciled uses videoconferencing throughout the week to ensure that each employee engages with their supervisor, colleagues and teams. The company also created a "virtual lunchroom" where staff can meet daily for meals. Ly hosts a "coffee with the CEO" videoconference every Tuesday morning — not to discuss business, he said, but to catch up with staff about their lives outside of work.
"It's about thinking creatively about how you cultivate those ... at-the-water-cooler moments," Ly added. "That's very challenging to do, but if you work at it and take the time to do it, over time it becomes a habit."
— K.P
Extra! Newspaper Stays Solvent!
Valley News, 24 Interchange Drive, West Lebanon, N.H.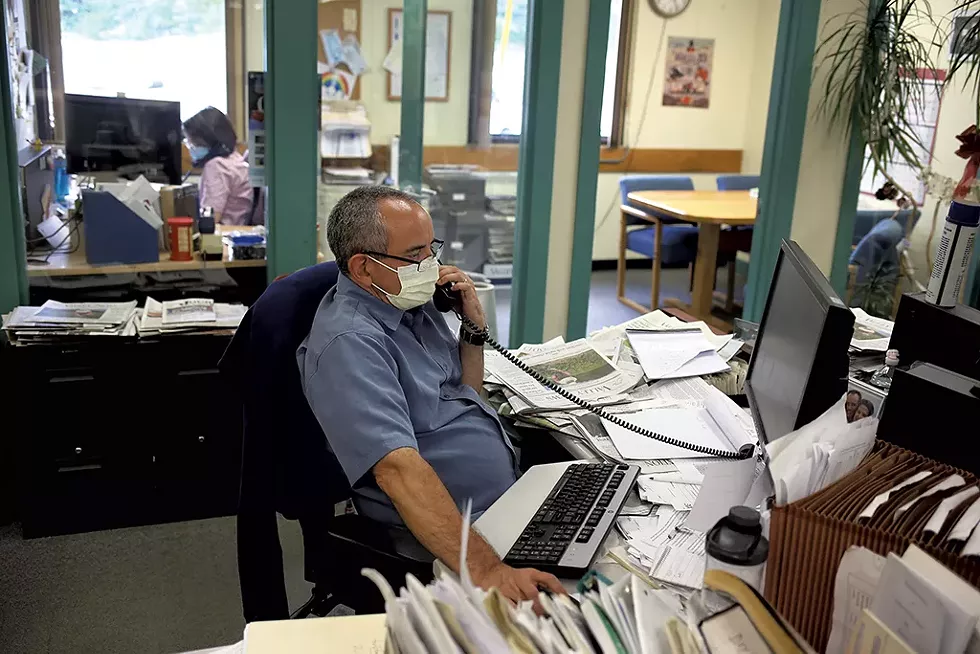 Sarah Priestap ©️ Seven Days
Editors John Gregg and Maggie Cassidy (in background) attending the daily news meeting by phone
A cruel irony of the newspaper business is that just because you're busy doesn't mean you're thriving.
In early March, while reporters at the Valley News wrote about initial COVID-19 cases in Vermont and New Hampshire, business owners wondered how much longer they could remain open. Soon, most stores and restaurants were temporarily shuttered, taking with them many of the advertising dollars that represent 53 percent of the daily newspaper's revenue.
"Everything came to a screeching halt," said publisher Dan McClory.
Like anyone who counts their newspaper experience in decades, McClory had weathered economic downturns before. But poring over finances in early March, the trained accountant knew that if the paper hoped to chase — and survive — the biggest story in a generation, staffers would need to "scrape every penny we could find."
There wasn't much fat to trim: The paper had overhauled its operation in recent years, retiring its printing press, outsourcing some design services and downsizing its newsroom from 25 to 20. To further limit expenses, McClory laid off three part-time newsroom employees, opted to leave a full-time writing position vacant and let three reporters go: two on the sports desk and one in features. He also cut managers' pay, reduced hours for several departments, asked editors to pick up reporting duties, trimmed the paper's page count and began sharing its production duties with its sister publication, the Concord Monitor.
As McClory eyed the bottom line, Valley News reporters tracked a blizzard of news. They chased down information about one of the region's first COVID-19 cases, detailing how an infected Dartmouth-Hitchcock medical center employee attended a party in White River Junction despite being told to quarantine. They covered a series of unprecedented executive mandates: the closure of restaurants, the dismissal of schools, the stay-at-home order. They documented the creative ways Upper Valley residents banded together.
Though much of their work can be done remotely, newsroom staffers have found that they miss working alongside their colleagues.
"It's hard to work in newspapers these days," said executive editor Maggie Cassidy, a 32-year-old second-generation newsie who took over in 2018. "One of the benefits is getting to work around a bunch of really smart and funny people. And obviously you lose a little bit of that when everybody's working in their own satellite locations."
Sarah Priestap ©️ Seven Days
Maggie Cassidy
Photo editor Geoff Hansen agreed. He joined the paper fresh out of college in 1989 and has worked there his entire adult life. "Editors, reporters, photographers — we're all commingled in one room," he said. "So there's always been a lot of working together, side by side." One recent day shift, however, Hansen was one of only two people in the newsroom.
"It's very lonely," he said.
Despite the challenges, the pandemic has thrown into relief the community's support for its 68-year-old newspaper. In April, as the shutdown dragged on, the Valley News launched a fundraising campaign. Within six weeks, the paper raised more than $150,000 from upwards of 1,500 donors.
"The outpouring was just unbelievable," McClory said.
Beyond financial support, the campaign brought a much-needed morale boost. Journalists often only hear from readers when they get something wrong. The campaign inundated staff with letters thanking them for their efforts. The messages cover several bulletin boards in the newsroom.
"When you've been working at home alone, you sort of feel like your work is going out into the void," health care reporter Nora Doyle-Burr said. "So it's been really encouraging to see those words and feel that support."
The paper's finances are trending in the right direction. Its parent company, New Hampshire-based Newspapers of New England, received a PPP loan worth between $2 million and $5 million, according to U.S. Department of the Treasury data. The company is distributing the funds across its nine daily and weekly newspapers in New Hampshire and Massachusetts, which employ some 270 people. Checks are still trickling in from both new subscribers and longtime readers adding money to their regular payments. And advertising revenues have ticked up in the last few months thanks to the gradual reopening of businesses.
Still, revenues are nowhere near pre-pandemic levels, and McClory said he's not sure when the paper will be able to restore the positions it cut. But while newspaper folk can be a cynical bunch, McClory is holding out hope that one of the pandemic's silver linings may be a greater appreciation for journalism.
"If we can survive the monetary aspect of it, I think newspapers could be stronger coming out of this," he said. "The key is, it's great that you support us now, but are you going to be supporting us in the future? That's where the question lies."
— C.F.
Correction, October 5, 2020: A previous version of this story incorrectly described the walls in the Red Onion Cafe.