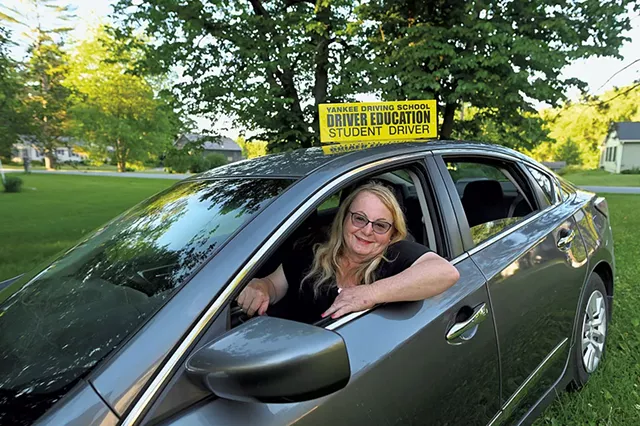 Jon Olender
Gabriella Netsch
It should come as no surprise that Gabriella Netsch, a driver's education instructor and the owner of Yankee Driving School in Wallingford, describes herself as a strict rule follower. Whenever her local school districts declare a snow day, she does, too. So when Gov. Phil Scott ordered all Vermont schools to cease in-person instruction no later than March 18, Netsch did the same for Yankee Driving School.
For some driver's ed instructors, shifting gears from classroom to online lessons was no big deal. But Netsch admitted that, at age 69, "To move to a computer was a learning curve for me, big-time."
But learning to negotiate curves is a part of driver's ed, so Netsch rolled with it. Demand for her classes remained high. After the Vermont Department of Motor Vehicles canceled all written exams and road tests, Netsch personally called all 50 families enrolled in Yankee Driving School for the spring and offered them full refunds.
"How many do you think took it?" she asked. "Zero. They want their kids driving, and we're their best shot at it."
Netsch first moved to Vermont from New Hampshire in the 1980s for a job as an elementary school principal in Killington. She got licensed as a driver's ed instructor as a backup plan for her retirement. But after getting divorced in her fifties and losing her passion for being a public school administrator, she changed course in January 2009 and opened Yankee Driving School.
Netsch had never taught teenagers before. "It didn't take long before I said, 'Wow! These are people I like to be around,'" she said. "High school kids are great. They keep you young."
Yankee Driving School quickly grew from about 20 students a year in 2009 to more than 300 today. Netsch now employs two other instructors, with whom she offers classes in Bennington, Windham, Windsor, Rutland and Orange counties. Though most of their students are teens, Yankee also gets adult students referred by Vermont's Division of Vocational Rehabilitation, Vermont Adult Learning and other social service organizations.
"When a kid didn't pass driver's ed in high school, there's usually a reason," she explained. Sometimes, the students have learning disabilities or didn't do well in classroom settings. But most of the time, she said, they didn't have an adult at home who could take them driving. Often that's because the family lacked a vehicle or money for gas.
"If you want to work in Vermont, you need to know how to drive a car," she said. "And the bottom line is, you've got to practice to get your license."
Indeed, under DMV rules, student drivers are required to spend at least six hours behind the wheel with an instructor and another six hours observing from the back seat. Students practice safe vehicle handling, as well as the three maneuvers required to pass a road test: a hill start, a "turnaround" or K-turn, and parallel parking.
For more than two months, social-distancing rules made it impossible for Netsch and her team to do in-car instruction. Theoretically, she could have offered one-on-one instruction, with just one student in the car at a time.
"But by our own standards, we're not supposed to be out in a vehicle alone with a kid," explained Netsch, who typically has other students in the car, too. "It's not safe, if you know what I mean."
Thus far, Netsch hasn't felt the financial pinch from the pandemic because students have continued to enroll in her classes. But the weeks that she couldn't be on the road have prevented some students from logging enough hours behind the wheel — meaning she won't be able to teach new students while she's still training the previous ones.
"I think we're all going to pay the price in the fall, because I don't think we'll be done driving yet," she said. "The real loss of income is down the road."
But driver's ed programs recently shifted back into drive again. On June 1, Scott announced that the DMV was offering online tests for student drivers to get their learner's permits. And as of June 8, DMV examiners resumed road tests.
In order to move through the backlog of canceled road tests more efficiently, the DMV also announced that it's allowing certified driving instructors to administer road tests and issue temporary licenses themselves — a policy Netsch initially opposed.
"I always felt like I wanted another professional to check my work," she explained. "However, these are unusual times."
Though she's eager to get her traditional classes back up to speed, Netsch suspects that some changes adopted during the pandemic could become permanent. Notably, she may continue offering some online classes, especially for parents who have to leave work and make long drives to drop off and pick up their kids.
And though teaching classes online has "never been my thing," Netsch said, she's getting used to it, with some computer help from her own students.
"They know more, and they know they know more," she added. "But they also know that I know more about driving. So it creates a balanced relationship."