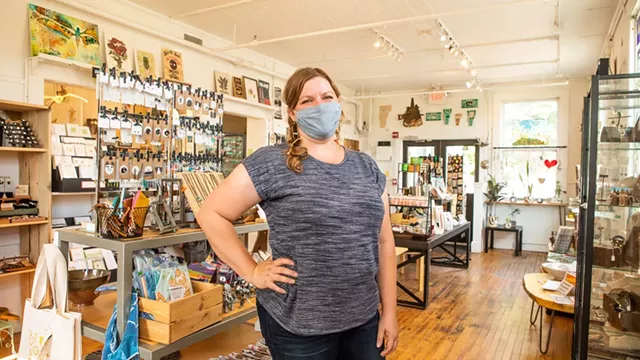 Luke Awtry
Moe O'Hara
In the coronavirus era, the word "pivot" is suddenly everywhere. It smacks of Allbirds and Slack channels and free kombucha, a bland shorthand for not going out of business during a global pandemic. Moe O'Hara, owner of Thirty-odd in Burlington's South End, hates the word. Her business model hinges upon the inefficient serendipity of browsing, which is a rewarding activity at her arty emporium. You can find, among other things, a plaster ear, a sticker of a uterus flipping the bird, and a piece of soap sculpted to look like a baby's hand.
When the pandemic canceled in-person browsing, O'Hara refused to pivot gently into that virtual night. "I don't want to have an online store," she said. "All of the artists in here" — there are 30-ish, hence the name — "already have their own online stores. The purpose of this place is to be a brick-and-mortar store for them."
Thirty-odd, which O'Hara opened in 2018, is essentially a year-round indoor art market. Instead of taking a sales commission, which is how most galleries operate, O'Hara charges her vendors a fixed monthly fee, usually between $100 and $150, to rent space. In exchange, the artists keep 100 percent of their sales.
While the store was closed, from late March to mid-May, O'Hara sort of did the dreaded pivot and assembled custom gift boxes for $25 each. In lieu of collecting rent from the artists, she took a 40 percent commission from the pieces she sold in the boxes, which allowed her to cover her rent. Her two part-time employees went on unemployment for the duration of the shutdown; O'Hara brought them back when she reopened.
In addition to a small federal Paycheck Protection Program loan, O'Hara received a grant from the state relief fund for businesses owned by women and people of color. ("They were so great!" she said, referring to the elves who helped her with the application process. When she signed the documents with her legal name, Maureen, her application was rejected; eventually, she said, someone emailed her and told her to use the name Moe. She did, and it magically worked.)
In a season mostly devoid of festivals and fairs, artists are scrambling to find alternative venues for their work. One, whom O'Hara declined to name, agreed to rent a space in Thirty-odd beginning in September, even though he has a contract with another Burlington gallery that ostensibly prevents him from selling work at other venues within a three-mile radius. "They haven't ordered anything from him in, like, four months," she said, referring to the gallery. "To be confined in a contract like that right now is totally not working for him."
O'Hara disavows the turf mentality: "I don't give a shit where else people sell stuff. They're trying to make a living."
Since Thirty-odd reopened in May, O'Hara has seen only a modest decrease in sales compared to a typical summer season; in July, sales were 10 percent lower than in July 2019, which she chalks up to a slightly lower number of tourists. "Locals have been showing their support for local artists, which is amazing," O'Hara said. Certain items have been flying off the shelf — for example, silver stud earrings by Plus or Minus Studio, which sell for $28 a pair. "People want to wear earrings, but anything that dangles gets caught on their masks!" she said.
Meanwhile, artists have been blowing up her inbox. In the past few months, O'Hara has received a slew of requests to rent space in the shop, which is already full. She currently has 10 or so vendors on a waiting list.
"I've had some drop-ins during business hours, where people literally just put their stuff out on the counter," she said. "A lot of them are veteran artists, and it feels like they're maybe going back to the way things used to be, where they would peddle their wares in person."
O'Hara wouldn't share any names, but she described their general discombobulation with the sudden online-ness of everything: "It's a bit of hurt pride, you know, that [artists] haven't been able to pivot during a global pandemic, which is crazy."
Martha Hull, who has been selling her work at Thirty-odd since it opened, made a little bit of money from the gift boxes while the shop was closed. "Honestly," she said, "it was better than nothing." In a typical summer, Hull earns about three-quarters of her income by selling her work at the Burlington Farmers Market. But given the pandemic-related restrictions this year, she anticipated a lower turnout and didn't see much point in setting up her booth.
For a time, Hull sold masks through her online store (sample design: a tentacled creature with bat wings and, in ghoulish font, the phrase "No Worries"). But she felt like she was spending an inordinate amount of energy on projects that didn't fulfill her: "It's mission creep, where you do too much of the stuff you don't want to do and, suddenly, it's your job."
Making anything has been a slog these past few months, Hull said. She often transforms inanimate objects into angsty, dissipated characters, such as a Tiparillo-smoking wedge of Swiss in lipstick and fishnet stockings, surrounded by the words "When Cheese Goes Bad." But the coronavirus stumped her. "Nobody wants to see it with a cute, tarty little face," Hull said. "I'm starting to realize how much my sense of humor has suffered over the past few months, and that's normally the driving force behind my art."
Hull isn't alone in her paralysis. "I'd say about 75 percent of the artists I talk to have had a really hard time working," O'Hara said. "There's a pandemic; you're not selling; your customer base is gone. To be creative at all in this environment is a pretty outstanding achievement."
Hull is one artist who bristles at the gospel of pandemic productivity: "'Use this time to be awesome'?" she exclaimed, mocking the breathless self-improvement rhetoric of the quarantine internet. "Like, come on. Who do you think is doing that?"