Courtesy
Stowe-based Inntopia's staff pre-COVID-19
For Trevor Crist, founder and CEO of Inntopia, the winter of 2019-20 was on course to be a bluebird season. Hefty snow blanketed much of the country, prompting skiers and snowboarders to hit the slopes in higher-than-average numbers in the Northeast, the Rockies and the West Coast.
That was good news for the Stowe-based booking software firm. Normally, 80 percent of Inntopia's revenue comes from clients that operate ski resorts, such as Alterra Mountain Company, which owns Sugarbush and Stratton, and Vail Resorts, which owns Stowe, Okemo and Mount Snow.
"The whole continent was tracking pretty well," Crist recalled. "And then things fell off a cliff."
Like most companies involved in travel, tourism and hospitality, Inntopia's revenues, normal in the first week of March, disappeared virtually overnight, as the coronavirus first struck the Northwest, then erupted in New York and across the country. As Crist noted, some of the earliest COVID-19 hot spots outside of major U.S. cities were luxury ski resort towns, where many wealthier urbanites sought refuge, and where many of Inntopia's clients are based.
Though some related businesses have since gone under, their numbers haven't been as high as Crist initially feared — yet.
"In travel and hospitality, you look at the next few months and wonder how long some of these businesses are going to be able to hang on with social-distancing rules in place," he said. "They're all going to need to reinvent their businesses — and they're going to need software to do that."
Inntopia, which has about 80 employees spread across its offices in Stowe, Burlington, Colorado and Maine, hasn't furloughed or laid off any of its workers. But in mid-March, they all switched to working remotely and to a four-day workweek. Crist said that the salaries of the company's "higher earners" were reduced on a sliding scale, with those paid the most taking the biggest hits.
And as travel all but halted for two months, Inntopia searched for ways to reinvent itself. In an effort to keep staff busy, identify new revenue streams and find ways of giving back to their communities, Crist said, Inntopia repurposed its travel booking software to create TestLink, a platform for scheduling COVID-19 tests.
Despite some early interest among states and municipalities, mostly in the mid-Atlantic region, Crist said, Inntopia has yet to sign any clients for TestLink.
"The [coronavirus] testing hasn't come online as quickly as I had hoped for to make [the platform] necessary," he lamented. "It isn't that hard to schedule testing right now because there isn't much testing available."
Far more successful has been Inntopia's work on the Goggles for Docs campaign. In late March, Crist received an email from John Schaefer, who runs Berkshire East and Catamount ski resorts in Massachusetts. Schaefer had gotten a request from a New York physician seeking donations of old ski goggles that could be repurposed as personal protective equipment for frontline health care workers.
Crist offered to create the software to match donors with recipients — namely, hospitals and health care facilities. Within two weeks, Inntopia had the platform up and running. The company has since coordinated the donation of nearly 45,000 pairs of goggles, and demand has not let up.
"How many goggles are there to be donated?" Crist said. "Frankly, I'm shocked that we're this far into it and the PPE manufacturers haven't caught up."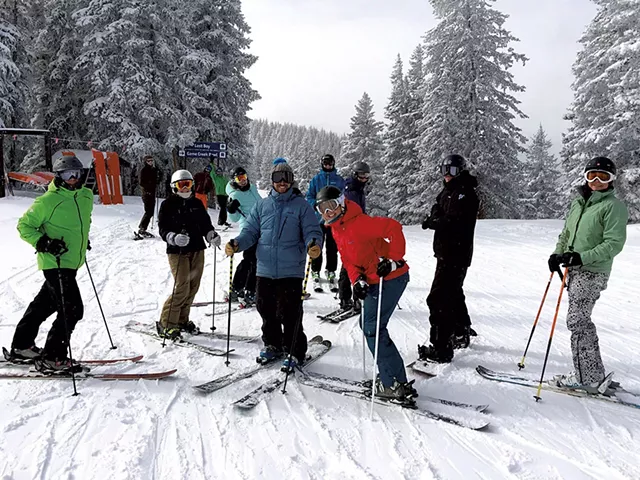 Courtesy
Inntopia's Edwards, Colo., team
But he pointed out that Inntopia didn't monetize the software; the project was a community service. And, because the company's majority owner is a private equity firm, Crist noted, Inntopia hasn't qualified for any state or federal assistance to weather the pandemic, such as the Paycheck Protection Program.
Even as bookings and other travel arrangements have slowly resumed in the last few weeks, Crist said, Inntopia continues to seek new revenue streams. In addition to managing clients' travel bookings, marketing and customer communications, the company also offers a service that's suddenly in high demand: business intelligence.
Because the pandemic is unlike any previous crisis the hospitality industry has endured, including 9/11 and the Great Recession of 2008, "There's a tremendous hunger for data," he said. "People are flying blind because, in a lot of ways, the ground rules have all changed for everything."
Simply put, ski resorts and other hospitality businesses are just coming to grips with the possibility that, next winter, they may need to do business in a socially distanced ski season. That could mean limited or prohibited indoor dining, reduced capacities in lodges and lift lines, and similar restrictions. As Crist put it, "I don't think anyone really has a handle on what that will look like."
Inntopia has reaped some unexpected benefits, he said. Some clients have postponed costly infrastructure improvements, such as building new restaurants and renovating lodges, opting instead for more modest projects, such as software improvements.
"It's a lot easier to look at a $200 million capital budget and say, 'Let's get rid of the $20 million chairlift and [go with] the $200,000 software project,'" Crist said.
The opportunities haven't outweighed the costs of this crisis, he noted, "but every bit helps." As for Inntopia's own operations, working remotely has been popular among staff.
"We've actually found that it's broken down barriers that existed geographically," Crist explained. "We're finding better collaboration between people in Colorado and Vermont than we previously had."
Indeed, Inntopia has no plan to require its employees to return to their offices for the remainder of 2020, if ever.
"We managed to pretty seamlessly and effortlessly get everyone working from home," Crist added. "I have a hard time seeing us going back into office space again."