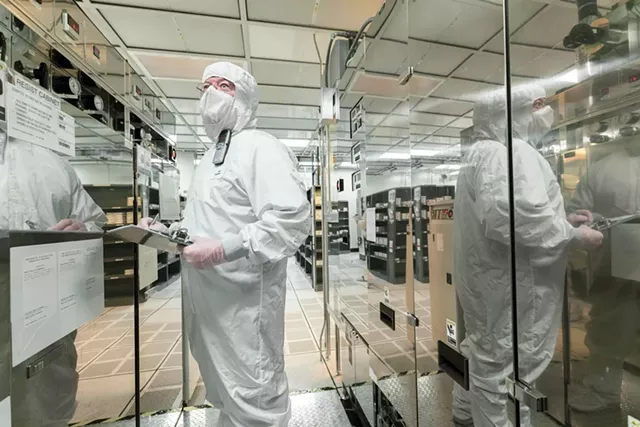 Courtesy Of Globalfoundries
A GlobalFoundries employee working on the production floor in Essex Junction
Since March, entering this massive campus — bigger than most Vermont towns — has required a new kind of pass code. A skeleton crew of more than 1,000 masked workers lines up each day before one of three gatekeepers to have their temperatures read by an infrared thermometer. Once they pass the test, the employees put on head-to-toe protective garments. Then they walk onto the floor, a labyrinthine, controlled environment where they begin their "essential" day's work that continues unabated through the coronavirus pandemic.
This campus is not a hospital, and these employees are not nurses. They are engineers and technicians for semiconductor manufacturer GlobalFoundries in Essex Junction. The privately held, California-based multinational company is Vermont's largest private manufacturer, with 2,300 workers. Its "Fab 9" plant, as the local foundry is called, prints microchips that power consumer and commercial electronics. While COVID-19 has required quick adjustments and brought new uncertainty to an already complex, competitive global marketplace, Fab 9 continues to hum along.
"We've been able to meet our production targets," said Dale Miller, senior location executive and senior director of manufacturing operations.
That's no small feat, given that most of GlobalFoundries' Vermont workforce hasn't even been on-site.
Unlike many other manufacturers, the chipmaker is considered essential during the state of emergency. Its microchips, printed on silicon wafers, are the building blocks of wireless technology and health care equipment such as ultrasound devices. The Vermont fabricator also holds "trusted foundry" status with the U.S. Department of Defense and produces chips for military applications.
The Essex Junction plant, purchased from IBM in 2015, is one of five foundries the company owns around the world; its other locations are in New York State, Germany and Singapore.
Because the coronavirus swept through Asia and Europe before it was discovered in New England, Miller said, the U.S. foundries had a blueprint for adapting the workplace so the production lines could stay moving without workers being exposed. They began planning in January and February, he said.
The changes weren't especially complicated, but they had to happen on a huge scale. GlobalFoundries' campus has 30 buildings, totaling 3.5 million square feet of clean rooms, labs and office space, plus several commercial tenants. The round-the-clock operation uses more electricity than the City of Burlington and about as much water. "We always think of ourselves as a little city, in a way," Miller said.
The chipmaking process is highly automated, with robotic arms and monorails handling much of the precision work. As a result, GlobalFoundries has managed to keep production online with just 25 percent of employees on-site. Support technicians, such as process engineers, who don't run tools but are sometimes needed on the floor, were split into teams A and B; they work on campus on different days. Employees who aren't needed on the floor have been working from home.
That still means hundreds of workers need to work in a socially distanced environment. GlobalFoundries restricted access to the entire complex to three entry points and began screening everyone who passed through, first using human temperature takers and then, more recently, automated devices. Self-serve stations in the cafeteria shut down.
The intricate manufacturing process takes place in vast "clean rooms," billed as some of the most immaculate spaces on the planet, that compose a combined 500,000 square feet in two of the larger buildings.
Workers always don and doff clean-room garments, nicknamed "bunny suits," in a large changing room connected to the floor. The full-body veils help prevent dust particles from corrupting the silicon wafers. The company initially added surgical masks to the uniforms, though it has since switched to the cloth kind.
These changes, plus some social-distancing guidelines, have allowed GlobalFoundries to continue apace — which was necessary, Miller said, to fulfill the relatively high number of orders placed for the first and second quarters. No one has contracted COVID-19 at work, he said.
Courtesy Of Globalfoundries
GlobalFoundries in Essex Junction
One of the company's most difficult challenges has been maintaining its full manufacturing crew as workers try to navigate months without school or daycare for their kids.
"Unless they had another family member, it required them to stay home," Miller said.
The childcare issue is another reason why GlobalFoundries is taking a slow, "phased" approach to bringing the other 75 percent of its employees back on-site. As state lockdowns have eased in recent weeks, some of those workers have returned, but Miller said he doesn't expect to have everyone back until October at the earliest.
Other Vermont manufacturers, particularly those that mothballed their factories during the first COVID-19 wave, are looking to GlobalFoundries' adjustments to guide their own. Last month, the company's environmental, health, safety and security director, Jim Mulligan, took part in a virtual panel arranged by the Vermont Manufacturing Extension Center to offer advice on safely restarting operations.
GlobalFoundries' executives are part of a manufacturing "subteam" of the state's RestartVT economic task force. The company has also donated N95 respirators — used sparingly in its manufacturing process — and masks to first responders, as well as more than 800 "bunny suits" to aid in the pandemic response.
While its adaptation serves as a model for others, the state's largest private employer faces an unknown and likely volatile future. The semiconductor industry relies on complex international supply chains that outbreaks could disrupt. Demand for the high-tech electronics that use microchips is sure to shift during a global recession. An April analysis by consulting firm McKinsey & Company forecast that global semiconductor demand will drop between 5 and 15 percent in 2020, with the steepest declines in automotive and wireless applications. Mobile and wireless infrastructure makes up the biggest chunk of microchip production in Essex Junction.
Miller said the company is anticipating "a little bit of a downturn," but he struck an optimistic tone.
"We are vital to a lot of key industries," he said. "Demands can change pretty quickly."
Meanwhile, GlobalFoundries is among the U.S.-based semiconductor companies lobbying the Trump administration for federal backing to create new plants in the United States, the Albany, N.Y., Times Union reported, in order to reduce reliance on essential imported materials.
The federal government reportedly struck a deal last month with Taiwan microchip producer TSMC, the world's largest, to build a new plant in Arizona. The proposed plant would fabricate wafers of a different size from those created in Vermont. Still, GlobalFoundries, which is owned by investors in Abu Dhabi, questioned the wisdom of partnering with its foreign competitor.
"Does that make sense?" Laurie Kelly, the company's vice president of global communications, said to the New York Times. "There are so many other options."
Last year, the Vermont plant sold its application-specific integrated circuit, or ASIC, division to Santa Clara, Calif.-based Marvell, which in turn cut 78 jobs. Around that time, the company also sold its Essex Junction-based photomask operation to a Japan-owned company, Toppan, but reps told AnandTech magazine that the equipment deal did not include job cuts.
Miller said GlobalFoundries hasn't furloughed or laid off any employees since COVID-19 arrived, nor does it plan to in the months ahead.
"We've been pretty adamant with our employee base," he said. "Our CEO [Thomas Caulfield] said at the beginning of this, 'We started this together, and we will finish this together.'"
Correction, June 12, 2020: GlobalFoundries has five foundries around the world. Further, the company is Vermont's largest manufacturer. A previous version of this story had errors.