Sarah Peet Photography
Rhonda Percy and Kelsie Fletcher
Scampy's Country Store & Deli in West Charleston has been an integral part of Rhonda Percy's life since long before she and her husband, Michael, bought the business. Percy held her wedding and baby showers in the white clapboard building, which was once the local grange hall. Her daughter, Kelsie Fletcher, started working there when she was just 15 and later lived in one of the store's two upstairs apartments. These days, Fletcher, 32, manages the store that her parents bought nearly 13 years ago to transition out of dairy farming.
But now, Percy said, she's ready to sell the place.
Like many people born and raised in West Charleston, an unincorporated village in the Town of Charleston in the Northeast Kingdom, Percy has childhood memories of going to the general store, which sits along Route 105 and abuts the Clyde River. There, her parents would get her buttercream candies, scooping them from a barrel and buying them in paper bags for a penny apiece.
Before leaving on hunting trips, Percy's father and brother often stopped in to buy oysters for stew from the store's longtime proprietor, Irvin "Scampy" Dane. As Percy put it, "Everybody in town knew Scampy. Everybody."
Scampy Dane's, as the store was commonly known (though it had varying names over the years), was the center of life in West Charleston for decades. Also the site of the town's post office, it's where locals still come to pick up their mail, buy coffee and visit with neighbors.
Back in the day, Percy recalled, the store was stacked floor to ceiling with merchandise. Dane, a war veteran and lifelong bachelor whose employment at the store dates back at least to the 1940 census, walked the narrow canyons of goods and used a mechanical claw to pluck items from the top shelves. His antique grabber is still on display.
After Scampy Dane died in April 1995 at age 87, his niece and nephew took over the store. They later sold it to Ernie and Donna Wright, who put in the deli counter and pizza oven and built the apartments upstairs, Percy said. When Percy and her husband bought the business in 2007, Percy asked the Dane family whether she could rename it in honor of its longtime proprietor. It's been Scampy's Country Store & Deli ever since.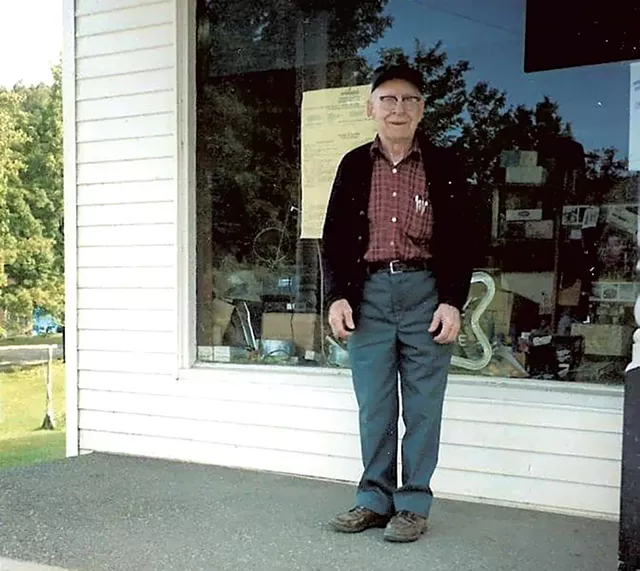 Courtesy Of Rhonda Percy
Irvin "Scampy" Dane
Scampy's still has a "very loyal" clientele that includes local farmers and loggers, Percy said, many of whom come in when the store opens each morning at 6 a.m. It's where the Charleston Elementary School buys pizzas for school parties and where the Charleston Volunteer Fire Department gets oysters for its annual oyster supper fundraiser.
Percy said she's been trying to sell the business for months, but not because of the pandemic. Her mother has a terminal illness, she explained, and her granddaughter suffers from Apert syndrome, a rare genetic disorder that caused the bones in her skull, fingers and toes to fuse prematurely. At age 2, she's already had three major surgeries and two minor ones, Percy said.
"Kelsie was out for a year because of it, and it really hurt our business," she added, describing her daughter as "the glue" that holds the store together.
When the pandemic hit in March, Percy recalled, business "dropped off to next to nothing." Scampy's shut down for three days each week to save money. Some of its eight employees volunteered to work fewer hours to help their colleagues who were more cash-strapped.
"We're a small town and a small staff," Percy said, "and they do have each other's best interests at heart."
In late spring, the Percys secured a small Paycheck Protection Program loan, the amount of which Rhonda declined to reveal. For a time, she and her husband offered meal deliveries on Friday and Saturday nights to try to drum up extra business, but the service proved impractical, so they dropped it. As business suffered and the store seemed increasingly unlikely to sell, Percy took it off the market.
Then, over the summer, business picked up again.
By July, Percy and Fletcher were seeing more out-of-state license plates than they ever had before, Percy said. As people flocked to Vermont for its wide-open spaces and lower number of COVID-19 cases, the deli counter remained hopping all summer. Fletcher increased her employees' hours again.
Pre-pandemic, Percy said, the store's busy season usually ended as the Orleans County Fair began. But with the fair canceled this year, she said, customers kept coming in for pizzas, fries and Scampy's specialty: steak-and-cheese grinders. Business hasn't let up since.
"Right now it's awesome, which is weird," added Percy, who now works full time in the administrative office of North Country Union High School in nearby Newport. The benefits are one reason she took that job. "Honestly, health insurance for a small business like [Scampy's] would break us," she said.
Percy expects the store and deli to stay busy until the end of deer-hunting season in mid-December, when traffic typically drops off and the business scales back to winter hours.
In the meantime, Percy plans to put the store back on the market in the next few weeks, hoping to get some nibbles. After years of dairy farming and running a general store, she's ready to move on from the seven-days-a-week grind.
"It's time," she said.