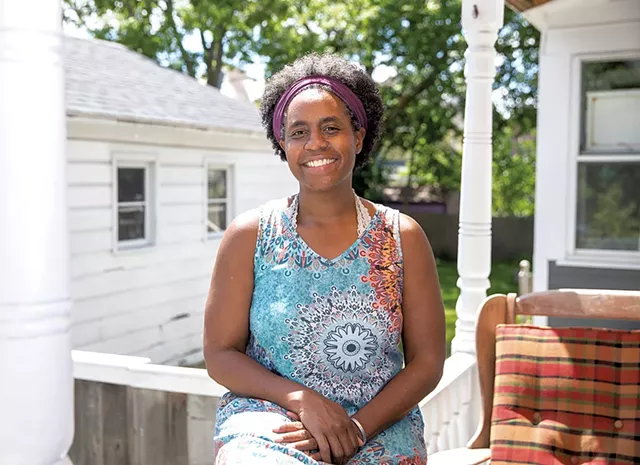 James buck
Jude Smith Rachele
For Jude Smith Rachele, 2020 has been one hell of a year to be in the business of cultural change.
Rachele (pronounced "RaKELLY") is cofounder and CEO of Abundant Sun. The Burlington-based global consulting firm, which describes itself as a "cultural transformation agency," helps the managers of government agencies, corporations and nonprofits reform their workplaces to be more just, equitable and true to their professed values.
Founded in 2003, Abundant Sun comprises two entities — one in the United Kingdom, the other in Vermont. Most of its operational team is 15 self-employed, UK-based associates who work under the Abundant Sun banner and serve mostly British governmental departments, universities and global law firms.
In the U.S., Abundant Sun's half dozen consultants work primarily with human services agencies, renewable energy companies, not-for-profits, cooperatives and credit unions. Its Vermont clients include the Howard Center, Vermont Energy Investment Corporation and City Market, Onion River Co-op. A few weeks ago, Gov. Phil Scott appointed Rachele to serve on his coronavirus Economic Mitigation & Recovery Task Force.
A native of Maplewood, N.J., Rachele identifies as "culturally British" and speaks with a slight English accent, the product of having lived in London and Europe for 28 years. After getting her bachelor's degree in psychology at Rutgers University in New Jersey, she earned her PhD in business management at Kingston University in London. It was in London that she met Rollin Rachele, her now-husband and business partner. The couple moved to Burlington with their children in 2015.
Rachele is no mere diversity and inclusion trainer, though she started her career as one before growing disillusioned by the lack of forward momentum in that field. Today, she's more of a systems analyst, though the "systems" she troubleshoots don't involve computer software but networks of people and how they interact within an office culture.
One of her joys, she said, is performing workplace climate and culture surveys for her clients to determine how satisfied their employees are and whether they feel the organization's values align with their own. She then analyzes those data to determine whether there are meaningful differences in how people from different backgrounds — based on their race, age, gender, sexual orientation, length of service and the like — experience the same work culture.
Rachele likens her work to that of a chiropractor who checks a patient's spine to see if it's aligned and discovers that one hip is higher than the other and causing pain.
"It's the same kind of diagnostic that you're doing of the culture of an organization," she said. "When there's pain and grief and underperformance in your culture, then we need to figure out how to transform it for the good."
This year's first paradigm-shifting event — the pandemic — has had a mixed impact on Abundant Sun's bottom line. The company's UK-based operations, most of which involved traditional face-to-face meetings and corporate trainings, all ground to a halt as that country went into lockdown. Rachele's UK team used the down time as an opportunity to rebrand the business and figure out how to work more effectively in the virtual space, she said.
Meanwhile, the company's U.S.-based work continued pretty much as usual, she said. In fact, some of their projects helped lay the foundation for how clients' organizations responded to the killing of George Floyd by Minneapolis police and the social outcry it sparked.
"Even before the murder of Mr. Floyd, we were in the throes of a much wider cultural transformation," Rachele explained. "When you're asking people to stay at home and not go outside, you're transforming your culture. When you're asking people to wear face masks, you're changing behavior and reworking people's neural networks. You're changing people's emotional reactions to one another and their relationships to the world."
Prior to coronavirus, Rachele was working with one client to establish a workplace "culture committee" to address unresolved conflicts and fractious relationships between employees and board members. A subset of that committee, she explained, was assigned to "be on the lookout" for external events that could affect their business and how the organization would address those events.
Then, as massive street demonstrations against police brutality erupted across the United States and worldwide, Rachele said, her client "had the players in place" who were already discussing race and bias.
"It was an opportunity for voices that are not usually heard within a predominantly white, liberal organization to say, 'Listen! We need to address the bias inside the system,'" she said. "'I know we're all good, well-meaning people, but there's shit that goes on here every day that you don't know you're doing!'"
The resurgence of the Black Lives Matters movement has presented Abundant Sun with obvious financial opportunities. Business development has "grown exponentially" in recent weeks, Rachele said, as new clients have approached her and old clients have circled back, all seeking guidance in how to speak to their clients and each other about race and inequality.
But Rachele doesn't want to come across as opportunistic. She cited a scene from the 2003 documentary The Corporation, in which an African American trader on Wall Street is interviewed about 9/11 and admits that his first thought upon hearing the news was that the price of gold must be going through the roof.
"That's where we are today. The price of gold has gone up," Rachele said. Last week, she got an email from a London-based colleague asking whether she was interested in doing a webinar for "a major Japanese financial institution" about Black Lives Matter.
Though Rachele is eager to seize this unique moment in history to discuss racial equality and ethical governance, she's not looking to hire new consultants and overextend the business — or herself. As she put it, "I have to make sure, as the CEO of Abundant Sun, that I do this right."