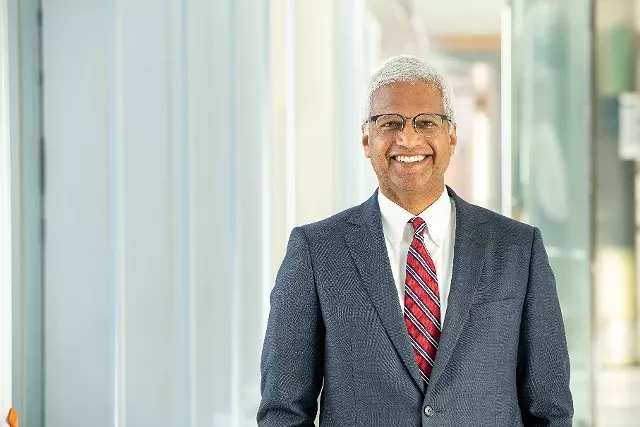 Courtesy of UVM Health Network
Dr. Sunil "Sunny" Eappen
Updated at 3:42 p.m.

The University of Vermont Health Network has named its next leader.
Dr. Sunil "Sunny" Eappen, an executive at the Boston-based Brigham and Women's Hospital, will take over as chief executive officer and president of Vermont's biggest health network starting in late November.
He will succeed Dr. John Brumsted, who is
retiring this fall
after more than 10 years at the helm of the hospital network.
Allie Stickney, chair of the network's board of trustees, said Eappen's experience and vision stood out during the monthslong search for Brumsted's replacement.
"All through the search process, Dr. Eappen stood out as an accomplished and inspirational leader whose personal and professional values closely align with the strategic direction of the Network," Stickney said.
rior to joining Brigham and Women's, h
e served as chief medical officer at the Mass Eye and Ear, a nationally renowned hospital and the second-largest teaching site of Harvard Medical School.
Eappen currently serves as chief medical officer and senior vice president for medical affairs, while he also teaches as an associate professor of anesthesia. He has helped steer the hospital's diversity initiatives and spent a nine-month stint last year as the hospital's interim president before a permanent candidate was named, a press release said.
At a press conference laster Thursday, Eappen told reporters that it was not until he spent time as interim president at Brigham that he realized he was interested in running an entire hospital.

"It really gave me the opportunity to have influence and have an impact on a large organization," he said.

When he lost out on Brigham's permanent position, he said, he decided to look elsewhere — and zeroed in on Vermont. "My wife and I were very specific about the places that we would even look," he said. "This role got both of us really excited."

Eappen, 56, will earn a starting salary of $1.3 million. Brumsted, by comparison, took in roughly $2 million in 2019, according to the network's tax forms.
Eappen's jump to UVM comes at a challenging time for the sprawling health network, which includes six hospitals in total: three in Vermont and three in northern New York.
His most immediate challenge will be returning the network to more solid financial ground. Its two largest hospitals — the UVM Medical Center in Burlington and Central Vermont Medical Center — are currently waiting to hear whether state regulators will grant them
permission to charge commercial insurance companies far more
this year to help confront rising inflation and staffing costs.
The regulatory environment he will encounter in Vermont is far more hands-on than the one he's leaving in Massachusetts. But concerns over rising hospital costs transcend state boundaries. Earlier this year, the Bay State's health care watchdog agency, the Health Policy Commission, chastised Brigham and Women's for years of high spending and called on the hospital to submit an improvement plan.

"I believe in that kind of regulation," Eappen said of Vermont, where a single entity — the Green Mountain Care Board — approves budgets and major spending. "I think the ask would be, 'How can we work together to best deliver on both of our missions?' which are really, really common."
Another item on his plate will be addressing the network's access challenges. Its flagship Burlington hospital
continues to struggle with long wait times
for specialty medical care, while an unprecedented wave of patients has put more pressure than ever on inpatient services.
UVM has also struggled to recruit and retain doctors in recent years as it competes on a national scale with hospitals such as the one Eappen is at now. Asked how he planned to reverse that trend, Eappen said he believes one of the best selling points remains Vermont itself.

"Vermont's an amazing place to live. I think that helps a lot," he said. "But also we have to be purpose driven and mission driven and be able to really convey that to the folks that we're trying to attract."