Last month, Medic was one of three women who were honored at an International Women's Day celebration in Burlington for their work in helping vulnerable and underserved populations. Medic is a victim advocate with the Chittenden County State's Attorney's Office. Another honoree, Aftaba Mezetovic, has worked with the Winooski School District for 19 years.
Medic and Mezetovic share more than Bosnian ancestry. Both expressed their deep gratitude to the third IWD honoree, former mayoral candidate Wanda Hines. Back in 1995, the year the Bosnian women arrived in Vermont as refugees, Hines was the director of the Chittenden Emergency Food Shelf.
"My first vegetable came from your organization, and I will never forget that," Medic told Hines during her acceptance speech.
"Wanda treated me well. She gave me a cake," said Mezetovic when it was her turn to address the audience.
Over the years, Medic and Mezetovic have watched new waves of refugees arrive while continuing to play important roles in their own community. Reflecting on her experience, Medic noted that many former refugee women have community-based jobs that enable them to bring about change in other people's lives. "Everybody turns their grief into [a] tool that later on they can use to help others," Medic said.
Underpinning the Bosnian women's desire to give back is a sense of commonality with other refugees and their struggles in adapting to their new home. Senada Sokocevic, a dental assistant, said, "I feel a special connection with them, regardless [of whether] they're from Somalia, Tibet, Sudan. I like them equally."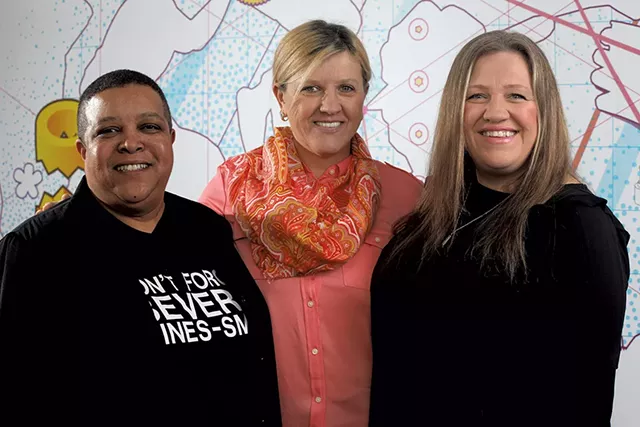 Matthew Thorsen
Left to right: Wanda Hines, Aftaba Mezetovic and Armina Medic
Between 1993 and 2005, about 1,700 Bosnians resettled in the Green Mountain State as a result of the war in their homeland. Although the conflict involved violence on all sides, most of the atrocities were committed against Bosnian Muslims, or Bosniaks — who, accordingly, became a large refugee population.
"There's not a universal experience," noted Dzeneta Karabegovic, a political scientist whose areas of focus include transitional justice in the Balkans. "Each community experienced war in a different way." While the capital, Sarajevo, was under siege, Karabegovic's birthplace, Banja Luka, experienced massive expulsions and ethnic cleansing. Karabegovic and her family fled to Germany, where she spent her formative years before moving to Vermont in 1998.
In Burlington, Hines recalled Bosnian women coming to the food shelf in groups of three or four. The language barrier caused occasional misunderstandings over the distribution of bread, which is a staple for Bosnian families, she said.
Over time, Hines got to know the community better — and saw it thrive. "The Bosnian community has just done really well," she said. "Burlington is a very resourceful community, and [the Bosnians] have been able to better utilize the many resources that are available."
Indeed, "the Bosnian resettlement all across the U.S. is widely hailed as a 'success story,'" wrote Pablo Bose, a migration scholar at the University of Vermont, in an email. "Both from my interviews and from my own observations, I would be more inclined to say that this is [more] a result of race and identity than it is about available resources."
What he means is that Americans do not tend to perceive Bosnians as members of an ethnic minority. "Bosnians — despite being 'othered' by language and religion — are for the most part able to 'whiten' in a way that African and Asian refugees cannot," wrote Bose.
Medic, who is a Muslim, makes a similar observation. "I'm white and I blend in, and no one will know I'm a refugee, versus if I had darker skin or wore the hijab," she said. She can't help but wonder, though, "If I had a different appearance, how would I feel?"
Courtesy of Dzeneta Karabegovic
Dzeneta Karabegovic
While they may "blend in" in some respects, Bosnians have still experienced "serious challenges of integration," Bose noted. While Medic, Mezetovic and Sokocevic each fled different circumstances in Bosnia, all three struggled with material difficulties and concerns about retaining their cultural identity.
When Mezetovic arrived in Vermont in 1995 with her two young children and husband, she was desperate for a new life, she recalled. She had to learn a new culture and language quickly enough to provide for her family. Within six months, she was interpreting for Bosnian families and health care providers. For two decades, she would hold two or three jobs, working 12 hours a day.
In Bosnia, Mezetovic had been a chemist, but in Vermont she found fulfillment in teaching. She started out as a Bosnian home-school liaison in the Winooski School District. Over time, as the number of Bosnian students dwindled and refugees from other countries began to arrive, Mezetovic's role evolved to that of an English-language learner (ELL) program assistant.
In 2004, Mezetovic published a book of poetry based on her experience as a refugee. The school district still uses that book for professional development courses, said Kirsten Kollgaard, the district's director of ELL and curriculum. "I have colleagues in Maine who've used that text to connect with students and parents," she added.
As a result of her own experience, Mezetovic has a deep understanding of the needs of New Americans. "I feel the pain and frustration of the students [and] the parents," she said.
Helping others is a way for her to transcend her own grief over leaving her homeland, Mezetovic continued. "The wound doesn't heal. The pain doesn't go away. But you find a pleasure in different things," she added. "I found my strength in helping others."
Medic was in her teens when the Bosnian War broke out in 1992. In her home of Banja Luka, "Serbs slowly started doing ethnic cleansing," she recalled. Medic and her younger brother fled to a refugee camp in Croatia in 1994, while their parents stayed behind to care for their elderly grandparents. The siblings were resettled in Vermont in 1995, and their parents joined them the following year.
Although Medic wanted to continue her education, she had to take a job as a hotel housekeeper to provide for her family. "[But] slowly, while working, I would take a class here and there," Medic said. She later worked for the Vermont Refugee Resettlement Program and the Burlington Police Department as a victim advocate for recent immigrant populations. She has held her current role at the State Attorney's Office for 11 years. Last year, she was named Victim Advocate of the Year.
Medic said she uses her war and refugee experiences as a tool, not a crutch. Recalling her past reminds her of her achievements, and she wants to share her philosophy with others. "You rise up," Medic said. "It's not the end of the world if you were victimized. You can do so much more."
While her parents weren't practicing Muslims, Medic attended Koran recitation class when she was younger and is proud of her Muslim identity. Watching how the U.S. presidential elections unfolded and the increasing anti-refugee and anti-Muslim sentiments was like "watching an old movie," Medic said, because it seemed like a repeat of what happened in Bosnia.
Now a mother of two, Medic hasn't visited Bosnia since she left the country. "All of my family are here," she said. Returning, she reasoned, "You will be reminded of bad times. The people who live in the city are not the people you grew up with."
She has never discussed her past with her U.S.-born children. "That is definitely not on my repertoire [of things] to talk about," Medic said. "You want to live your life, be happy and think about positive things."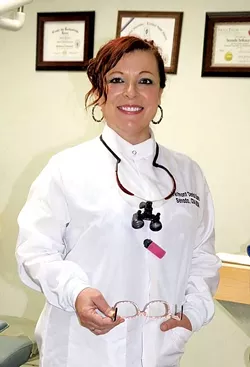 Courtesy Of Senada Sokocevic
Senada Sokocevic
Dental assistant Sokocevic and her son left Bosnia just months after the war broke out. But she, like Medic, continues to live with its legacy. Working at the laboratory, she jumps up in fright each time someone opens the door.
"Sometimes I'm afraid I might injure myself with the knife or scalpel, or whatever I have in hand," Sokocevic said. In Bosnia, she recalled, she spent sleepless nights wondering if she would be taken to concentration camps or killed. "I consider myself lucky. Most of my closest family [members] survive," she said. But her father was tortured at the hands of the family's neighbors.
Before all that, Sokocevic never thought she would leave Bosnia. "I was planning to build a house [and] a Japanese garden," she said. Even today, she doesn't understand how Bosnian society unraveled so thoroughly that longtime neighbors turned against one another. "You can't overnight start to hate somebody," she said. "Nobody can wake up with so much hate if you didn't have that from before."
Like many refugees, Sokocevic was desperate to learn English when she arrived in the U.S. in 1999. But she made sure her son was fluent in Bosnian. "I should be ashamed if I didn't teach my child my language," Sokocevic said. "How is he going to talk to my mother ... on the phone?"
Critics of the refugee resettlement program think that "we don't pay taxes, we get new cars, we get everything from the state," Sokocevic said. The reality of her experience was very different. "I'm paying taxes. I came to make my life better. I didn't take anybody's job or position. I paid for my school," said Sokocevic — who, like Medic, actively pursued education.
After 18 years in Vermont, Sokocevic feels she's living between two different worlds. She's proud of her Bosnian heritage, but the dynamics of the postwar society have changed, she noted: "I can't say that I love my country so much that I'm going back there and live."
Whether they work in public service or not, all of the women emphasize the importance of strong community bonds in their personal success stories. "I was lucky enough to run into good people who helped me," said Mezetovic. "I created friendships that I hope will be lifelong. They are my extended family."