Courtesy of Nick Citro
Hans Huber
Name: Hans Huber
Age: 14
Town: Stowe
Two-time overall national snowboarding champion Hans Huber talked his way onto his first snowboard at age 4. He was skiing with his parents at Stowe Mountain Resort. While they ate lunch, he walked to the demo shop, a few yards away, and came back with boots, a board and a smile.
His mom offered to pay for a demo, but the clerk wouldn't take any money. Your son's been in here for the last couple of weeks asking about this board, he said. Let him try it. So dad Bryan Huber, an avid rider himself, took Hans out and gave him a lesson, "and he started linking turns," Bryan said, "and that was it."
Now 14, the Stowe native is on track to become a world-class athlete. He has ridden with members of the U.S. snowboard team, trained at Utah Olympic Park and, in December, spent a day riding for fun in Austria with his dad and two-time Olympic gold medalist Seth Wescott.
"Hans is the most accomplished snowboard athlete we currently work with," said Jason Trask, founder and president of Green Mountain Academy in Stowe.
Drive, confidence, private coaching and parental support have brought him this far. So has his ability to remember — even in competition — that snowboarding is, first and foremost, fun.
"It's like an adrenaline rush," Hans said. "It's just fun to be on the mountain with your friends."
On a sub-zero December day, he hiked to a rail to practice it, over and over, for an hour with his longtime private coach, Nick Citro. Because of extreme cold and wind, Stowe had just one lift running, and most programs had been canceled, but Hans kept at it. Other teens might choose to sleep in and play video games. "This is my video game," Hans said.
Raised in the shadow of Mount Mansfield, in a house five minutes from the lift lines, he seems destined for it. Undoubtedly flipping in utero, he was a breech baby born in November of 2003. It was the first snowstorm of the season, mom Sandy said. "And my husband thought that boded well for his future."
As a toddler, Hans climbed onto the backs of armchairs and flung himself onto the ottoman. When he got older, he skipped flights of stairs and jumped from landing to landing. He started skiing down the driveway when he was 2. Age 4 brought the time he duct taped his high-top sneakers to a plastic board to hop around on pillows and furniture. And kindergarten brought a gentle admonition from his teacher: It's not a playground in here.
Thank God for the mountains.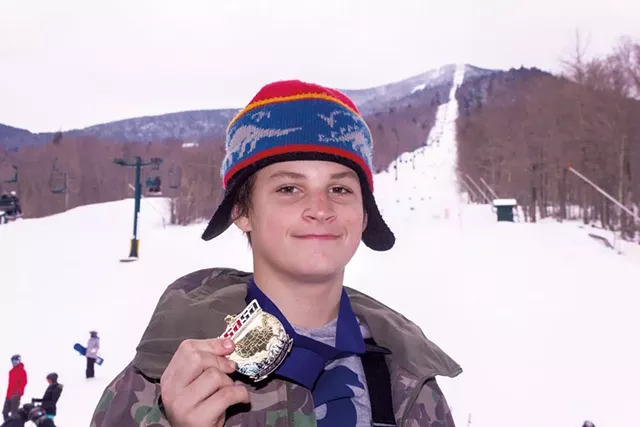 Courtesy of Nick Citro
Hans Huber
Hans skied and snowboarded until he was 7, when he started snowboarding exclusively and qualified for the first of seven straight trips to the USA Snowboard and Freeski Association's National Snowboarding Championships. An all-mountain rider who has competed in all six main snowboard events in the past, Hans will focus on three this winter: boardercross, slopestyle and rail jam.
What are his goals? "Short term, is just to get better," he said. "And long term, see where it takes me. And if that takes me to bigger competitions ... then I go there. And if I just want to keep it one of these lifelong, have-fun sports, then that's where it takes me."
The Stowe Middle School eighth grader is homeschooled in the winter so he can train four hours a day, six or seven days a week, in Vermont, then go to Colorado to train for six weeks.
A formidable challenge arose when, at age 2 1/2, Hans was diagnosed with type 1 diabetes. Managing the condition requires finger sticks every three hours, round the clock, to check blood-sugar levels. Each carb consumed needs to be accounted for.
"It's huge," his dad said. But, early on, he and Sandy adopted the motto, "Say yes." Say yes to everything to which you would say yes if your child did not have diabetes.
Still, it can be scary putting Hans on the mountain. He's entirely covered, making it hard to tell if he's not feeling well. The testing equipment can freeze. A couple of times, his blood sugar dropped too low, and he headed down the wrong trail.
Hans takes it all in stride. When asked to participate in a panel discussion about having diabetes, he said, "What am I going to say to them, Mom? I just go out and play and ride like I don't have it, and I have really supportive parents."
And that's what they intend to be. Bryan had hoped that his son would share his own love for snowboarding, but, he said, he and Sandy knew nothing about the world of snowboard competition until Hans entered it. "He's the one who took it and ran with it."