Sitting in a pickup truck on the side of a dirt road in Newport, Border Patrol agent Sean Walsh gazed north past a scrubby field into an unremarkable expanse of woods. Somewhere, inside all those trees, the United States ended and Canada began. It's actually one of the easier-to-patrol segments of Vermont's 78-mile international border with Canada: There are a few homes nearby, and an old logging road penetrates the half-mile-long swath of forest. Yet an agent working alone, as they usually do, would be hard-pressed to find an individual in there if he or she was really determined to sneak over.
"How do you ever catch anyone?" a reporter asked Walsh. "It seems like an impossible job."
Walsh paused before answering over the steady hum of his truck's engine. "There's so many different ways to get across," he acknowledged. "I don't want to seem like we're never effective; we're very effective. It's not like people are walking by agents ... But you can see how easy it is."
Since September 11, 2001, the Border Patrol has tried to make it a lot more difficult. It has set up cameras and sensors on private property and systematically closed off roads that connect the two countries. Many more agents have been assigned to Vermont, including Walsh, a former Marine who spent years working the Mexican border.
Mark Davis
A closed border crossing in Highgate Springs
A spokesman for the agency claimed that those efforts have improved both national security and local safety. Though it's quieter here than at the southern border, agents in the Vermont area arrest several hundred illegal immigrants every year. They confiscate millions of dollars of drugs that occasionally come through the farm fields in Highgate Springs, the forests in Newport, the sleepy streets of Derby Line, the swamps and bogs in Richford, and the snowy hills of Holland.
But even after staffing up, Border Patrol still has no more than one agent for every border mile. They have to report their positions constantly via radio, and backup can be a long way off. Generally, only agents riding ATVs or snowmobiles work in teams — everyone else is on their own.
"Down south, you have access to more resources," said Walsh. "Up here, it's you, the individual agent. There are a lot of guys put into weird situations ... You don't know if you're dealing with drug dealers that might be armed, immigrants, a family, a single person —you don't know. You're chasing people around; you don't know who they are."
"No one knows what we do on the northern border," said veteran agent Daniel Dolan. "There's no such thing as a typical day."
130 Countries
Vermonters who make a weekend trip to Montréal are unlikely to encounter a Border Patrol agent. Customs agents run the official ports of entry, checking passports and quizzing travelers. In Vermont, the busiest ports are off Interstate 89 in Highgate Springs and off I-91 in Derby Line.
Border agents are meant to watch everything in between — in the forests and fields and the small towns few tourists ever visit — looking for people and drugs coming across illegally. For Vermonters who live in the small farming communities on both sides of the international boundary, agents have become a more regular sight in the past decade.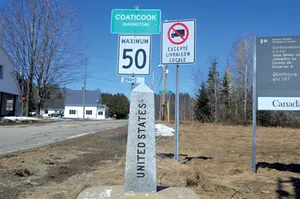 Mark Davis
Obelisk border marker
Vermont's 78 border miles are protected by the Border Patrol's Swanton sector, which is made up of four "stations" in Beecher Falls, Newport, Richford and Swanton. In 2001, approximately 90 agents were based in Vermont. Now 313 agents guard 295 miles of U.S.-Canada border that includes eastern New York and all of New Hampshire. The territory comes with 92 miles of waterways, including Lake Champlain and Lake Memphremagog.
Rookie agents are almost never assigned to work on the northern border, the entirety of which is patrolled by a total of roughly 2,100 border police. They start on the U.S.-Mexico one, where 18,000 guards are employed. One sector in Arizona alone has 4,200 agents guarding 262 miles.
After a few years of service, however, border agents can request a transfer. Several working in the Swanton sector are Vermonters, but most come from elsewhere. Dolan and Walsh both hail from New Jersey. One of their coworkers played football for the University of Oklahoma.
The transition from south to north can be jarring, according to agents.
The action on the southern border, subject of endless media and political scrutiny, is fairly simple: waves of migrants, mostly from Mexico and Central America, crossing the desert in hopes of starting a better life, or of sneaking across drugs sold by cartels. Chief Patrol Agent John Pfeifer, who supervises the Swanton sector, describes the dynamic as "tank on tank."
In Vermont, it's more like a game of hide-and-seek.
In the last fiscal year, agents in the Swanton sector confiscated 617 pounds of marijuana, along with smaller amounts of other drugs. They also apprehended 506 people trying to cross the border or living here illegally. Most people sneaking into the U.S. hope to reach New York City, Washington, D.C., or Boston. Others are caught heading north, trying to reach Canada to take advantage of the county's more generous benefits system and more lenient asylum process.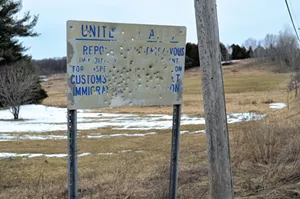 Mark Davis
Sign near a closed border crossing
Hardly anyone sneaking over the border aims to stay in Vermont. The state is merely a conduit for traffic influenced by international economic and political forces.
For example, after the 2010 earthquake devastated Haiti, President Obama declared a halt of deportations of Haitians illegally living the U.S. Roughly 100,000 Haitians — who are native French speakers — live in Montréal. Thousands of them decided to try to get into the U.S. through Vermont in hopes of being eligible for the "temporary protected status," Border Patrol officials said.
"The southern border, you don't have to look for aliens; they're practically running you over. Here, you have to be proactive," said Fernando Beltran, who runs the Newport station. But the job, he said, is "just as important. We get guys coming across, claiming to be from wherever it is, and you're like, That's not even a fucking country. Especially when you get into the 'stans — Uzbekistan. It's, like, 'Man, you're making that up.'"
Most of the undocumented immigrants captured in the Swanton sector last year came from Haiti, China, Guatemala, Brazil and El Salvador. Swanton sector agents have captured migrants from nearly 130 countries since September 11, 2001, said Pfeifer.
A Case of Smuggling
Agents call the border the "slash," and, in many stretches, the moniker fits — the border appears as a neat, linear void in the woods, 20 yards across, like the cleared fields under electrical transmission lines.
But the international boundary also cuts through backyards, buildings — most famously, the Haskell Free Library and Opera House in Derby Line — snowmobile trails, villages, and maple-sugaring operations.
Mark Davis
Haskell Free Library and Opera House
In some places, a road leads right to the border, allowing agents easy access. In others, the nearest road is miles away. Cellphone service is sporadic. Agents cruise the border area in marked and unmarked pickup trucks, and hike in the woods. They don snowshoes and ride snowmobiles in the winter; in summer, they're on all-terrain vehicles and boats.
Pfeifer said his agents also rely heavily on collaboration with state and local law-enforcement agencies. And, while declining to divulge specifics, he acknowledged that the agency utilizes an array of technology on the border. Reports from the U.S. Government Accountability Office have described a mix of radar towers, cameras and handheld equipment.
That includes electronic devices called sensors that function much like tiny wildlife cameras. Hundreds of them are positioned in trees along the border. The Border Patrol declined to discuss how the sensors activate, except to say that supervisors monitor them. While most of the land along the border is privately owned, federal agents have a legal right to patrol it and deploy equipment there without permission.
This reporter lingered around a sensor embedded in a tree in Highgate Springs and walked through the thick brush to get a picture of it. Nobody came.
"We can't see the entire border," Pfeifer explained, adding that the agency has "different layers of sensor."
For those stealing across, navigating past the terrain and the electronic surveillance is not the hard part. Getting out of middle-of-nowhere Vermont, where a stranger with a backpack struggles to blend in, is more difficult.
"The closest bus station is in White River Junction, 90 miles away," Walsh said. "Where are you going to go? You stick out. You go walking down the road; it's difficult. It's harder than you think."
In fact, most refugees try to come across in more populated areas, according to border agents. And, more often than not, cars are involved.
Mark Davis
The "slash"
Just after dark last November 20, according to federal court documents, Patrol agent Alan Hutchinson found some fresh foot and vehicle tracks on Jackson Lodge Road, a remote dirt road that parallels the border in Canaan and has been known as a corridor for trafficking undocumented immigrants. The footprints originated in Canada.
Another agent, Brendan Roy, began monitoring the intersections of routes 114 and 102, a few miles away. He saw a car with Illinois license plates leaving a gas station and ran the plates. The car was a rental. Roy turned on his lights and pulled the car over.
The driver, Fabian Hugo De Mestico, handed over an American passport. His passenger, Dariusz Berlinski, gave a Polish driver's license and spoke no English. De Mestico claimed they were going to a local man's funeral.
A records check showed that the car had entered earlier in the evening at the nearby Canaan port-of-entry station. At that time, there was only one person in it.
De Mestico, a California resident, eventually admitted to investigators that he had flown from San Francisco to Burlington the day before, then drove up to Montréal to meet Berlinski. They stayed overnight, then started driving south. De Mestico dropped Berlinksi near the border in Canada and had planned to pick him up after he walked across the international line. Their destination: Boston. Agents found printed Google Maps in the car.
Intercepted migrants are usually sent to a prison in upstate New York, brought before an immigration judge and deported with little fanfare. Smugglers like De Mestico, who can be paid several thousand dollars, may face criminal charges. De Mestico was sentenced last month to a year on probation.
Drugs, eh?
Not everyone is so easy to nab.
On a table inside a conference room in the Swanton sector headquarters, Pfeifer spread out a series of images captured by a game camera on land that abuts the border. The images show a man dressed in a white ghillie suit — a stringy camouflage outfit that covers the entire body, used by hunters to blend in with the snow — and night-vision goggles. He looked ghoulish, and, like his accomplices, carried a duffel bag full of something.
Mark Davis
Nelson Road, soon to be closed
On a previous trip, the night-vision goggles had allowed the same man to see the infrared emitted from the landowner's game camera. The masked man ripped the camera down and carried it away. The landowner installed a new one in a tree, out of reach, that captured images of the man staring into the lens.
Agents never caught the men, but believe they were most likely smuggling large quantities of marijuana from Québec.
"These guys are not out scouting for deer," Pfeifer said. "They're scouting to cross somebody or something illegally. They're getting smarter. We arrested all the stupid ones."
He was referring to large-scale drug dealers in Québec, where motorcycle gangs have established sophisticated hydroponic grow operations. While less fierce and much smaller than the Mexican drug cartels, they pose a threat along the northern border.
Drug crews have been found around the border wearing bullet-resistant vests. Some have been known to deploy scouts — lone drivers who appear harmless but relay information to their cohorts about the location of agents on duty.
Federal prosecutors this month wrapped up a years-long investigation into 11 Vermont men who lived near the border and were convicted of participating in an international marijuana distribution ring.
Montgomery resident Roy "Opie," McAllister II, sentenced to 30 months in prison, was described as the leader of an operation that brought up to 3,000 kilograms of marijuana brought across the border from the mid 2000s until 2013. Federal authorities seized $600,000 cash, more than 70 guns, 17 vehicles and three real-estate holdings in the case. U.S. District Court Judge Christina Reiss recently told one of the defendants, Robert Patterson of Richford, that he was helping to support dangerous gangs in Québec.
"The Canadian connection is problematic because it compromises the border," Reiss said in a federal courtroom in Burlington. "There are very serious concerns about the area where that marijuana is coming from, how it's produced, the people involved in it. You're helping that. You knew where it was coming from."
Mark Davis
Crossing the border in Derby Line
Court documents and recent testimony did not describe how the men smuggled drugs across the border. Pfeifer declined to provide details, beyond saying that the case was a "perfect example" of the drug smuggling cases that agents confront.
The Border Patrol boosted snowmobile patrols in 2013, Pfeiffer said, after New Hampshire, in a bid to boost tourism in its economically depressed North Country, opened up 1,000 miles of interconnected snowmobile trails. Some of the trails run right to the border, offering a potential route for drug smugglers.
Other methods of ferrying drugs have been used. A couple of years ago, Beltran said, agents in his sector scooped up a bag of marijuana that had been dropped, via helicopter, on a field on the border. Whoever was supposed to pick it up was apparently spooked by a nearby road crew and never came.
'A Little Overkill'
Congress funded the buildup of Border Patrol agents after September 11, 2001, not to combat refugees or confiscate drugs, but to counter terrorism. To date, the Border Patrol acknowledges it has not captured any terrorists in the Swanton sector. But agents maintain that a poorly policed border would represent an ongoing threat to national security.
"You're on the slash, following footprints in the snow. You don't know if they're from someone coming here to live the American dream or destroy the American dream," Beltran said. "You have to stay alert."
The Border Patrol says its vigilance has made a difference. In fiscal year 2010, agents nabbed 1,412 people who were in the country illegally. In 2014, it was 505.
Pfeifer attributed the decline to effective "deterrence."
"We're better at what we do," he said.
But to others, all of that looks like hypervigilance — especially communities in which French-speaking Vermonters grew up crossing the boundary with impunity. A few years ago, Beltran led a Border Patrol effort to close a few roads that ran between Derby Line, Vt., and Stanstead, Québec, neighboring communities that had for decades considered themselves one.
The hard feelings linger.
Mark Davis
Border marker in Highgate Springs
Buzzy Roy, a Derby Line pharmacist, became something of a cult hero when he repeatedly walked to Stanstead without reporting to customs and got slapped with a federal criminal charge. He said most locals think the Border Patrol's presence is unwarranted.
"Don't you think it's a little overkill?" Roy asked. "I think it's a joke. The U.S. doesn't have two nickels to rub together, and they're everywhere. I won't report anything. I won't help them. They came in like the Gestapo. The border is full of holes. Unless they build a wall, it's impossible. They'd need 500 agents, shoulder to shoulder. It's unfortunate that we waste so much money on them and can't afford to help our own citizens."
Others are concerned about the Border Patrol's buildup. In 2013, the American Civil Liberties Union released a report, Surveillance on the Northern Border, which warned that the Border Patrol had brought in sophisticated electronic surveillance equipment that threatened the civil liberties of Vermonters.
The ACLU had sparred with the Border Patrol several years earlier when its officers, who technically have the authority to patrol within 100 miles of an international border, set up occasional checkpoints to question passing drivers in Hartford, some 90 miles from the border.
"Today, Vermonters can barely go anywhere without creating a trail of digital information that pinpoints a person's whereabouts at nearly any time, day after day," the report said, calling Vermont "a perverse Ground Zero in the accelerating surveillance society."
What's at ground zero are little places such as Nelson Road, a stretch of pavement in the nearly forgotten town of Norton, population 240, which runs into equally sleepy Stanhope, Québec. A three-foot-high obelisk marks the boundary, and a sign warns drivers to report to the nearest customs station when they cross the line.
Miriam Nelson still lives on the road in the tiny home she was born in 94 years ago. In an adjoining building, her family ran a general store that was bisected by the international border. To avoid customs violations, the Nelsons made sure to keep the American goods in the south side of the store and the Canadian goods in the north. Residents of Norton and Stanhope mixed freely, crossing the border to run errands, socialize and worship.
Sometime this summer, Nelson will look out her front window, to the road that bears her family's name, and watch border agents close it permanently. Nelson rarely sees Border Patrol agents, and doesn't know why they would ever need to come around — the area has always been safe. "I don't see why they have to do it," Nelson said in a recent interview in her living room. "It's sad. We used to cross all the time."
The Border Patrol's logic? After all the millions of dollars that have been plowed into hiring more agents and deploying more sensors, it doesn't make sense to leave an unmanned border crossing open. National security, Beltran said, should trump local customs.
"It may have been that we used to pass apple pies to each other, have barbeques in the yards over in the Canadian side," he said. "But we don't do that any more."