James Buck
Cliff Coy
A stiff snow squall swirls around the main building at Franklin County State Airport in Swanton as a large, twin-engine turboprop prepares to roll out of the hangar. Airport manager Cliff Coy watches silently as the King Air B200 revs its engines with a high-pitched whine and slowly inches its way onto the tarmac.
The plane's wingtips are upturned for improved aerodynamics and fuel efficiency. It's just a fringe benefit that the design also allows the plane to squeeze through the hangar door.
"That's a 58-foot wingspan going through a 60-foot opening," Coy notes with a bemused smile. Once the wings clear the sides, he flashes a quick thumbs-up to his mechanic, Dan Marcotte, who's directing the pilot from the tarmac.
Unlike busy commercial hubs, such as Burlington International Airport, Franklin County State Airport doesn't have its own air traffic control tower. Many planes that use this runway lack radios, lights or onboard electrical systems.
The 46-year-old Coy wears many hats at this small, state-owned airstrip that's just a hop from the Canadian border. Besides managing the airport, he's the owner of Border Air Ltd., which was founded by his father, George Coy. As an FBO, or fixed-base operator, Border Air performs various functions for the flying public: fueling, inspection, maintenance, flight training, and providing hangar and tie-down space for parking aircraft. Coy calls its headquarters "a cross between a boat launch and a state park — and I'm the guy wearing the green shirt and the hat."
Beyond Coy's official duties, he's the airport's unofficial "aviation ambassador," which involves more than just greeting white-knuckled travelers when they land safely in inclement weather. Coy is Franklin County's go-to guy for anyone who's interested in learning more about airplanes, whether that means fixing them, flying them, building them or jumping out of them with parachutes.
And, with fuel prices at historic lows, interest in aviation is soaring. That's not readily apparent on the morning I visit: Aside from the departing turboprop, about the only thing moving on the airfield is a semierect orange wind sock. But, according to Coy, KFSO — the airport's Federal Aviation Administration abbreviation — is usually more active.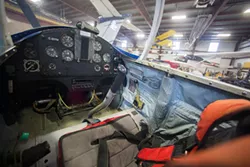 James Buck
Cockpit of a Russian Yak-55 single-seat aerobatic aircraft
"This is the busiest airport in Vermont for general aviation," he says, referring to noncommercial and nonmilitary air traffic. "Come out here in six weeks on a Saturday, and this place will be humming with airplanes."
Those planes aren't just local flyers. In recent years, Coy has carved out a unique niche for himself in the wider world of aviation: He imports and exports planes to and from Russia and other former Soviet-bloc countries. One of only five companies in the country with the expertise to sell, service and inspect Soviet-era planes, Border Air also maintains, repairs and modifies them — an unusual specialty that Coy fell into almost by accident.
Coy got his degree in mechanical engineering from Vermont Technical College and studied computer science and physics at the University of New Mexico. Then, as he puts it, he faced an important life choice: "Am I going to spend the rest of my life in front of a computer screen, under bad fluorescent lighting? Or am I going to solve problems out in the field and get dirty?"
Coy began answering that question in 1988. That year, his uncle Bob, who was working on a sister-city exchange program, offered Coy a chance to travel to the Soviet Union after an injury forced a student in the program to drop out at the last minute.
Coy jumped at the opportunity — and not merely to see the Soviet Union as it began to open up to the West. Coy's father, George, himself a pilot and flight mechanic, was keenly interested in a Russian-built aircraft called the Antonov An-2. The 1,000-horsepower, 12-passenger plane is the world's largest single-engine biplane ever built. As Coy recalls, his father "became infatuated with it and absolutely had to have one."
While that trip offered the chance to see an An-2 firsthand, the Coys wouldn't get their hands on one until 1989, when George Coy learned that a company in Lithuania had a freshly overhauled An-2 for sale. As the Soviet Union neared its collapse, the Eastern Bloc countries were becoming like the Wild West, Cliff Coy recalls, with everything being sold off at bargain-basement prices. "So he strapped a pile of cash to a belt and flew out to Lithuania to go look at an airplane," says Cliff.
Since George didn't speak Lithuanian, and all the instrumentation was in Russian, the sellers taught him how to fly the plane. Convinced it was worth the investment, the Coys hired a Russian pilot and a farmer from Shelburne to help fly the An-2 back to Vermont.
Like many aviation adventures, Cliff Coy says, theirs began with a mechanical malfunction: The plane lost all of its oil above the clouds during a night crossing of the North Sea.* As he recalls, "The Russian pilot knew very few words of English, and two of them were 'Very bad!'"
The An-2 managed to run for another half hour without oil before landing safely. Despite the mishap, the trip stoked the Coys' interest in importing more Russian and Eastern European planes — such as two aerobatic trainer planes called Yakovlev Yak-52s that they'd seen in Lithuania. Sensing a business opportunity, the Coys began importing Russian and Eastern Bloc planes to the U.S. for American buyers.
Since 1989, Border Air has imported more than 300 such aircraft, including a Yak-55, which is currently under repair in the hangar in Swanton. With only about 250 Yak-52s still actively flying in the United States, Coy has loyal clients who fly to Swanton from as far west as Chicago to get their planes serviced.
James Buck
Dan Marcotte of Dan Marcotte Airshows (left) posing with Cliff Coy of Border Air in front of a Russian Yak-55
What's the plane's appeal? For one thing, Coy points out, Yak-52s closely resemble World War II fighter planes. And, given the Soviets' efficient engineering, he adds, "You're basically able to maintain it out in a farmer's field with a flathead screwdriver and a wrench. So they're incredibly rugged and inexpensive."
The Coys pretty much stopped importing Russian aircraft in 2005, when the dollar-to-Euro exchange rate made them prohibitively expensive. The sale price of the Yak-52, for example, jumped from $120,000 to $380,000.
In 2007, Coy bought Border Air from his father. These days, much of his business has reversed direction — it involves moving planes and pilots from the U.S. to Russia instead of vice versa.
In the Soviet era, the only Russians who flew planes were military pilots; when the country opened up civil aviation, many Russians became interested in flying American aircraft. Until the Russian ruble crashed last year, Border Air was exporting about two containers of American-made planes to Russia every three months.
Recent changes overseas have brought a whole new crop of flyers to Swanton. In 2011, a wave of bad aviation accidents in Russia killed scores of people. Putting the blame on pilots who had obtained their licenses fraudulently, the Russian government closed flight schools across the country.
The virtual shutdown of civil aviation in Russia could have sent Coy's business into a tailspin. But then Russians began coming to the United States — including the flight school in Swanton — to obtain pilot's licenses. Apparently placing greater trust in American flight schools than in its own, the Russian government converts U.S. pilots' licenses into Russian ones, Coy says.
Just as Coy is explaining the process, two Russian men with crew cuts and black coats pass en route to a small trainer plane to begin their flight lessons. According to Coy, they're former Russian fighter pilots who are logging flight time and learning to fly in U.S. airspace. "There's a bit of a mind shift when you go from flying something at 300 miles per hour to flying something at 60 miles per hour," he says.
Of course, not all of Coy's work involves Russians and Russian planes. As an FAA-licensed inspector, he ensures that the aircraft he encounters are flightworthy. By law, every aircraft, from a commercial Boeing 777 to the one-seat Ultralight hanging from the hangar rafters, must be inspected annually.
"I've seen things where you wonder how these people even made it here alive," Coy says. "Unbelievably scary stuff."
For example, he recalls encountering a pilot who reported that his plane was flying funny. When Coy checked it out, he noticed that the bottom of the fuselage was blue — from the dye used to identify aircraft fuel. Coy instantly spotted the problem: The fuel line wasn't hooked up. When he went to adjust the propeller control, it broke off in his hand. Next, he discovered that the starboard engine wasn't bolted onto the frame and the landing gear wasn't installed correctly. The result: a 60-page report to the FAA.
Getting people passionate and up in the air is Coy's mission. And, notwithstanding the back issues of Cigar Aficionado in the airport waiting room, he says he meets a diverse cross-section of people who are aviation enthusiasts.
Granted, it's not a cheap hobby: The costs of purchasing and maintaining airplanes may seem daunting enough to dissuade anyone without a seven-figure trust fund. But, Coy points out, most people who fly these days rent their planes. (Coy himself doesn't own one.) And enthusiasts who decide to take the next step can buy a plane for as little as $15,000, on par with the price of a boat.
Coy does a lot of outreach to local schools, hoping to get the next generation interested in flying. Sometimes that means showing the kids his various "museum pieces" — the historic aircraft parked in various hangars on the airfield. Or he'll invite students from nearby Missisquoi Valley Union High School to watch his mechanic, Marcotte, practice his air-show maneuvers during his lunch hour. (Burlingtonians know Marcotte as the pilot who flies aerobatic stunts over the waterfront before the annual July 3 fireworks show.)
"Look, if you have any interest in flying, we'll take you for a ride in an airplane," Coy says. "That's what we do, because we want to get people interested in flying."
Correction, April 14, 2016: An earlier version of this story misreported Coy's age — it is 46. The body of water over which Coy's plane experienced engine trouble was the North Sea, not the Black Sea. Additionally, aviation enthusiasts can buy a plan for $15,000, not the higher number originally reported.