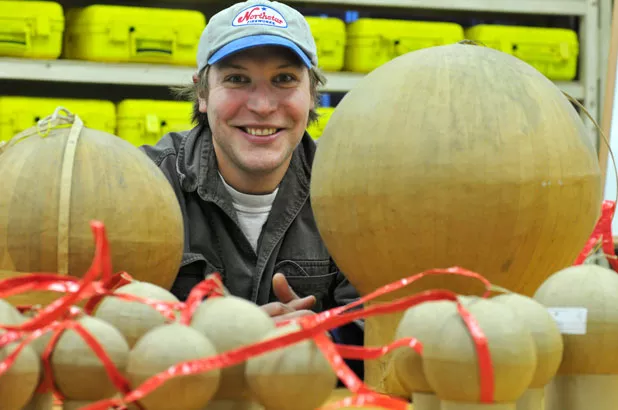 Tom Swenson, 27, is hard at work on the computer in his spacious office. He spends much of his 50-hour workweek behind a desk, laboring on a program that would look familiar to music or film editors. But Finale Fireworks has far more eruptive results than does Pro Tools or Final Cut. Surrounded by dummy shells and PVC piping, the pyrotechnician is plotting out a New Year's Eve fireworks show.
Swenson's father, Dave, opened the first of three Northstar Fireworks locations in East Montpelier in 1986 — the other two are in Fairlee and St. Johnsbury. Just more than a year ago, Tom Swenson instituted the software system he uses to design displays that color the sky to the beat of musical accompaniment. When he's finished, after as many as 80 hours of work, he uploads the file to the digital Pyromate Firing System, which will send off shells just as he plotted, usually for scarcely more than 15 minutes.
Swenson will personally shoot a show at Jay Peak this December 31. The company will put on fireworks displays at another 14 locations throughout New England that night, including 6 p.m. and midnight shows for the city of Burlington. On the same evening, countless consumers will set off fireworks they purchased at one of Northstar's stores.
Brought up in the business, Swenson says he wishes there had been a school to teach him the ins and outs of fireworks. Now he's teaching others. On December 27, Swenson will hold an informational session at the Steak House Restaurant in Barre for those interested in becoming "lead shooters" for Northstar's busy summer season. Throughout the winter and spring, he'll teach the science and safety of his volatile profession.
Seven Days checked in with Swenson to learn what makes a pyrotechnician tick, tick, boom.
SEVEN DAYS: Your dad started the business. Did you always know you'd shoot fireworks for a living?
TOM SWENSON: I think I did. I went to all of his shows growing up. That's part of the reason I'm good at designing the shows. I've seen thousands of them.
SD: People seem to think selling fireworks isn't legal in Vermont. What are the rules?
TS: In the state of Vermont, you need a permit to possess and shoot fireworks. The permit is something you can get from your local fire department or town office. We have [customers] sign a release — [as confirmation] that the buyer understands the law.
SD: What's your favorite kind of firework?
TS: I really like the individual display shells, and the effect I like the most is called a chrysanthemum. It's like a blue chrysanthemum; then there's a yellow crossette inside. Blue is the hardest color to make. I think the chemicals are hard to find. The metals are unique.
SD: What's the difference between an "aerial artist" and a technician?
TS: It doesn't take too much to get fireworks in the air — you've just got to light them. To be an artist, you need to understand the chemical compounds of the fireworks and understand what the effects are. Then you can start painting pictures.
SD: What's the biggest, craziest display you've done?
TS: In 2010, I shot a show for the town of East Montpelier. The town gathering is called Rally Day. That's a show we usually do for training for our employees, so it's a donated show.
That year, there were 50 racks [to hold the explosive mortar tubes]. It was probably close to 1300, 1400 shells in the body of the show. It was a four-day setup. We had close to a 20-man crew on the show. It was all electronically fired and choreographed.
That was kind of a weird show, 'cause I was hiking the Long Trail at that time. We stayed up for a few days straight; then I went back and finished a 270-mile hike.
SD: Have you ever done a display that didn't work out the way you wanted?
TS: I've done a couple where maybe the weather didn't work out so well, or the site might not have [had] the best visibility for the crowd, and they didn't get to see the full effects. That doesn't happen too often. This isn't just a job; it's a huge passion of mine, so every show gets 100 percent, whether it's a little backyard show or a town's 250th anniversary show.
SD: What makes you so passionate?
TS: The oohs and ahs of the crowd. I'll spend hours and hours on one show. Everyone has a memory of sitting on a blanket on the Fourth of July watching a fireworks show. If you notice, at parties or town celebrations, you shoot the show, and, as soon as it's done, the crowd cheers and then they go home. It's pretty awesome to see how many people you can make smile. Then there's that little bit of adrenaline in lighting a shell. It's all those things.