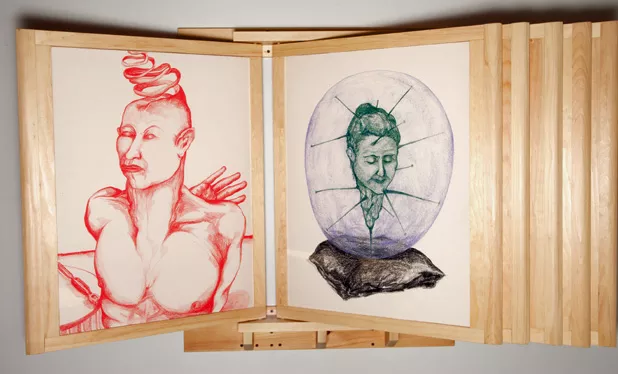 Matthew Thorsen
A wall-mounted "book" by Joe John
Walking into Joe John's exhibition at the SEABA Center on Burlington's Pine Street is an Alice-in-Wonderland-like experience. Large, wall-mounted "books" of the artist's drawings beckon you to turn their pages with wood handles. Guests can sign a book visible through a clear plastic bubble on a pedestal — but only by placing their hands into long, inverted gloves attached to the bubble and scrawling clumsily with the fountain pen provided within.
Another large wooden "book," mounted with one cover flush against the wall, becomes, when opened, a box containing two fishbowls, one on either side. When you put an ear to them, they condense the noise of the room like seashells do. John's experiential show invites the viewer not just to see the works but to experience them.
John grew up in Ithaca, N.Y., in the 1960s, then spent 25 years in New York City. Now 54, he's both eloquent and humble about his work, citing artistic influences that include the hippie interactivity of artworks in Ithaca in the '60s and Marcel Duchamp's idea-driven sculptures of the early 20th century. Now living in Plainfield, John works as an artist and carpenter and often combines the two disciplines in his artworks, as this exhibit demonstrates.
Many of the works in the SEABA show combine drawings John made in the late '80s and early '90s with frame-like books he crafted recently. "All those drawings have been stacked in boxes for 14 years or more," he says. "I just never got to them. I had intentions of doing a lot of things that I did in [the SEABA] show. I really appreciated that show."
The exhibition was curated by Mark Waskow as part of SEABA's curatorial program. Sue Higby, director of Studio Place Arts in Barre, introduced Waskow to John's work. "I saw the images, was really impressed and went to go see his studio," Waskow recounts. He was intrigued by John's compositions, but also by the unusual presentation. "The way he presents them in life-size artist's books on the wall is really compelling and original," Waskow says. "I've never seen anything like that before."
John's fascination with books began early in his artistic career. "In college, I discovered the book as an idea," he says. "I've used the book because it gives me a nice 'beginning-from' [place]. It's idea storage. I think art is about the idea in your head." John adds with a laugh, "That's a Duchampian idea."
In his piece "Stir Sticks," which hangs in the window of the SEABA space, the book's front "cover" is a lattice of used paint-can stir sticks that John collected from carpentry jobs. "There are garish colors on them, but they're kind of beautiful," he says, and notes that many of his works feature materials recycled from his carpentry work. As viewers turn the wooden-case-like pages, a series of drawings passes sequentially before them.
Painted predominantly in bold black and white, the book contains the words "The idea still on the paper," along with graphic drawings of everyday objects such as a phone, plate, chair and fire extinguisher. The book's back "cover" is a black rectangle of painted wood mounted to the wall, across which a single piece of paper stretches between springs. Centered beneath the page, a bit of wax clings to a mount that once held a candle. Above it, a crevice burned in the paper alludes to the candle's presence — and absence. The paper hangs suspended with the evidence of its burning, bearing the mark of the "idea" mentioned earlier — a concept made tangible.
"What's left is this burned remnant of nothingness," John says. "That paper's been stretched there on springs since 1991 — skewered — but is the idea still on the paper? I don't know. I hope so."
Around the corner from the "Stir Sticks" book, John's "Poster Book" fans out over the gallery wall, a beautifully crafted series of frames that encase his crayon line drawings from the 1990s. The works often depict figures or parts of figures. Detached from a recognizable ground, these colorful drawings float over the paper's surface, sometimes integrated with bits of machinery. The gently arched edges of the book's wooden perimeter fit into your hand as you turn the huge pages. The book invites you to progress through the images, forward or backward.
"I want you to look at my work and hopefully inspire, through the objects, the true art in your mind," John writes in his artist's statement. Like Alice plunging down the rabbit hole, viewers of his exhibition can wander a world of ideas as alive in their own minds as the former are vividly realized in these substantial works.
Joe John, SEABA Center, Burlington. Through June 30. seaba.com