Congratulations to these enthusiastic young critics who shared their reading recommendations with us in September. Each wins a $25 gift certifi cate to Crow Bookshop in Burlington. We loved reading about all the entrants' favorite books and have included some excerpts below.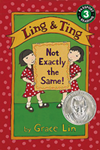 Ling & Ting: Not Exactly the Same! by Grace Lin
"My favorite part is when Ting sneezed and her bangs got messy. Then she wasn't the same as Ling, her twin sister."
—Adeline Cannella, 6, East Montpelier
Heat by Mike Lupica
"My favorite part of the story is when the Clippers lost one of their best players because he was a good pitcher, and people thought he was older than 12. He needed to find his birth certificate (to prove his real age), and at the end he found it, and his team won the finals."
— Milo Centers, 10, Monkton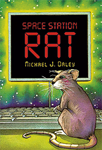 Space Station Rat by Michael J. Daley
"The book is about a rat who lives on a space station (duh). She is trying to live on the food scraps that a human boy, Jeff, leaves out. Will she survive? (Dramatic music.) But seriously, you should read this book."
Camila Van Order Gonzalez, 10, Middlebury
Unsinkable: A Young Woman's Courageous Battle on the High Seas by Abby Sunderland
"When both autopilots were malfunctioning and Abby was drifting into the middle of the ocean, she still didn't give up. Even though her hands were almost numb, she worked with her support team over the phone for 10 hours (without complaining) to get her engine repaired."
— Mei Dwyer, 12, Barre