Congratulations to these enthusiastic young critics who shared their reading recommendations with us in October. Each wins a $25 gift certificate to Crow Bookshop in Burlington. We loved reading about all the entrants' favorite books and have included some excerpts below.
Magic Tree House: Ghost Town at Sundown by Mary Pope Osborne
"I liked it when Jack and Annie were in the ghost town and met Lonesome Luke — a ghost who plays the piano."
—Lucas Cannizzaro, 5, Essex Junction
The Return of Zita the Spacegirl by Ben Hatke
"My favorite part is when Zita meets a skeleton who tries to convince her to try escaping again. The skeleton has keys, drills and saws as toes. He offers them to her but she says no. This part was really funny."
—Alan Moody, 9, Cabot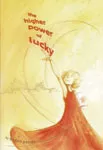 The Higher Power of Lucky by Susan Patron
"This book is about a girl named Lucky whose mother has died. She has a guardian named Brigitte and she lives in Hard Pan, California (population 43). My favorite part was when Lucky decided to run away."
—Rosie Perkinson, 8, North Ferrisburgh
Summer Pony by Jean Slaughter Doty
"My favorite part was when Ginny really wanted to keep her pony and her parents said it was a lot of work. Then the man who Ginny rented it from had to sell all of his ponies, so for a surprise, Ginny's parents bought the pony for her."
—Emily Hunt, 10, Washington