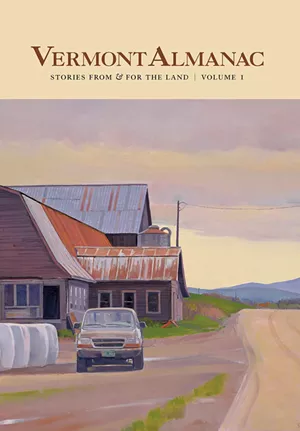 Cover art by Susan Abbott
Vermont Almanac: Stories From & for the Land, Volume 1, edited by Dave Mance III, Patrick White and Virginia Barlow, For the Land Publishing, 288 pages. $30.
Vermonters have a unique and persisting culture: This is the premise of the first volume of Vermont Almanac, released in December and projected to come out annually.
On its website, nonprofit For the Land Publishing says the goal of the almanac is "to bring together the many individuals and organizations in Vermont whose mission and purpose falls within the land ethic we live by — one that combines economic vitality with environmental stewardship and the values of rural life."
The book's editors, Dave Mance III of Shaftsbury, Patrick White of Middlesex and Virginia Barlow of Corinth, collaborated for years on Northern Woodlands magazine, which Barlow cofounded (with Steve Long) as Vermont Woodlands in 1994. At first a two-color quarterly, in 1999 it was renamed and published in full color, reaching for a regional audience and wider advertising base.
Mance is a sugarmaker, White grows Christmas trees, Barlow is a consulting forester, and they're all excellent writers. When the staffing of Northern Woodlands was reorganized in fall 2019, the three left and decided to start another venture.
As Barlow explained to Seven Days in an email, "There was a parting of ways: both a physical parting — the magazine's offices moved from Vermont to New Hampshire — and a creative parting, as they moved in a different editorial direction."
"This project," she wrote, "taps more into the spirit of the old Vermont Woodlands, because we're writing exclusively about Vermont, a quirky, one-of-a-kind place. When building a book with friends and neighbors — Vermont's small enough that we've got friends and neighbors all over the state — we've been able to capture intimacy in a way that's not possible when writing about the generic Northeast."
The inaugural volume of Vermont Almanac includes offerings from 63 "friends and neighbors": writers, artists and photographers who represent many ways to live, work and find sustenance: gardening and farming, animal husbandry, logging and forest management, hunting, fishing, foraging, artisanal crafts, and woods-based industries. Among the contributors are ornithologist Bryan Pfeiffer, Abenaki basket weaver Judy Dow, tree farmer Jim Horst, naturalists Mary Holland and Ted Levin, tracker Susan C. Morse, novelists Catherine Tudish and Kathryn Kramer, community activist Ben Hewitt, artists Adelaide Tyrol and Kathleen Kolb, poets Verandah Porche and Sydney Lea, and former state naturalist Charles W. Johnson, alongside a merry coterie of farmers, loggers, shepherds, orchardists, botanists, geologists and beekeepers.
Collectively, the book articulates a perception of our state not as a scenic landscape seen from afar, but as a constellation of particular locales where Vermonters wholly and daily involve themselves in subsistence and creation amid plants, animals and the elemental forces of earth, air, water and fire.
The chapters follow the cycle of a year from October through the following September. Each month begins with an evocative and precise full-page painting by Nick DeFriez, followed by recurring subsections. First comes a meditative essay, then "Weather" (a digest of meteorological episodes for the given month); "Nature Notes" (samples: "Broad-Leaved Helleborine," "The Gregarious Whirligig Beetle"); and "At Home" ("Sheepskin Care," "Successful Softwood Pruning," "Make Your Own Bear Grease").
"A Look Back" examines a historical event or trend of lasting significance ("Sooty-faced Colliers" is about charcoal production), while "Industry" explores the importance to Vermont of a land-based enterprise, such as the production of apples, hemp or dairy.
In the earlier chapters, the monthly digest aspect can be disorienting. For example, a commentary on the "Record-Breaking Cold" of "this month" actually refers to November 2019. That's a result of the editors' choice to proceed from the end of one agricultural season (October 2019) through winter and spring to climax with the summer of 2020, with its commotion and bounty in our fields, forests and bodies of water.
Some might choose to roam among the book's contents, but reading in order gives an absorbing sense of temporal flow.
Another thought-provoking consequence of the book's structure is that the major happening in human society in 2020 — the worldwide spread of the coronavirus — appears in Vermont Almanac only here and there, and later in the narrative sequence (with Pfeiffer's essay "Little Brown Butterflies and the Pandemic"). From the standpoint of those butterflies, blossoms, birds and precipitation that are often this book's focus, the pandemic has made much less difference than have changes in our planet's climate.
Vermont Almanac's emphasis on phenomena beyond a single source of human anguish reminds us that we live among other beings with different challenges and realities. That's an invitation to aspire to a longer, subtler view of where we are as people in this moment.
The book's preamble states, "We knew we wanted to make something useful in the spirit of the old Foxfire books we loved growing up."
Like the Foxfire anthologies, which appeared from 1972 to 2004, the first Vermont Almanac has loads of hands-on, how-to advice for exuberant do-it-yourselfers, including primers on storing root vegetables; saving seeds; foraging for natural paints; making winter teas, balsam wreaths and homemade bug spray; and sharpening a chain saw. There's even a helpfully specific response to a momentous question: "My son just shot his first squirrel. Now how, in God's name, do I cook it?"
More like a magazine than a book, Vermont Almanac also features advertisements. But these, like its editorial content, serve to demonstrate the vitality of land-based businesses and organizations in the state: Alongside companies selling biofuels, cooperative insurance, farm and forest products, and furniture are nonprofits advocating for wildlife conservation, organic agriculture and justice for migrant dairy workers.
The book's preamble evokes Robert Frost, who "spoke of 'the need of being versed in country things.' You can read that as either a deep nod to an innate human craving for things that are real and of the earth," the editors write, "or as a simple, blunt reflection of rural reality: why live here if you don't want to put something in the ground?"
Time lives and thrives in details, and the thrills of this book are likewise in the details. In our still largely rural Vermont, those "country things" are in jeopardy if not learned and shared and carried on. Let's hope that this Vermont Almanac is the first of many.
From "Winter Teas" in Vermont Almanac: Stories From & for the Land, Volume 1
Foraging green things is almost half a year away, but there are plenty of woodland teas you can make in the meantime to get you through the cold, dark days of winter. For those who enjoy wintergreen flavor, black birch (Betula lenta) should be a staple. Brewing is as simple as filling a stock pot with a handful of small twigs and simmering on a cookstove. The simmer part is key — boiling water vaporizes the volatile chemicals that impart the characteristic odor and flavor. And you'll need to simmer for a long time; we keep a pot on the stove that gets good after a 24-hour steep; even better after 48...
Chaga mushroom, also called the clinker polypore or birch conk, is a popular tea medium ... Wild food proponents (and not a few venture capitalists) claim it cures everything from the common cold to cancer, and there is some scientific evidence that compounds in chaga can kill cancer cells selectively and stimulate the immune system. The flip side of this is that it might interact with drugs; it's high in oxalates, and it's never been scrupulously tested as a regular medicine, so don't go overboard. We can say that it tastes like the earth, and if flavored with a little syrup or honey and ginger, makes a nice winter drink if you feel a cold coming on. Our go-to technique is to use a hatchet to smash the conk into cube-shaped pieces, steep it on a warm wood stove all day, then drink before a hot bath in the evening.