Translations From Bark Beetle: Poems by Jody Gladding, Milkweed Editions, 96 pages. $16.
Translations From Bark Beetle, by Jody Gladding of East Calais, is more than a simple collection of poetry. It's a convention-defying poetic gallery, meaning it's not the kind of volume where you go from page to page reading isolated islands of verse.
For one thing, many of these poems weren't even written on paper. They were created in three dimensions. In one case, Gladding paints her verse on slate; in another, she inks it onto paper attached to a liver scan. She burns poetry into a piece of firewood; she pens it on a tongue depressor. The first sections of the book offer mere transcriptions — or maybe you could say "translations" — of these works, which appear in the final section as a gallery of photographs.
Gimmick, you think? Perhaps in the hands of a less accomplished poet. But Gladding, whose first volume, Stone Crop, won the 1992 Yale Series of Younger Poets Award, and whose work has appeared in Agni, Poetry and Orion, has always drawn on the intersections of her occupation and preoccupations. Translations From Bark Beetle, her third full-length collection, reflects both her work as a translator of French literature and her recurring interest in nature. The result: This daring poetic bricolage is as exhilarating and curious to read as it is beautiful.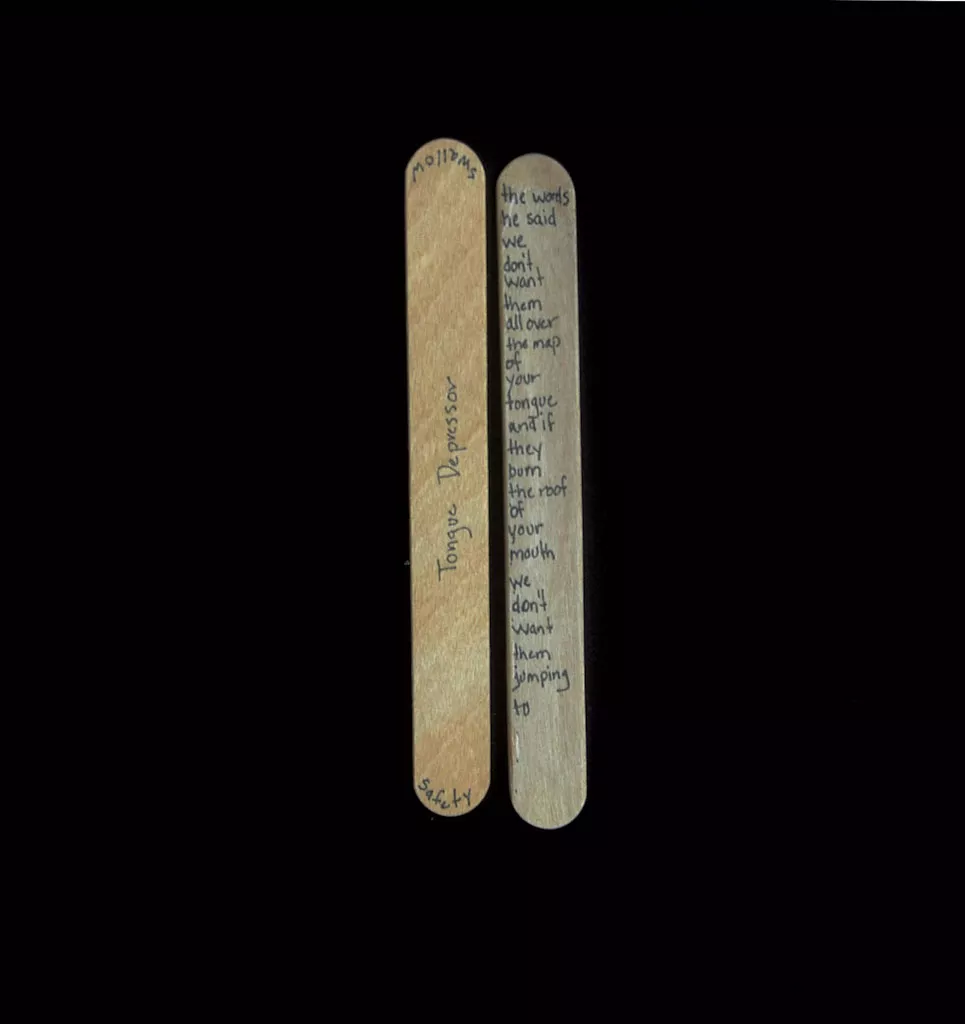 The volume also contains verses written traditionally as text on paper. Some are inspired by site-specific projects at the Frost Place in Franconia, N.H., where Gladding has been a poet-in-residence, and at the Great Salt Lake in Utah. Others are the eponymous "translations from bark beetle."
"Bark beetle" is a general name for 6,000 insect species, including those responsible for the extensive destruction of lodgepole pines in the western Rockies and those that have imperiled elms. The beetles create tunnels that resemble written script, also called "galleries," which often subject the trees to more stress than they can withstand. Gladding's book features graphite "rubbings" of these uncovered galleries, which bear a resemblance to gravestone rubbings or ancient cuneiform, beside her printed "translations."
How to "translate" these mysterious markings? Gladding, who also teaches at the Vermont College of Fine Arts in Montpelier, has translated French novels such as Jean Giono's The Serpent of Stars and Pierre Michon's Small Lives into English. No doubt this work alerted her to the things that elude expression, and how meanings falter as they pass between different cultures — or, in this case, species.
To address such issues in this book, Gladding offers her "Translator's Notes." "Certain elements of the grammar make translating Bark Beetle problematic," she writes. "There are only two verb tenses: the cyclical and the radiant ... The same pronoun form indicated as • is used for first and second person in singular, plural and all cases" (that is, the symbol • represents "I," "me," "we," "us," "you" and their possessive forms).
Here is the first passage from her translation "Spending Most of Their Time in Galleries, Adults Come Into the Open on Warm Sunny Days":
1.
•'ve learned through wood
yo• can only travel in one direction
but turn again with m• there love
sap in the chamber
red the friable
taste of yo• •'ve learned
there are other ways in the wood's
growing
if not for m•—
find hollow
find spell
In the translation "Red Turpentine Beetle (Northwestern)," the beetles' expressions appear as mere splinters of text scattered across a broad page, with ample space between them: "lightivore / would have cut stars / but of / more than • / could chew / a fibrous skyful / black holes / all no through / but yes! / horizon / up against / basal / way clear/ ! / this is o•r boredom of heaven."
These dynamic fragments of expression remind me of Sappho, whose poems survive only as arresting phrases translated from ancient damaged papyrus and potsherds.
In addition to the six bark-beetle translations (there are two in the beginning and four in the later sections of the book), Gladding includes a poem called "Sonogram of Raven Calls," whose consonant-dense syllables — "pruk," "quork," "rrack" — rain across the page in a beautiful reenactment of bird talk. Cumulatively, these translations become more than a quirky project and verge on a compassionate act of listening, of exerting oneself on behalf of understanding something not just outside oneself, but outside one's endlessly noisy species.
Some readers might find the moxie of this volume alienating or esoteric — but I hope not. Gladding's work rewards the reader with its playfulness and authentic ventriloquism, whether she is relaying a raven's vocabulary or the poetry written in paint on its single black feather.
Furthermore, Gladding's art reaches past the confines of the two-dimensional page, bending poetry toward the purview of the visual arts. Translations From Bark Beetle is more than a collection of poems: It's a gallery guide, to both the beetles' passages and the lode of human and more-than-human messages. This is an innovative collection by a poet who appears to live her job as an extensive translator and unlimited artist-in-residence.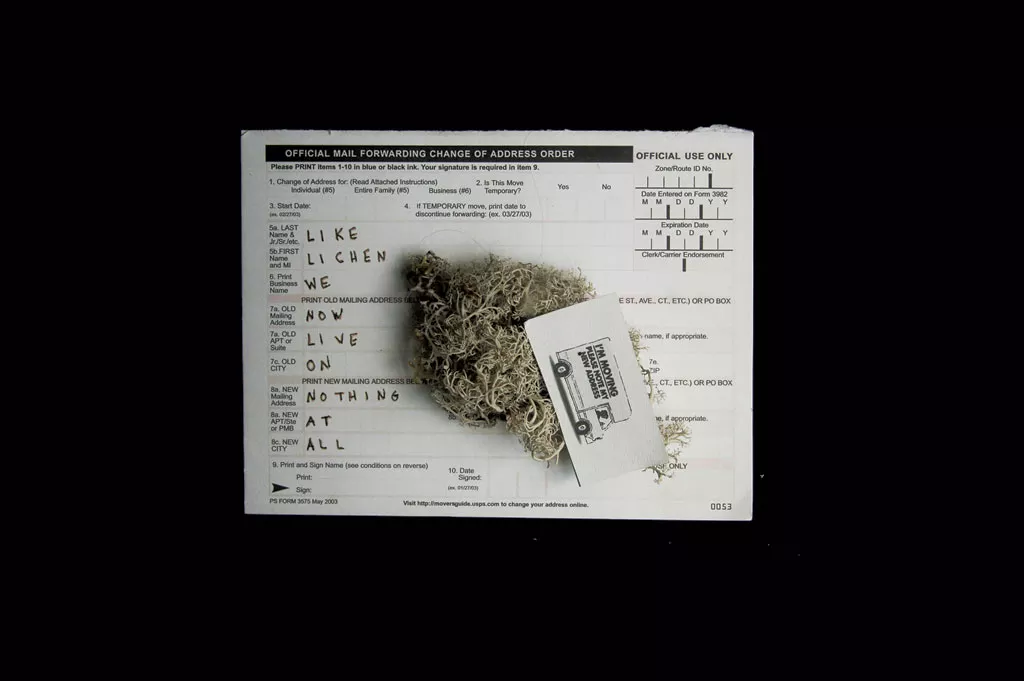 Full disclosure: Gladding recently served as a final juror of the Vermont Poetry Broadside Contest, a project Julia Shipley cofounded.
Jody Gladding reads with David Dillon on Tuesday, April 15, 7 p.m. at Bear Pond Books in Montpelier; and on Tuesday, April 22, 7 p.m. at Galaxy Bookshop in Hardwick.
The original print version of this article was headlined "Portrait of the Artist as a Tongue Depressor"