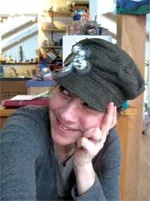 Librarian: Meg Allison, teacher-librarian at Moretown Elementary school
Book: Toys Go Out by Emily Jenkins and illustrated by Paul O. Zelinsky
Age Range: 5 and up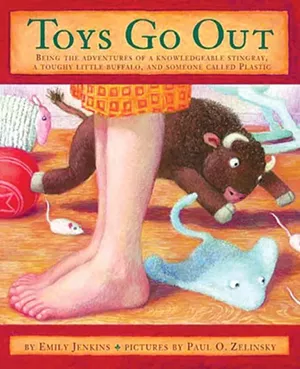 Allison's summary: What Pixar's Toy Story did on the big screen, Emily Jenkins' Toys Go Out does on the page. The early chapter book gives an intriguing glimpse into the secret lives of one girl's favorite playthings.
The three protagonists are Lumphy, a stuffed buffalo; StingRay, a plush stingray; and Plastic, whose identity is something of a mystery. Each chapter follows them on a new adventure, from visiting a classroom for show-and-tell to looking up words in the dictionary. After a mishap with some peanut butter, Lumphy must even face his deep-rooted fear of the washing machine in the basement. At the heart of the story is the three friends' quest to discover the meaning of life.
Caldecott Medal winner Paul O. Zelinsky contributes whimsical black-and-white illustrations that convey just the right dynamic between these precocious best friends, who just happen to be toys.
Why you'll like it: To me, this is the most perfect chapter book since A.A. Milne's Winnie-the-Pooh. It's timeless and endearing. Emily Jenkins' words spill out effortlessly, with such wit and fun, that I honestly don't know who enjoys them more — the children or the adults reading them. The story truly comes alive when read aloud.