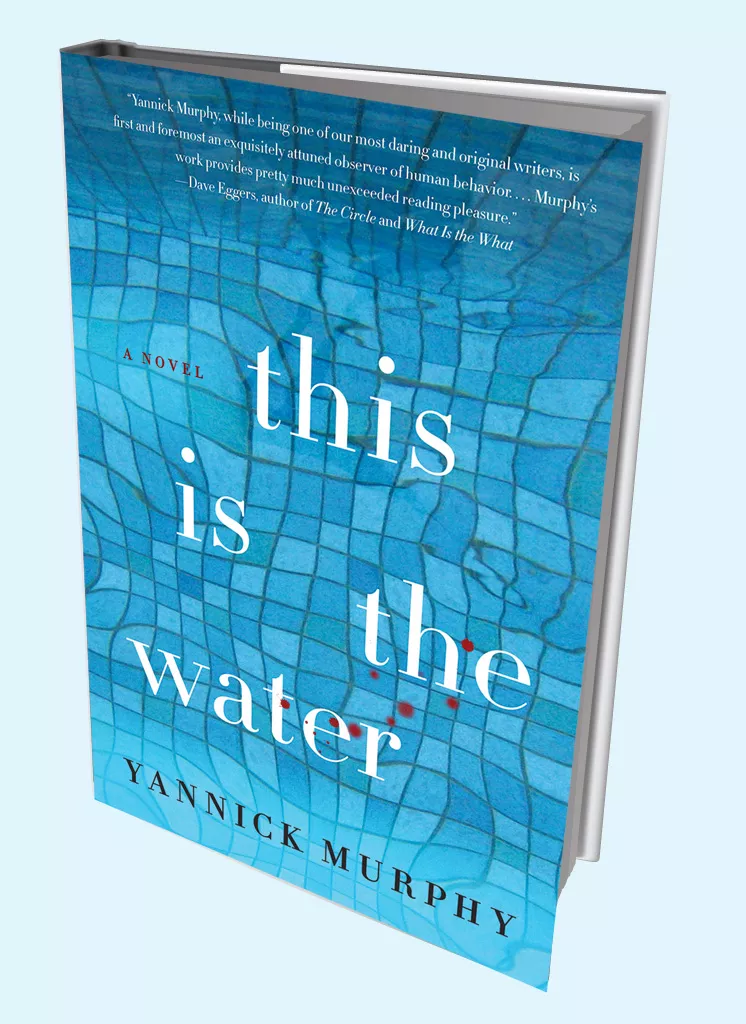 This is you picking up the new novel from Reading, Vt., author Yannick Murphy. This is you noting that Publishers Weekly called This Is the Water "obscenely suspenseful." This is you realizing that eight of the book's first 10 paragraphs open with the words "this is." This is you also realizing that the book is written in second person and present tense, just like this paragraph, making you feel like you're reading a Choose Your Own Adventure novel, only you haven't been asked to choose any adventures yet.
But you do have a choice. This is you tossing the book (and perhaps this review) against the wall and shaking your head. Or this is you deciding to go with Murphy's distinctly different style and seeing where it takes you.
Should you choose the latter option, this is a quick preview of what you will encounter: several thousand more (this is a guesstimate) repetitions of the phrase "this is." Adulterous longings. A serial killer. An exhaustive account of the life of a swim-team mom, from the importance of high-performance suits to the etiquette of race timing. A sometimes gentle, sometimes pitiless dissection of 21st-century American marriage and parenthood. Blood spilled on the floor of a highway rest stop. Water that talks and doorknobs that remember. This is no ordinary novel.
Like Murphy's acclaimed 2011 novel The Call, This Is the Water is an attempt to marry something resembling book-club fiction with an audacious, potentially off-putting formal experiment. Plotwise, the novel is part domestic drama and part thriller, yet it's told in an omniscient voice that emphasizes lulling continuity over dramatic incident. The combination is consistently intriguing but not always successful.
Our main character, referred to as "you," is a late-forties swim mom named Annie. Her life is an ever-repeating series of routines, her mind a sea of mundanities, her marriage an increasingly impersonal arrangement of mutual tolerance.
But ominous eddies form in the uniform flow of Annie's consciousness. She tries not to think about her brother's suicide, but she can't shake her fear of being sucked into a depressive "void." She envies another swim mom, Chris, and covets Chris' husband, Paul. And when Paul starts telling Annie things he can't tell Chris — things that may link him to the recent brutal murder of a teenage swimmer on the team — Annie keeps his secrets.
By contrast, Murphy keeps no secrets from the reader, who learns the name of the girl's killer on page 52. Despite a few suspenseful moments, this is not a nail-biter. Indeed, Murphy uses her narrative method to deglamorize and even mock the conventions of thrillers, as in a passage where we visit the serial killer's head: "I am the most dangerous kind of killer, he thinks to himself while using a paper towel to slowly wipe his face of the crumbs that have collected there from eating his turkey-and-sweet-pickle sandwich."
Like Annie, like everyone else in the book, the psychopath inhabits a world of banalities, his grim pronouncement undercut by the ridiculous precision with which Murphy describes the debris of his lunch. His "killing weekends" are mere breaks from that banality, not unlike the tropical vacation that Annie remembers with intense nostalgia. In the end, life's flow always goes on.
Water, the book's central motif, evokes that predictable continuity. At the same time, by using the repetitive phrasing of children's illustrated primers to describe trivia and tragedies alike ("This is your brother with the gun in his mouth"), Murphy forces us to see her mundane settings as if for the first time. This is, she reminds us, a fiction, created by the incantatory power of the author's "This is..."
And could our own worlds also be fictions, stories we tell ourselves? Annie's skill at self-deception suggests so. At their best, Murphy's run-on sentences meander from bourgeois platitudes into existential dread in a way reminiscent of Radiohead's dystopian dirge "Fitter Happier" (see excerpt). The effect on the reader is hypnotic, if also numbing over the long haul.
Is there a point to all these words? As the parallel tales of Annie and the killer unfold, we learn how easy it is for a "good person" to discover her bad self on the path of least resistance, where the comfortable padding of banality muffles the impact of her choices. (Sins of omission loom large in the novel.)
Yet Murphy's conventional resolution of Annie's conflicts saps that theme of its force. Annie finds her strength by making choices that benefit her and her loved ones at others' expense — but, unaccountably, the omniscient narrator doesn't show us the parties who suffer most from those choices. As a result, what could have been a deeply unsettling novel feels, by the end, itself a touch too banal.
This Is the Water might have been a stronger, more haunting narrative at a shorter word count, and with a less charitable attitude toward its heroine. Still, it's a novel worth reading and debating for both its daring and its relevance. While Murphy sets the action in an unidentified New England state, she's dead-on in her satire of certain Vermont types and attitudes: For instance, Annie obsesses over the issue of buying pricey organic milk for her kids.
In short, This Is the Water could deliver to your book club what many "book-club novels" only promise: fodder for sustained, spirited discussion. Just don't be surprised if some members refuse to go with the flow.
INFO
This Is the Water by Yannick Murphy, Harper Perennial, 352 pages. $14.99.
The original print version of this article was headlined "Going With the Flow"