Courtesy Of Anne Davis
Kathryn Davis
Imagine strolling along Burlington's Church Street on a sunny spring afternoon and asking the people you meet, "What's a novel?" Probably most replies would include mention of characters, narrators, plots and settings.
But what if a writer could construct a readable and absorbing novel that largely omits the supposed necessities of vivid depictions, continuous story lines, and recognizable locations in time and place?
Kathryn Davis' dreamy and sinuous new novel The Silk Road will challenge readers to reconsider what a novel can be and do.
Davis is the author of seven previous novels that, together with her newest, must be counted among contemporary American fiction's most idiosyncratically strange. She primarily lives in Montpelier while maintaining a tenured professorship at Washington University in St. Louis, where she teaches each spring. Her work has never gathered a huge readership, as it is demanding and hard to categorize, but she has persisted.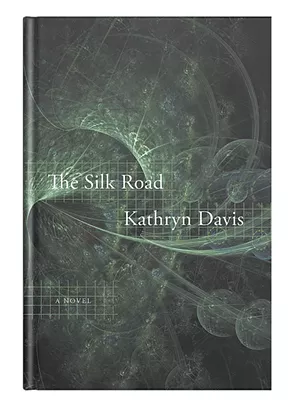 The Silk Road by Kathryn Davis. Graywolf Press, 144 pages. $24.
Graywolf Press, one of the country's leading independents, published Davis' new novel and her previous one, Duplex (2013). This spring, Graywolf also released a new edition of her 1988 debut, Labrador. She's the kind of writer who will benefit from the dedication of a publisher willing to seek out readers adventurous enough for her books.
The Silk Road is an extended riddle that begins, like a murder mystery, with a corpse. Comically, the scene is a yoga class, but this one is in a subterranean chamber surrounded by a labyrinth, and some form of Armageddon may be taking place in the world overhead. The class includes a group of eight siblings, known only as the Astronomer, the Archivist, the Botanist, the Keeper, the Topologist, the Geographer, the Iceman and the Cook, and someone doesn't get up after savasana. Who killed whom?
Everyone is a suspect, and they commence relating the stories of how each of them arrived at this moment. The siblings bicker and console one another; they seem to share a lifetime of memories, not only being steeped in their individual recollections but knowing everything that ever happened (or will happen) to all of the others.
Some of the novel's most moving stories involve the siblings' mother and father, recalled with great particularity. The storytellers are attended by their ever-present, sphinxlike yoga teacher, Jee Moon. Are they humans, or are they gods like the rivalrous deities on Mount Olympus?
Their tales move not chronologically but elliptically. Scenes pivot on images that recur like musical motifs, and origins and outcomes are often reversed, with readers given a detail that won't be explained until many pages later. In lieu of an ordinary first-person or third-person narrator, Davis uses the first-person plural, which is unfamiliar but never confusing:
At some point we left behind the sandy track we'd been following and emerged into a wood. Our eyes took a moment to adjust to the shifting darkness, the other watchful eyes. We went through a little gate and shortly thereafter another. A preponderance of beech trees, the old kind, the trunks smooth and seamless and gray like elephant hide ... The thing is, we had to apprehend of what kind and how widely different in their forms were the beginnings of things, how varied by manifold diversities of shape. We were new, too, the skin beneath our cloaks just acquiring density.
Analogies for Davis' narrative scheme come to mind: Boccaccio's circle of raconteurs taking refuge from the plague in a walled garden, or Chaucer's troupe of pilgrims tromping toward Canterbury. One may think of the allegorical figures in a tarot deck, or the ring of potential culprits in an Agatha Christie whodunit, or the board game Clue.
For Davis, the Silk Road isn't only a historical trade route stretching between Italy and China; it's a Möbius strip made of quicksilver, a spiraling chain of DNA and a ladder from an earthly crevasse to a perch in eternity.
In some passages, the book's personages seem to exist in a realm prior to birth, with synesthetic foreknowledge of the lives to come. At other moments they appear to be surveying earthly existence beyond mortality — from the vantage of purgatory, otherworldly but still carnal.
The conceptual universe of The Silk Road draws on insights from quantum physics, where different instants might coexist simultaneously the way different locales do. Yet the literary effect is reminiscent not as much of science fiction as of fairy and folktales, with their leaps and skips and slides in time and place, creatures changing shape and matter transforming.
A reader may feel that entering into such lavish bewilderment would be easier with a movie, where the stream of images and sounds just keeps going. At times The Silk Road does resemble in its textures and sequences the fluidly unpredictable cinemascapes of Cocteau, Kubrick, Bergman and Tarkovsky.
Reading a novel like this is not easy, and not meant to be. Though it is short, no one would describe The Silk Road as brief or swift, because its chronicle keeps doubling back. Each chapter is like a new beginning. Progress is circuitous, for somehow the book's enigmatic protagonists, like their creator, know the complete story backward and forward. They see "its many rivers thundering and foaming and swirling along their courses," holding the entirety in mind as only gods — or a novelist — can do.
From The Silk Road
At last we found a roadside table with enough chairs for all of us to sit down around it. The sun had come out; a dark blue was spread above us, fluttering and waving and dyeing the seated assembly below with its color. A man emerged from behind a potted shrub, a white apron low on his hips. He ran his hand through his thinning hair. If he was there to take our order he gave no sign of it.
Two French doors led into the hostelry, painted dark green, one of them slightly ajar. We knew they were going to be there: this is where we had been headed from the first intake of breath and the first expulsion of breath, the table set as it had been from the start, the knives and forks and spoons. The napkins, folded in triangles. The white plates with a blue stripe around the rim. The table could have been set for a party, except then you'd have known who the guests were. A party often serves as a kind of explanation. It's the least interesting part of a life, really. We already knew all we needed to know or thought we did.
This is no place for a baby, the man with the apron said. We could tell he was disapproving, scornful even, though of what, we were unsure. He had seen everything that had attained a human come through here. Alas! The human body ages day by day! The relatives and friends surrounding us in this life are like a gathering of shoppers in a market. When the market closes, the shoppers disperse. Likewise this illusory aggregate of form.
One of us had failed to obstruct the womb entrance and thus was forced to suffer in a dog kennel or a pigsty or an anthill or a worm hill for the rest of this temporal existence. There was to be no way back.
One of us appeared filleted on a platter, drenched in lemon, a sprig of parsley in his mouth.
One of us lay like a fallen cairn at the top of a pass, severed of all flesh and bone.
One of us remained in the kitchen, seeing to the food.