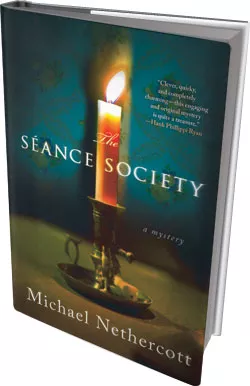 In 1956 Connecticut, a millionaire with a spiritualist bent has himself hooked to a machine designed to transmit messages from the Great Beyond. The "Spectricator" puts him in contact with the dead, all right — by electrocuting him.
That's the neat setup of Michael Nethercott's debut novel. A mystery whose release is aptly timed for Halloween, The Séance Society: a mystery offers whodunit fans a mixture of gentle chills, traditional plotting and quirky bric-à-brac. While not electrifying, the experience has a well-worn pleasure to it, like a horror fan's nth rewatch of the original House on Haunted Hill.
The novel showcases the detective duo of Mr. O'Nelligan and Lee Plunkett, whom Nethercott introduced in an award-winning novella and two novelettes published in Alfred Hitchcock's Mystery Magazine. (The Guilford author is also a past recipient of the Vermont Playwrights Award.)
Mr. O'Nelligan (as he's always called) is a sixtyish expat Irishman with a revolutionary past, a keen wit and a penchant for quoting Yeats. Plunkett, the novel's narrator, is a thirtyish regular dude with scant aptitude for deduction who happens to have inherited a private dick business. When Plunkett's girlfriend introduces him to Mr. O'Nelligan, who loves playing detective, the younger man is quick to form a bond with the older one and draw on his skills.
Plunkett may not have his partner's erudition, but he does have a bullshit detector, and it goes into overdrive when a local cop asks the pair to investigate the death of inventor Trexler Lloyd. The body's been fast-tracked to cremation, and the police chief has put the kibosh on further official inquiry. Yet there's something distinctly fishy about the coroner's presence as a guest at the séance where Lloyd met his end.
What follows may evoke fond memories of playing Clue, as our detectives hunker down in Lloyd's reputedly haunted manse and interview each colorful member of his entourage. Nethercott excels in his mini-portraits of these supporting players, each with a memorable moniker and a distinctive dialogue style.
We meet Constanza, Lloyd's Spanish wife (whom Plunkett finds swoon-worthy); the irascible, self-styled medium C.R. Kemple; a Prohibition-party-girl-turned-séance-MC named Sassafras Miller; a haughty English butler who arouses Mr. Nelligan's nationalist feelings; a Swiss groundskeeper who boasts of his intimate acquaintance with the house's dead residents; and many more.
All these people's pretensions and follies come to us filtered through Plunkett's droll midcentury diction. Our narrator has a nice, Twain-esque bluntness but also a generic quality — like a sensible sweater or a time-faded copy of Reader's Digest — that grows a little tiresome as the book progresses. Nethercott gives us glimpses of the darker past that Plunkett's hail-fellow-well-met demeanor obscures, along with hints of character development. Perhaps he'll expand on these psychological elements in his next novel, as well as flesh out Mr. O'Nelligan's tantalizingly varied history.
Neither hair-raising in its flirtation with the supernatural nor particularly surprising in its denouement, The Séance Society still charms with its period details and lively, colloquial prose. The latter consistently shines in the banter between O'Nelligan and Plunkett (see sidebar). "I'm always up for a good flimflam," says Sassafras of her job "peddling phantoms" for Lloyd. When Plunkett makes a terrible attempt to pretend he's not scared of guns, his girlfriend "pressed her finger to my lips, lest any more tough-guy dialogue dribble out."
No tough-guy novel, Nethercott's debut offers readers the opportunity to steep in the atmosphere of an era that was slower paced than ours, if not always simpler. (Today, Trexler Lloyd would probably have his own reality show.) If you're looking for the gritty side of the '50s, you're better off with Jim Thompson or James Ellroy. But it's hard not to cotton to Nethercott's Mr. O'Nelligan, a fount of surprises who uses his brogue to dispense gentle wisdom when he's not reading superhero comics or touting Elvis as "my lad from Tennessee."
"The Séance Society: a mystery" by Michael Nethercott, Minotaur Books, 304 pages. $24.99. Nethercott will read on Friday, November 15, 7 p.m. at Village Square Booksellers in Bellows Falls.
The original print version of this article was headlined "Spooks and Sleuths"