Courtesy Of Sharon Lamb
Sharon Lamb
According to the Vermont judiciary, Sharon Lamb is an expert on motherhood. As a psychologist and forensic evaluator, she assesses whether parents are ready — stable enough, sober enough — to be reunited with their children, and on what terms. Since 2014, the number of young children in the care of Vermont's Department for Children and Families has increased by a third, largely as a result of the opioid epidemic. At the height of the state's opioid crisis, between 2011 and 2016, state-ordered petitions for the termination of parental rights rose by a staggering 93 percent.
In her capacity as a clinician, Lamb's job is to weigh the strength of the parent-child bond against the parent's ability to provide adequate nurturing, and then to make a definitive recommendation to the court. But after she discovered that her oldest son had become addicted to opioids, she struggled to be certain of anything.
Lamb's latest book, The Not Good Enough Mother, weaves memoir and case study in an exploration of the tension between her public and private selves — and her own anxieties about being a good-enough mother.
The project has a thrilling matryoshka-ness: the promise of getting to the tiniest nesting doll hidden inside all those frustratingly impassive therapeutic façades. In her book, Lamb lifts the scrim — within certain limitations (she can't divulge all the secrets of, for instance, the sacred Rorschach ink blot test, a transgression for which she'd be castigated by expulsion from something called "the Rorschach listserv"). For a couple hundred pages, she becomes just like any other human, albeit one with gut-wrenching insights into the human condition.
This is the sort of book that begs to be read all at once, in a trance partly fueled by the egotistical longing to see ourselves, our own childhoods and less-than-good-enough mothering, reflected in Lamb's analysis. With the perfect ratio of warmth and X-ACTO precision, Lamb cuts to the tender pink of everything that can go awry in the parent-child covenant.
"Mothers must perform for me," Lamb writes. Sometimes they perform well, providing the right snack, the right kind of attention; other times, they become children themselves in her presence. In one especially devastating chapter, she describes an evaluation at a beach in which a mother, too eager to go swimming, races into the water and leaves her daughter on the shore.
Lamb writes: "What kind of mother, during her performance of motherhood, would swim away from her daughter and enjoy herself all alone in the deep, her feet now up in the air as she attempted a handstand? A fun mother? Her long braids were dripping wet down each side of her bathing suit. She had come to the beach to play."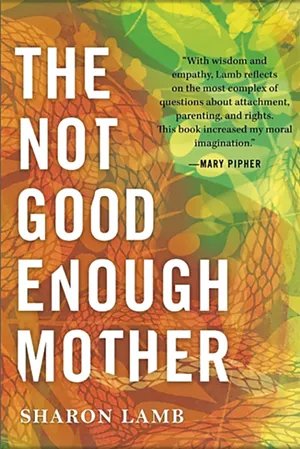 The Not Good Enough Mother, by Sharon Lamb, Beacon Press, 200 pages. $24.95.
British psychoanalyst D.W. Winnicott coined the phrase "good-enough mother" in 1953, theorizing that after the complete dependence of infancy, children ultimately fare better when their mothers — occasionally, gently, without irreparable consequence — let them down. Those minor setbacks, Winnicott believed, were essential preparation for reality.
Today, the "good enough" qualifier strikes some nerve in our optimization-obsessed psyches; it has the ring of a backhanded compliment, a gently condescending reminder of the failure to achieve perfection. In a world where men still predominantly get to decide what constitutes "good enough," women bear the brunt of this reprimand. Culturally, we lack the equivalent theoretical framework for good-enough fathers — or, more precisely, we don't expect the same things of fathers as mothers.
In her graphic memoir Are You My Mother?: A Comic Drama, Alison Bechdel offers this synopsis of Winnicott's views on how an absent (or angry, drunk or just plain not helpful) father might affect the mother's ability to provide for her child: "One of the reasons why the mother might fail to meet the infant's spontaneous gesture ... is because the father is not performing his part well enough."
And fathers, by Lamb's own admission, are her blind spot. But something about the way she describes this leniency verges on romanticization, a gloss of a much bigger and thornier issue.
"I have to watch myself around the dads," she writes. "That's another area where I need better boundaries, because I sure do like the bad boys, and that's what these dads often are — their energy, their sarcasm, the aggressive life they bring into a room. I like the game some play to manipulate me, and maybe I like the power I have over them."
Later, Lamb chalks up her softness to generational blindness: "I'm part of my culture, too, the culture that doesn't blame dads for not being there, for not supporting the mothers of their kids, for not sending child support. As with most women, the strongest aphrodisiac I know is a man taking good care of a toddler."
Those two sentences, in their juxtaposition, offer a neat summary of how society enables mediocre men. When they don't show up as fathers, we tend to rationalize their disinterest as an inevitability of nature and nurture; when they demonstrate even average levels of child-rearing competence, we heap them with praise. (A whole bargain-basement level of the internet is dedicated to photos of "hot dads and adorable babies." If you substituted "dads" for "moms," the result would be completely banal, the opposite of fetish-worthy.)
But mostly, Lamb is deeply introspective. She interrogates her relationship with her own mother, whom she rejected at a young age for reasons both mundane and specific: "I think I was close to my mother once. But my pleasure at my mother's ability to draw a picture of a simple but beautiful princess when I was three or four gave way to disdain for the things she didn't know how to do when I got older ... As my dad knew he was smarter than my mother, so did I begin to feel superior."
It's hard not to be wrecked by the apparent cruelty of that admission, particularly when it comes from someone who routinely sees children cling to mothers who have failed them in far more catastrophic ways. But the whole point, as Lamb's experience with her son's addiction illustrates, is that "good enough" maternal love is often a security deposit that never gets returned — that, in fact, no amount of good-enough mothering can guarantee a child's well-being or even win their affection.
Lamb seems ambivalent about her own approach to parenting, which was heavily informed by her clinical training. She deconstructs herself as an expert, expressing her fear that her overzealous application of good parenting theory, the techniques meant to help a child's emotional and cognitive development, might have driven her older son away.
"I mind-minded Willy to death as a baby. 'You're sad now. You want that red car very much and you're sad mommy won't buy it. You're mad at mommy now.' No wonder he became a sphinx."
Generally, Lamb is very real about what it's like to feel helpless in the face of a child's addiction, to wake up in the middle of the night and know that he's probably not OK. But there's a psychic distance in her writing, as though she's circling a drain, imposing too much order on her darkest thoughts. As the depth of her son's addiction becomes clearer to her, she takes in each new morsel of information slowly, unwilling to let it break her: "...the only way I could get through the day and continue working, making dinners, and being with friends was to not know what I knew."
Whether that detachment stems from her internalized professional boundaries or a deeper need for control is never quite clear, but those could be the same thing.
Lamb reveals most about herself in a confession early in the book. She goes to the home of a foster mother to discuss one of the children in her care. During her visit, Lamb becomes entranced by one of the woman's other foster children — a 4-year-old boy who carries around a blue electric keyboard that plays classical melodies. When Lamb hears him singing with flawless pitch, she decides, against her better judgment and the dictates of professionalism, to arrange for him to get private music lessons.
Later, we learn that her older son pawned a rosewood ukulele to fund his drug habit. Her desire to help the little boy who showed promise as a musician reads as an act of misdirected mothering, an outlet for a sea of affection too big to be contained. But Lamb, ever the clinician, is a little more circumspect in her description of her motivation: "I do want that ukulele back. And if I can't get it back, I want to buy my child another ukulele and hear him play 'Somewhere Over the Rainbow.' So instead I buy another mother's boy piano lessons and place my bets on him."