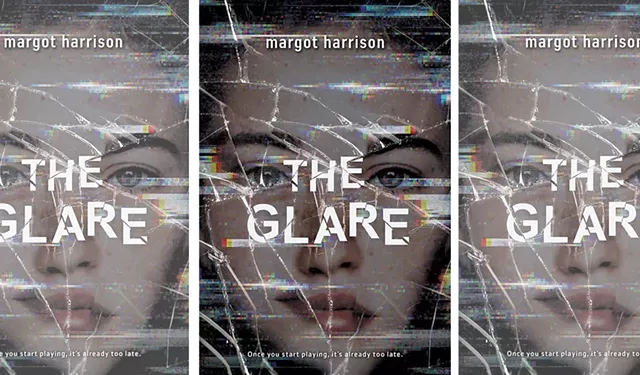 Courtesy
The Glare, by Margot Harrison, Little, Brown, 336 pages. $17.99.
Margot Harrison's second contemporary YA thriller, The Glare, is informed by creepypasta — an unsettling genre of internet folklore — and accidentally intensified by current events and screen-dependent life in quarantine.
The novel's narrator is Hedda, a teenager whose parents represent opposing extremes of the screen time debate. Her mother is a technophobic purist who has homeschooled Hedda on an isolated ranch since she was 6 years old. Her father, by contrast, is an emotionally distant and distracted software developer whose young son from a second marriage spends almost every waking moment staring at a tablet. Hedda tries to strike a balance between these two parental extremes; she is cautiously curious about the technological world that her mother rejected and successfully lobbies to visit her father in California for the first time in a decade.
Hedda's return to the land of ubiquitous cellphones and flat-screen billboards is a compelling fish-out-of-water story, sympathetic and finely calibrated. She strives to balance her hunger for connection with her wariness of the glowing screens that mediate so many aspects of adolescent life. Her childhood nickname for their hypnotic blue light is "the Glare," which she remembers with the fascination and vague horror of a once-addicted 6-year-old. Now she's ready to outgrow those old fears, attend the local high school and reconnect with childhood friends.
Matthew Thorsen ©️ Seven Days
Margot Harrison
Then Hedda rediscovers a video game called the Glare, which includes images and scenes of action that seem stolen from her own nightmares. Augmented-reality elements of the game also link to her new phone, a gift from her father, which prompts her to play with Pavlovian nudges.
This manipulation becomes increasingly unsettling as the novel dives into the haunted video game subgenre of creepypasta urban legends; readers will flinch if they happen to receive a real-world text message in mid-chapter. It's probably best to keep phones switched off and stashed in a drawer while enjoying this novel.
Other accidental intrusions add new and fascinating layers to The Glare. Much of the nation now shares the self-imposed isolation of Hedda's mother, awkwardly combined with the constant, immersive, screen-based connectivity of her father. Screen time limits for kids have practically vanished as homeschooling curricula merge with Zoom-based videoconferencing and FaceTime playdates. Many of us are currently navigating new kinds of augmented reality as screens feed both our fears and our need for connection. We're all Hedda now.
Another surreal echo of our transformed world comes when Hedda describes memories of a Glare-possessed babysitter injecting drain cleaner into her own eyes. This terrifying scene of self-harm has nothing to do with COVID-19 or the president's recent and toxic treatment suggestion, but the parallel contributes to the novel's exploration of our vulnerabilities to online manipulation — and to our current lack of consensus reality. Likewise, Hedda is forced to navigate conflicting versions of the real and virtual worlds to survive.
Fans of thrillers, internet folklore, haunted technology, The Ring (an American remake of a Japanese horror movie based on a novel by Kôji Suzuki), and anything else that dramatizes the enticements and anxieties of screen-mediated life will likely find The Glare as appealing as it is unnerving.
Disclosure: Margot Harrison is the associate editor of Seven Days.
From The Glare
Something's moving in the closet.
The sound hovers on the edge of awareness, like tree branches rubbing in the wind. I sit upright in the pearly-blue Pacific dawn, staring at the half-open door. I woke several times in the middle of the night, thinking I heard the Glare-box ringing like our phone at home, but it wasn't, of course.
I rise, the hardwood cold on my bare soles. The closet is dead still now. I lift the sheets to check the phone, but it's a silent, shiny brick.
I kneel to explore the narrow crawl space at the back of the closet, where I find a shoehorn, vacuum cleaner hoses, and — something soft. A Raggedy Ann doll in a dirty-white pinafore.
Found you. For ten years she's waited alone in the dark for me. I lift my abandoned doll into the light, remembering her soft weight, her heedless thread smile — and freeze. Her button eyes are gone, leaving only snips of thread.
A chill goes through me, and I almost drop her. Did I do that?
Maybe it was just wear and tear. Her face has a dark patch around the mouth where I used to feed her (or try to), and I certainly don't remember cutting her eyes off. But the more I stare at her, the more I think I was trying to do to Raggedy Ann what the babysitter did to herself. To shield her from seeing something terrible.