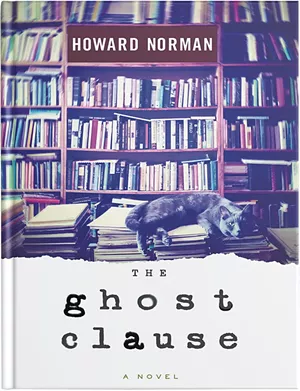 Courtesy
The Ghost Clause by Howard Norman, Houghton Mifflin Harcourt, 256 pages. $27.
In an interview earlier this month, Howard Norman told Jane Lindholm of Vermont Public Radio that The Ghost Clause will be his final novel. Even those who lack that knowledge might find his atypical ghost story a bittersweet read. Narrated by a dead man, it's permeated with a profound sense of what he calls "ongoingness," a term that resonates on multiple levels.
The most striking ongoingness is that of the narrator himself, author Simon Inescourt, who died of a heart attack at age 48 not long before the story begins. His grieving widow, artist Lorca Pell, has sold their house to a younger couple, Muriel and Zachary.
Simon, however, has not moved out or on. When he isn't busy trying to read all of Thomas Hardy's novels, he observes the new residents, whose happiness reminds him of earlier stages in his own marriage. He watches as Zachary, a detective, pursues the case of a local missing child. He watches as Muriel, an academic, bangs away on her manual typewriter. And sometimes, in the most discreet and uncreepy and Howard Norman-ish way possible, he watches them bang each other.
Occasionally Simon sets off the couple's alarm system. (Or does some other presence set it off, or are electronic sensors simply subject to unfathomable whims? The question is never definitively resolved.) Mostly, though, he's a polite, exemplary specter who gives Muriel and Zachary no reason to invoke the "ghost clause" in the deed to their home, an archaic provision that would force the seller to buy back the tainted property.
Throughout the novel, flashbacks to Simon's life with Lorca alternate with his present-day observations of Zachary and Muriel, making us feel that we occupy an in-between stage with him. "Perhaps the afterlife is like starting a new life within the one I had," Simon muses. For the reader, too, the book feels oddly liminal, divergent from Norman's previous books in one striking way even as it echoes them in many others.
The divergence lies in setting. Usually prone to writing about northern Canada in the 1970s or earlier, Norman comes home to Vermont with The Ghost Clause. The East Calais farmhouse where his characters live, he told VPR, is a replica of his own. Real people and landmarks appear throughout these pages: the Adamant Co-op, the Savoy Theater, cartoonist Ed Koren (a friend of Simon and Lorca's), Rumble Strip podcaster Erica Heilman (a detective colleague of Zachary's).
The period is the mid-1990s, an era when it's just barely plausible for Muriel to be using a manual typewriter. (One gets the sense Norman wants to steer his story clear of the internet and all it hath wrought.) Not all of the real-life details match that time frame, but does it matter? Norman has assembled a world of places, people and things he loves, a Vermont where everyone seems to make a living from some rewarding pursuit, to watch foreign films at the Savoy and to listen to jazz on vinyl. As Simon puts it, "In my life in Vermont, everything I loved most happened most every day."
In many authors' hands, this picture of rural Vermont would be cloyingly idyllic. In Norman's, it's generally charming and elegiac, first because of his masterfully spare, unsentimental style and second because loss is never far away. Simon and Lorca tried without success to have a child; now Simon is dead, and someone else's child is missing. Such realities tinge with darkness every cozy scene of cooking or cuddling by the woodstove.
And here's where the second level of "ongoingness" kicks in, because admirers of Norman's work will find these themes, these motifs, even these characters' voices familiar. Not only does the direct, tart-tongued Muriel sound very much like Lorca conversing with Simon in the flashbacks, but she also sounds like a ringer for the heroines of Norman's previous novels My Darling Detective (2017) and Next Life Might Be Kinder (2014).
When a marriage is going poorly, Simon suggests, "you try to figure out a way to start a new marriage within the one you already have." Yet the marriages that Norman portrays in his recent works somehow all feel like the same marriage. Muriel and Zachary are presented as young people starting a family in the era of Bill Clinton and Kurt Cobain, but they read like avatars of Simon and Lorca, down to their pop-cultural tastes.
There's claustrophobia in this ongoingness, this circularity — but then, there's also claustrophobia in Simon's situation, even if it's a cozy kind. Perhaps because the novel's present-day narrative is filtered through the ghost's expectations and nostalgia, it simply isn't as compelling to read as the flashbacks. The missing-child subplot sometimes threatens to reach that dangerous tipping point where quirk becomes twee.
If it's not entirely successful on its own, however, that mystery subplot resonates thematically as a tale of hope quietly facing down despair. In Zachary's pursuit of leads, we see a distant echo of Simon and Lorca's dogged attempts to conceive despite repeated miscarriages. Those attempts occasion the book's most beautiful and subtly heartbreaking chapter, a long flashback to a stay on the northern California coast during this phase of Simon and Lorca's marriage.
Nothing "happens" in this chapter, or nothing of any relevance to the main plot: The couple watch birds; they play records; they learn from a Japanese American family how to surf cast (see excerpt). They spend all night on the beach; they conceive again; they hope.
Later in the novel, Norman gives Simon an Emily-in-Our Town moment. Knowing he can't linger in this life forever, Simon steps back to acknowledge some of the things he'll miss. The whole book feels like an extended version of that moment, a tribute to the ongoingness of life itself. We'll miss the opportunity to read new novels from Norman, but the worlds he created endure; they're part of our world now.
From The Ghost Clause
We had a giant umbrella fixed to the hard sand, a cooler full of bottled water, prosecco, sandwiches, and green and purple plums. We had a bucket of squid. We had extra hooks and sinkers in a black tackle box.
Our increasing skill at casting had no discernible effect on our luck. The most gorgeously arcing cast might bring in a blue perch, but more than likely it wouldn't. The plaintive cries of plovers. Pelicans, gulls. Bird and breaking wave, bird and breaking wave. Sanderlings racing along, poking and prodding, as if attempting with their bills to stitch the darkly spreading hem of a wave to the beach before it sank away into the sand. Like stitching the end of the sea and the end of the land together. The thrill of not knowing what creature was on the end of the line until it was reeled in. The permanent rictus grins of sand sharks, the amazement at how sandpapery their skin was, the fact that they emitted guttural cries and would so powerfully writhe and snap the air, even the smallest of them, the urgent need to survive. And we stayed late some evenings, the squid bait beckoning out in moonlit dark waters. Nothing, nothing, nothing in the universe for hours on end save for the sound of the ocean and the stars. Lorca said on one such evening, "How many times have you or I said, 'Hey, is that a planet?'" For some reason, this made us laugh.