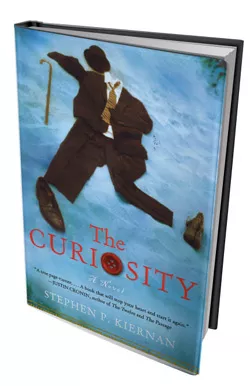 Publicity copy describes the first novel from Burlington journalist Stephen P. Kiernan as "Michael Crichton meets The Time Traveler's Wife." That pitch suggests painfully cynical demographic targeting: science stuff for the gentlemen; tragic romance for the ladies! Given the marketability of the combination, it's no surprise that 20th Century Fox has already bought film rights.
Happily, The Curiosity is a quieter and better book than its log line suggests. Neither a technothriller nor (primarily) a romance, it's more of an accessible novel of ideas, outlining a provocative what if? and elaborating its conceit in believable directions. The book's main weakness is that its characters — four of whom take turns narrating the story — tend toward caricature. Still, Kiernan's brisk, versatile prose style brings readers from broad satire to tearful epiphanies with only occasional jolts. While The Curiosity may not offer a thrill a minute, it easily qualifies as a thinking person's beach book.
The "curiosity" of the title has many meanings, from scientific inquisitiveness to the public's insatiable hunger for information. But its primary referent is Jeremiah Rice, a young Massachusetts judge who perished in arctic waters in 1906. When a scientific expedition bankrolled by megalomaniacal genius Erastus Carthage discovers Rice's corpse in an iceberg, the team knows it has hit potential pay-dirt. Carthage's Institute for Cellular Seeking has pioneered a method of reanimating long-dead organisms preserved in "hard-ice" by arctic flash freezing. So far the scientists have resurrected krill, shrimp and the like. Can they do the same trick with a human being?
Kiernan makes the science detailed and plausible (to a layman, anyway), but his focus is on the experiment's aftermath. The reanimation succeeds, and Rice opens his eyes on a new century — a celebrity to some and an abomination to others. Everyone wants a piece of him, particularly Carthage, who plans to sell the reanimation science to cryogenics companies. Meanwhile, rapacious reporter Daniel Dixon, whom Carthage gives exclusive access to the "frozen man," hopes for a career-making scoop.
The only character who shows genuine, disinterested curiosity about Jeremiah Rice is molecular biologist Kate Philo, a team member who comes to know and love this courtly, well-spoken ambassador from another era. What Kate doesn't know is that Carthage and his inner circle are working frantically behind the scenes to keep the judge from meeting the fate of the krill: a speedy postresurrection demise. (No spoiler here: Kiernan tells us in chapter three that resurrected organisms travel an arc leading to eventual "frenzy" and death.)
Kate, Jeremiah, Carthage and Dixon narrate the story in alternating chapters, and their voices are so jarringly disparate that The Curiosity often seems like two novels. One is a rollicking satire of 21st-century media behavior, filled with larger-than-life narcissists and loudmouths. The other is a fine-grained, minor-key tale of two people, born more than a century apart, who recognize each other as kindred spirits.
By the end of the book, each narrator has traveled his or her own transformative arc, bringing Kiernan's designs to satisfying fruition. But in the earlier going, it's not always fun spending time with Carthage and Dixon. The scientist is sociopathically arrogant and about as nuanced as Monty Burns; the reporter a self-described "pig" who shifts into ogling mode every time he spots Kate. ("What a niblet," he enthuses.) It's easy to imagine character actors scoring comic triumphs with these roles in a film version, but on the page, both figures seem somewhat overdrawn.
Kate is a more sympathetic character, if not complex enough to be a compelling protagonist. She's painted as both a brilliant and a selfless scientist, but there's one puzzling gap in her acuity: She doesn't connect the krill's eventual fate to Jeremiah's until late in the novel, remaining in a state of blissful obliviousness while others scramble to prolong his life. (One also wonders why Carthage, who believes a strict diet is key to the reawakened man's survival, doesn't clue Kate in or give the pair a chaperone before they traipse all over Boston, encountering culinary temptations.)
Yet it's easy to like Kate, because we're rooting for Jeremiah Rice. The "man from the way back of beyond" — as Dixon puts it — is the novelist's richest creation.
Using a foreigner, a naïf or a time traveler to provide a fresh perspective on our society is a device that goes back to the 18th century. But Kiernan doesn't reanimate this decorous fellow just to have him preach at us. True, Jeremiah is befuddled and sometimes dismayed by this new age, where workers "sit each apart, staring at a square of light … rarely addressing each other at all." He's a full-fledged character, however, with his own desires and conflicts. In a memorable scene at Fenway Park, he reveals himself to be a hard-core baseball fan with a mean pitch. In his quieter moments, Jeremiah struggles with the knowledge that he, too, has felt the "power of curiosity" — a wanderlust that led to his death, far from home and family, back in 1906.
As Jeremiah grasps "[t]he magnitude of what I have lost," a wistfulness suffuses his narrative. The book becomes less about the dilemmas posed by scientific resurrection and more about one man's coming to terms with mortality. The judge's unprecedented opportunity to live twice outrages the religious protestors camped outside Carthage's institute. But the prospect of dying twice is what weighs on Jeremiah.
This is a tale of scientific hubris told from a distinctly humanist perspective. Kiernan shows little patience for religious objections to reigniting the spark of life: Jeremiah remembers no afterlife, and doesn't speculate on one. Readers are left to draw their own conclusions about a world in which, as Kate puts it, "life was being redefined. Or, to be accurate, the old definition discarded but the new one not yet written."
Yet the novel demonstrates that such a world will remain haunted by death, however cleverly interrupted or postponed — that, in fact, the waiting specter gives life its intensity, its savor. Freed from his imprisonment in a human zoo, Jeremiah rejoices in the world's beauty, which he experiences as "an excess like vines smothering a building, an ocean of it in every direction." Carpe diem is a worn-out maxim, but Kiernan uses his sci-fi setup to give it new life.
"The Curiosity" by Stephen P. Kiernan, William Morrow, 432 pages. $25.99. Kiernan reads with fellow novelist Chris Bohjalian on Wednesday, July 24, 7 p.m., at the Champlain Valley Unitarian Universalist Society in Middlebury. For more info, call Becky Dayton, 989-6719.
The original print version of this article was headlined "You Only Live Twice"