I'll admit it. I picked up
The Book With No Pictures
off the shelf at the library because it was written by B.J. Novak, of
The Office
fame. When I showed my husband, he gave it an eye roll.
"That's just a cheap trick. That's just another famous celebrity who takes advantage of being famous and gets a book published," he said. And
he's
an even bigger fan of
The Office
than I am.
But he had a point. A few weeks ago I eagerly opened up Jimmy Fallon's new children's book,
Dada
, only to feel disappointed that there wasn't anything in the book that knocked my socks off like a Fallon vs. Timberlake lip-sync battle.
But Novak also has a critically acclaimed adult book to his name, so I decided to try this one out with my girls. 5-year-old Hadley was intrigued by the idea of a book with no pictures. We had recently started reading
Charlotte's Web
but this book looked different than a chapter book. It looked like, well, a picture book.
[jump]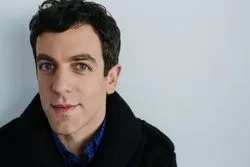 Novak immediately sets the rules of the book: whoever is reading it has to say whatever the words say. And then he wastes no time in making the reader sound ridiculous by telling them to say the nonsense word "Blork."
"What?! Blork? Mom. What does that even mean?" asked Hadley. "I think this is going to be a jokey book."
She was right. The next page demanded that I announce that I was, in fact, a monkey. And then, a robot monkey. And then, a blueberry pizza. And on it went, splitting the narration between the book, which becomes a character of sorts, and the reader, who also becomes a character in this silly story with no plot. As a writer, I sort of objected to the "no plot" thing. But, in the case of
The Book With No Pictures
, I had to admit it worked.
When I got to the part where I had to declare that my only friend was a hippo named Boo Boo Butt, and then repeated myself (as the book so cleverly instructed me to do), Hadley and her 3-year-old sister Pippa let out big belly laughs. I can't say for certain whether it was their infectious laughter or the middle schooler within me, but when I repeated the phrase "Boo Boo Butt" for a third time, I couldn't help but crack a smile, which turned into a giggle, and finally into real laughter.
When we'd finished reading, I decided that it didn't really matter how the author got published so long as the book was actually good. And anything that makes my kids laugh like that? I'm all for it.
Even if for the rest of the night I had to listen to Hadley screech, "But my best friend is a hippo named Boo Boo Butt!"