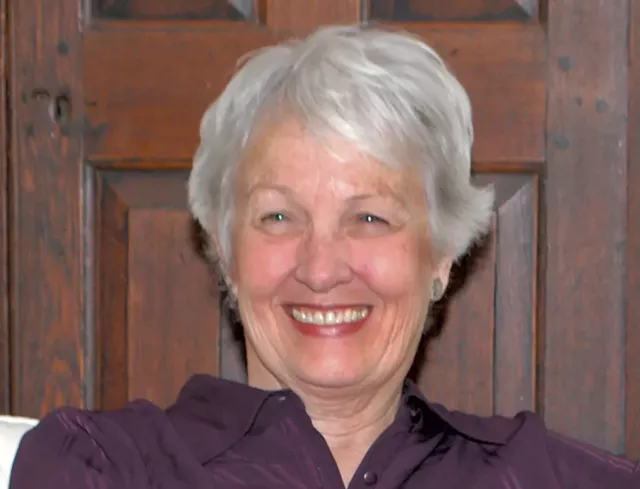 Courtesy Of Jan Doerler
Lisa Alther
The Idries Shah Foundation, a UK charity devoted to advancing the work of the eponymous late Sufi writer and mystic, recently inaugurated its Gold Medal Awards for Human Achievement. The 2019 honorees included such luminaries as primatologist Jane Goodall, BBC broadcaster David Attenborough, Nobel laureate Herta Müller and writer Lisa Alther, a part-time Vermont resident.
For readers under 40 or so, Alther's name may not ring a bell. The ISF Awards site describes her as a "novelist & bestselling author" who "became a close friend of Idries Shah" through her friendship with Doris Lessing. That groundbreaking British-Zimbabwean novelist blurbed Alther's 1976 novel Kinflicks, declaring that "she had me laughing at 4 in the morning."
"I am not surprised if you have not heard of Kinflicks," Lizzie Skurnick wrote on Jezebel in 2009. "No one I know has heard of Kinflicks." And yet, as Skurnick proceeds to detail, in the '70s and early '80s, the paperback of Alther's madcap coming-of-age tale of a "nice" Southern girl gone wrong was on every mom's shelf — or at least that's how it seemed to precocious tweens seeking raunchy reading.
Kinflicks is indeed raunchy; the narrator is frank about her experiences with multiple partners, men and women. But when I revisited the book as a college student, I was surprised to realize how dark it was. "My family has always been into death," the narrator says. The reminiscences of her swinging '60s escapades are interspersed with a present-day narrative of watching her mother slowly, agonizingly die.
So it's no surprise to find that Alther's writing has darkened even further since her best-selling debut, as her protagonists aged and the ideals of the '60s faded. Her ninth and latest book, Swan Song: An Odyssey, opens with a chapter called "The Death Magnet."
That death magnet is Dr. Jessie Drake, a Burlingtonian in her mid-sixties who has recently lost her parents and her longtime partner. When we meet her, she's recycling her sex toys in anticipation of her own death, so that her son won't have to "[find] her antique VHS tape of Lesbian Hospital while searching for her will."
In her youth, Jessie scoffed at her doctor father's anxieties. "But over the years she had learned that disaster really did lurk around every corner," Alther writes. The first chapter certainly bears out this grim dictum: Gazing out her window at Lake Champlain, Jessie spots a corpse floating in the shallows.
Swan Song: An Odyssey by Lisa Alther, Knopf, 240 pages. $26.95.
Swan Song is not a mystery, and the corpse's origin has no bearing on the plot. But the incident serves to convince Jessie that she needs a distraction from impending doom, and in the very next chapter we find her on a British cruise ship called the Amphitrite, serving as ship's doctor on a jaunt through Southeast Asia and the Middle East. On shipboard, Jessie finds novelty, excitement and flirtation, even as she broods over her late partner's final journal.
Alther's narrative takes its own jaunts into other perspectives, casting an ironic eye on the economic disparities between the pampered passengers and the harried below-decks crew. Perhaps the most egregiously privileged person on board is Gail Savage, a trophy wife and former beauty queen who gleefully sleeps her way through the male passengers and crew while her aged husband languishes in their cabin with norovirus.
Gail's subplot occupies so much real estate in the short novel that it's a bit of a shock when Alther unceremoniously drops it without a clear resolution. Our views of both virus threats and cruise ships have changed since Swan Song was written, and readers right now may itch to see Gail punished for blithely disregarding the norovirus quarantine that Jessie has imposed on her. At the very least, one wants to see consequences. "The Amphitrite should probably have been flying a black flag," Jessie muses at one point, "like the plague ships in the fourteenth century."
Yet no epidemic manifests on this ship, and a brush with Somali pirates is quickly resolved, too. As in Kinflicks, darkness coexists with lightness in Swan Song, but the darkness generally stays confined to Jessie's reflections.
Sometimes the book reads like a farce and sometimes like a travelogue, with long expository passages on the history and landmarks of sites such as Petra and Alexandria. Sometimes it even reads like the author's jaundiced thoughts on kids today. Jessie's partner was a novelist with a career similar to Alther's; her journal contains an email from her agent suggesting that "if she insisted on writing another novel, its main character needed to be a vampire or a serial killer, preferably both."
There are no vampires or serial killers in Swan Song and, frankly, not much odyssey, either. While Jessie does experience a personal journey, one that is often relatable and moving, it doesn't take her anywhere the reader can't foresee at the outset.
At the novel's heart is a compelling duality that Alther never fully dramatizes or resolves: While Jessie is preoccupied with looming death and disaster, Gail lives like there's no tomorrow. Toward the end of the book, Jessie muses that "Maybe Gail was her alter ego ... a woman who had done as she pleased, without regard for what other people might want from her." But, given what a cartoon of a callous narcissist Gail is, and how little she and Jessie interact, Gail feels more like a sideshow than a meaningful foil.
While the book may fall short on a big-picture level, there's pleasure in the details. Veteran readers of Alther will see that she hasn't lost her gift for satire; the Amphitrite feels drawn from life. And when she breaks the luxury-cruise-ship bubble for an episode involving migrants rescued from a sinking raft, the scene is harrowingly effective.
There's a weariness about Swan Song; at one point, Alther tells us that "Jessie was old enough now to recognize that world crises came and went in perpetually recurring cycles." At another, Jessie has harsh words for younger women: If they want to keep access to reproductive freedom, "Shouldn't they sign off Snapchat and get out in the streets?"
While young women may draw a blank at Kinflicks, its author seems equally unaware that the latest wave of feminism flourishes on social media, or that the same people who post memes are quite capable of getting "out in the streets." And that's too bad, because both parties could undoubtedly learn something from each other.