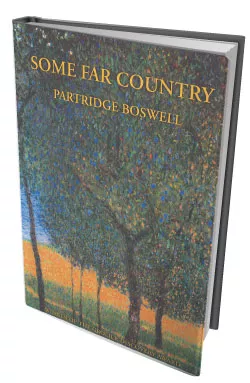 Woodstock poet Partridge Boswell's debut collection is titled Some Far Country, which raises a question right from the start. Are these poems about a desire for distance, a longing to escape to "some far country" of the mind or geography? Or are they about being consigned to distance, banished?
Readers of Boswell's precise, luminous poems will find both meanings in evidence, as well as every possible conception of distance. Even "Distances," which appears about a third of the way through the book's 51 poems, is only ostensibly about two college kids whose car runs out of gas at night in a remote Idaho town. In the second couplet, another voice sounding like the poet's own begins commenting on the way the lines look on the page — "identically parallel as twin chromosomes" — which encourages the reader to step back and look, too. Each voice seems to carry on in alternating stanzas until, before the reader can quite realize it, they have blended into one.
It's a bit like a musical resolution in words, and Boswell has been a regional leader in both realms. He has worked as director of the Lebanon Opera House in New Hampshire and as an organizer of Bookstock, the annual literary festival in Woodstock. Currently he's a managing editor at Harbor Mountain Press in Brownsville, whose director, Peter Money, first encouraged Boswell to submit his collection for a new but significant poetry award, the Grolier Discovery Award. Some Far Country won.
The award was inaugurated in 2011 by Ifeanyi Menkiti, a Nigerian poet who owns the Grolier Poetry Book Shop in Cambridge, Mass. — one of the country's oldest and most revered — and the honor comes with publication by the bookstore's own press. In his introduction, Menkiti writes that Boswell "bears witness to the understanding that the world is ultimately one." At the same time, he notes the poet's "landscape of ... emotional separation."
This quiet contradiction plays out particularly when Boswell's speakers and subjects travel to geographically distant countries, including the Central African Republic and Iraq. In "The Documentarists," "young Americans" arrive in Sierra Leone to gather footage for a documentary about child soldiers. The moral horror of the story of one boy named Mohammed, who "saw his parents cut down with a violence / so indiscriminate their killer vanished / leaving only the weapon's arc in air," is complicated by the morally questionable way in which his narrative was obtained. "Above all fundamental to let woodsmoke cloud every motive for why [the Americans] had come," Boswell writes.
The world is decidedly not "one" in several poems about family life, where spouses often necessarily occupy different spheres while juggling care of the children. (Boswell has four.) The speaker of "Never the Twain" observes, as if from above, his "safe house / roof now googlable from space — / remember that place?" while waiting for his wife to "return from your / separate well-lit country / after you've cleared their tables / collected tips." Echoes of Hemingway's solitary waiter in "A Clean, Well-Lighted Place" — and, in the title, of Kipling ("East is East and West is West, and never the twain shall meet") — serve only to increase the poem's sense of unbridgeable distance.
"The Documentarists" is written in free verse with one jaw-dropping line break; "Never the Twain" is composed of tercets. Some Far Country seems to explore every possible modern verse form. When Boswell opts for stanzas, they rarely contain end rhymes or even a meter — at least, one with a recognizable foot. Nevertheless, what Menkiti calls Boswell's "patterns of song" are there, in the jazzy alliteration of lines such as "pass synecdoches of sound / around the smokesweet room" (from "Woman who hates jazz nevertheless") or the simplicity of this final, grieving stanza of "Still": "we gather and sit / in silence on your hill / this is how much / we love you still." (Boswell dedicated the book to his wife, Polly Davenport, who died in 2011.)
Boswell often drops punctuation, too, creating run-on stories in verse form and using "&" instead of "and" (or, occasionally, both in the same poem). Both tendencies might be chalked up to a kind of tightly wound intensity in his writing, which is evident in "Scharp, slyttyng & frotyng," a poem about writing poems:
we turn

a key to release this world's energy

some days quatrain others couplet

some rhyme with cheeky bastard

others monologue in extended

hexameter & gambol off leaving

the bed unmade the page bereft
The poem's title comes from a 14th-century scholar's disparaging description of the speech of northern Englishmen (thank you, Google). The scholar was a southern Englishman; possibly, the irony of using language to distance oneself from one's own countrymen appealed to Boswell.
Occasional opacity, however, is more than balanced by beautifully evocative writing. "Midsummer Dance" describes the whirling couples depicted in the early-20th-century painting of the same name by Swedish artist Anders Zorn as "curfewless leaves / swept by cyclones of song." The speaker of "The Mission," standing at the corner of Seventh Avenue and 53rd Street in New York, is "swaddled by the savory flatulence of all-nite delis." In "Mangrove," vacation in a Florida-like place
Seems it always ends this way: returning alone

through tangled trees in slanted light, family gone

on ahead, willing pack mule of towels and

sand-caked toys, sandal slap of boardwalk slats

absorbed by the low canopy. Vacation's headlong

extinction slows. Joy-ride cyclists coast past,

clock hands of crank arms backpedaling

in gearless innocence. I pause at intervals

and let the trees breathe for me.
Reviews of poetry always seem to end as a mere measure of the gap between what the critic can say and what a poet of Boswell's capacity can conjure. When it comes to that kind of distance, the odometer, as Boswell writes in "Distances," is busted.
Distances

Travelling at night so our engine wouldn't overheat

we ran out of gas in a one-bar town in central Idaho

although now I've noticed the preceding two lines

are precisely the same length, not approximately but

abruptly at the end of a fenced stretch of military land

we emerged from the car like chrysalides after a week

identically parallel as twin chromosomes holed up in

pine-knotted kabins or kottages, driving me mad one

fermented in a rank vat, two car-camping college kids

devoid of personal hygiene, the air there was splendid

moment with imprecision, refreshing the way those last

two came together, I couldn't have planned it better how

the barkeep (an off-duty sheriff) spared us a gallon or

two in the moon-shade of a great cottonwood outside

the bar contained in estimation fifty characters more or

less. Maps made it nearly impossible to exact exactitude

in that one-bar town with the perfect air, if not for the

sweet man behind the counter who was willing to stop

measuring with a busted odometer the right distance

from nowhere, we could just as easily have ended up

pouring drinks long enough to put our mephitic young

carcasses back on the road again. Or we could have run

out of fuel there with everyone home in bed and

found that where we arrived was where we were.
"Some Far Country" by Partridge Boswell, Grolier Poetry Press, 74 pages. $17. Boswell will read on Wednesday, April 24, 7 p.m., at Norwich Bookstore and on Wednesday, May 1, 7 p.m., at the Blue Horse Inn in Woodstock. Info, 457-7159. norwichbookstore.com, grolierpoetrybookshop.org
The original print version of this story was headlined "Going the Distance"