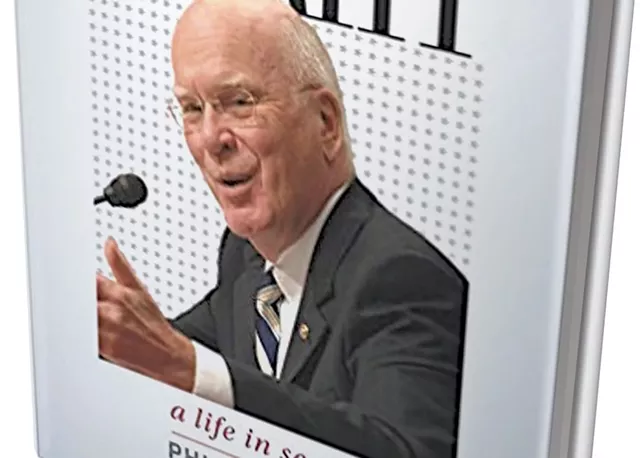 The new crime-fighting caper from Burlington writer Philip Baruth begins with great drama and mystery: A young woman opens an unusual envelope in a Washington, D.C., office building. A puff of poison powder fills the room. It lingers there, refusing to dissipate, and clings to the air "as if the particles themselves have acquired the power of flight."
The mysterious tan powder, military-grade anthrax, will kill five, injure 17 and terrify the nation — though, inexplicably, the young woman will survive. Authorities will finger a disturbed biodefense researcher, but he will end his own life before he can be charged. The protagonist of this unlikely tale, whom Baruth refers to throughout as the "Top Cop," will suspect that something more sinister is afoot.
"I don't think it's somebody insane," he confides to the narrator. "And I think there are people within our government ... who know where it came from."
Fantastic though it may seem, this is no work of fiction. It is the first biography of veteran Sen. Patrick Leahy (D-Vt.), a top target of the so-called "Amerithrax" attacks in late 2001.
Senator Leahy: A Life in Scenes, scheduled for release on May 2, is a surprisingly brisk and rollicking journey through the half-century career of a man Baruth refers to as "arguably the most powerful lawmaker Vermonters have ever sent to Washington."
Arguable, but what is beyond dispute is that Leahy — the fifth-longest-serving senator in U.S. history — has had an incalculable impact on the politics and policy of Vermont and the nation since his election in 1974. He is overdue for a biography, and Baruth delivers.
I was skeptical when the author told me in 2012 that he was planning to profile the senior senator. At the time, Baruth was just finishing his first term representing Chittenden County in the Vermont Senate; he would soon be elected its majority leader. I wondered whether an ambitious Democratic politician could impartially portray the de facto leader of his own party.
"It'll be an independent story," he assured me. "With that said, I'm not the only person who has great respect for Pat Leahy. It's hard to tell his story without conveying a certain amount of admiration."
That admiration shows through in the final product. This book is, without doubt, a sympathetic portrayal that leans heavily on interviews with the subject and his top political aides. They and their peers in Leahy Land have been working for years to enshrine his legacy and imprint his name on whatever they can — from landmark legislation to Burlington buildings.
At its most predictable, Baruth's book buys into their tired tropes, advanced ad nauseam by the senator's press staff. We are reminded early on, for example, that Leahy is "a hardened criminal prosecutor, and yet a lifelong fan of the Grateful Dead and the most sensational comic books, with impressive credits acting and narrating in various iterations of the Batman franchise."
Holy cliché, Baruth-man!
Senator Leahy: A Life in Scenes by Philip Baruth, University Press of New England, 344 pages. $35 hardcover.
The book could have benefited from more critical voices — from the left and right alike. The author argues persuasively that, in the months after the 9/11 attacks, Leahy did everything in his power to rein in attorney general John Ashcroft as they crafted the USA PATRIOT Act. But I was left wondering whether staunch civil libertarians and flag-waving security hawks — not to mention the other members of Congress involved — would agree with Baruth's assessment.
Senator Leahy is not all genuflection. Early on, Baruth explores the blackest mark in Leahy's career: his forced resignation in 1987 from the Senate Intelligence Committee after he leaked its report on the Iran-Contra scandal to NBC News. Forever enchanted by newsprint and television cameras, Leahy's "most damaging political missteps have stemmed from failed attempts to manipulate or control the flow of those same media," the author argues.
While Baruth may not be the most objective observer, he is in many ways an excellent fit for the job. For one thing, he can write. A novelist and English professor at the University of Vermont, Baruth brings a lyrical grace to a subject that could fall flat in the wrong hands.
Equally as important, Baruth understands Vermont. Years before he won election to the legislature, the professor maintained one of the state's most entertaining political blogs, the Vermont Daily Briefing. I still remember delighting in his transcribed 2007 interview with Leahy at Burlington's Rusty Scuffer restaurant — a piece that served as early source material for the eventual biography.
And, as a legislator, Baruth is keenly aware of the tedium of his field. He knows what to omit.
"With all incredible respect to Patrick Leahy, the life of any senator has a lot of process, a lot of committee, a lot of boring moments in rooms with stacks of paper," he said. "That kind of inside baseball is just generally not interesting."
Knowing that, Baruth has mercifully avoided the conventional, comprehensive biography. Rather, he focuses on "three distinct moments in time" that he argues explain the man: Leahy's unexpected elevation from Chittenden County state's attorney to Vermont's first Democratic U.S. senator; his emergence as "the single most effective counterbalance to Bush-era presidential overreach"; and his cameo appearances in five Batman movies beginning with 1995's Batman Forever.
The selection appears arbitrary at first — and at times the author undermines his own construct by sneaking in unrelated chapters about Vietnam, land mines and Cuba. The jump cuts can be jarring, such as when Baruth hops from 1975 to 1992 — though, in fairness, the '80s were largely worth skipping.
Missing are some key chapters in Leahy's life that surely merit further exploration: his rocky first term in the Senate; his tough reelection run in 1992 against then-secretary of state Jim Douglas; his 2008 presidential endorsement of then-senator Barack Obama; and the recent EB-5 investor visa scandal in Vermont. Sadly, Baruth decided to cut an undoubtedly entertaining, 40-page chapter about Leahy's 1998 campaign against Tunbridge farmer Fred Tuttle.
Ultimately, however, the book's structure is more satisfying than expected. Baruth is not trying to tell the definitive story of Patrick Leahy. He's attempting to explain how an awkward, half-blind boy from a rural capital city became a camera-toting senator and occasional Hollywood extra.
"To me, it all traces back to his fascination with and success with media — except when, occasionally, he's not successful," Baruth explained. "And then those stumbles have been the moments where his career has really lurched. But you can always trace it back to media and his use of it."
That begins with Leahy's brilliant transformation of the previously dead-end county prosecutor's job, which he uses to jump in front of every camera he can find. It continues with the effective deployment of a 30-minute campaign film — aired on television stations across the state — on the eve of his narrow Senate victory in 1974.
As I worked my way through the book, I dreaded its final section on Leahy's lifelong obsession with Batman, fearing it would amount to nothing more than celebrity sightings and Joker jokes. But it is here that Baruth flexes his journalistic chops and delivers a tough take on Hollywood's assiduous cultivation of the senior senator from Vermont.
Why does Leahy keep landing bit parts in Batman movies? Because he's doing the industry's bidding in Congress, Baruth suggests.
Ultimately, that relationship backfires when a senator who had mastered 20th-century media underestimates the power of the 21st-century internet. After introducing legislation championed by the entertainment industry in 2012, Leahy finds himself in the crosshairs of Silicon Valley and a generation of activists who believe that the strict copyright protections he seeks will "break the internet." The media backlash is sudden and harsh.
"In a certain way, it was all very Batman," Baruth writes. "Not unlike Harvey Dent, another rising-star prosecutor, Leahy would survive the attack meant to disfigure him, but with his image at least temporarily doubled, two-faced."
Left unsaid by the writer is the fact that, in the era of social media, the lawmaker once referred to in charmingly '90s language as the "cyber senator" has been overshadowed in the digital realm by an unlikely suspect: his junior colleague, internet darling Sen. Bernie Sanders (I-Vt.).
Baruth leaves us with an endearing portrait of a man whose story, for the past half century, has been entwined with that of his home state.
"Vermont and Pat Leahy came of age together," he argues.
Baruth is right about that. And, in Senator Leahy, he has added an important volume to the canon of Vermont political history.