I confess: Up until now I have resisted the Pete the Cat books.
I know they are wildly popular. We even have a few lying around our house that were gifts from friends and family — Pete the Cat and the New Guy and Pete the Cat: Five Little Pumpkins. I get it. He's cool. He's a cat. He's inclusive. He's helpful. But still, I sort of denied him in that way a high school kid tries to pretend that "The Current Coolest Thing" is not for them, because, you know, they're cooler than that.
I finally gave in when I bought Pete the Cat and His Magic Sunglasses from one of my 5-year-old daughter's school book orders. Hadley and her 3-year-old sister, Pippa really wanted the book. So I filled out the form and sighed at my inability to resist my kids' literary demands as I wrote the check.
The first time I read it, I realized, for about the hundredth time since becoming a parent, that it's not really about me.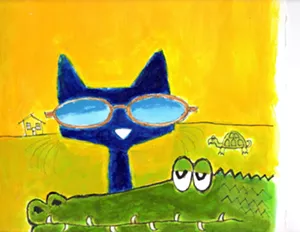 The narrative starts with cool cat Pete having the "blue cat blues." Pete's friend, Grumpy Toad, pulls up on his motorcycle and shares his "COOL, BLUE, MAGIC sunglasses" which instantly "help you see things in a whole new way." Grumpy Toad's sunglasses do the trick, improving Pete's mood immediately, and the next page offers a closeup of Pete wearing the new specs, looking around at things, ears perky and the sun shining down on him. He sings out a quick rhyme which is repeated through the story as he shares his sunglasses with other friends who are feeling down and out: "The birds are singing. The sky is bright. The sun is shining. I'm feeling ALRIGHT!"
I surprised myself with the singsongy way in which my voice read the rhyme. But what really caught me off guard were the comments from the girls through the next bit of the story where Pete meets other friends who are also down in the dumps. Pete comes across Squirrel, whose spirits are easily lifted by the specs, then Turtle who, Hadley pointed out, would be better served if Pete flipped him right side up rather than shared the glasses. When Pete comes across Alligator, Hadley rightly observed that the reason he's blue and nobody wants to play with him is that, well, he's an alligator. The obviousness of these comments struck me as funny. But what I also noticed is that the girls were tuned in to every single page. At one point Pippa, who is studying shapes in her preschool class, pointed to a stop sign and yelled, "Mama! Octagon!"

It's the message at the end of the story, when the glasses break during a skateboard accident, that really got me. Wise Old Owl counsels Pete: "You don't need glasses to see things in a new way. Just remember to look for the good in every day." There are so many children's stories that offer messages like this one, something that you yourself probably try to impart on your kids. But it is undeniable — Pete the Cat is cooler than you. And me. Your kids like him. So let him take the lead on this one.