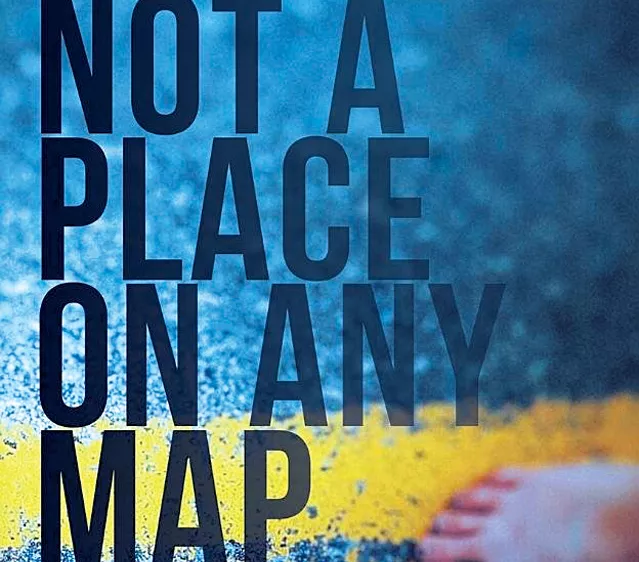 Is it possible to tell a life in vignettes — prose "snapshots" no longer than a few pages? The ultra-short form is certainly friendly to a culture that encourages us to shorten our thoughts to 140 characters. But Not a Place on Any Map, the first book from Vermont author Alexis Paige, reminds us that brevity need not be glib. Winner of the annual Vignette Collection Award from Australia-based Vine Leaves Literary Journal, it's a wrenching and lucid portrait of an unfinished life in bite-size pieces.
Paige has been widely published in literary journals and teaches at Vermont Technical College, Bay Path University and Community College of Vermont.* Readers of Seven Days may remember her striking 2008 essay "Life After Jail," in which she wrote about her two-month stint in a Houston prison for felony drunk driving, and its aftermath.
Not a Place on Any Map pivots around that experience and a few others, detailing Paige's long slide into addiction and shorter, harder road to recovery. But her snapshots stay outside the prison walls, as if that locus of forced immobility is one of the few places in her life she chooses not to revisit here.
As its title indicates, Not a Place is about mobility, in both space and time, and its discontents — about arriving and departing, belonging and not belonging, and about charting the "places" we can't escape because they live within us. Chief among those virtual places is addiction: "You can't remember how you got lost, the details," Paige writes in "An Alternative or Supplemental History." "How you got there, to that liminal no-place between the dead and the living. Off the map."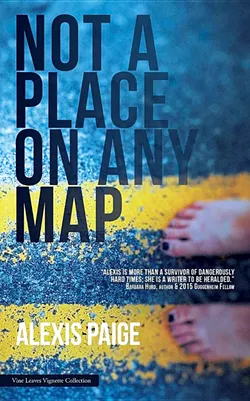 Not a Place on Any Map by Alexis Paige, Vine Leaves Press, 88 pages. $9.99.
Before Paige landed in "no-place" — and found her way out — she was already a seasoned traveler. The collection opens with the four-page "An Autobiography of Arrivals," a life story told in five present-tense vignettes, each named for a compass point. In the first, the author is 6, and her single mother is moving the family west for unspecified reasons: "We are on the run from some apprehension of Mom's, and therefore our own."
In the second and third vignettes, the narrator is a few years older, traveling between her parents' homes in Texas and New England. In the fourth, she's in her early twenties, "without history" in San Francisco. And in the fifth, our adult narrator has settled in Vermont, where "flight still flutters through me," Paige writes.
After this rapid montage of personal history, Paige slows down to tell a more detailed story, taking us from childhood to college to her drunk years and beyond. Some of her vignettes are relatively conventional past-tense narratives; others use second person or present tense to immerse us in pivotal or traumatic moments. A few are as free and elliptical as prose poems.
But what doesn't change is Paige's vital command of description, her power to convey how the sights and sounds of a moment merge with its emotions. In "Arrivals," for instance, the narrator's excitement builds as "the lights of greater Los Angeles wink through the twisted canyons." She sways to the Pointer Sisters on the radio, "and for a moment, I am just liquid sequins, hip action, and perfectly timed snaps." Paige brings places to cinematic life with a few words; later in the same vignette, Boston seen from the air is "forested nubs and sardined houses."
Her language remains distinctive even when the object of description is less concrete — or the memory has been partially obliterated by alcohol. Compressed prose and dark humor give a bite to Paige's recollections of a downward slide. "I noticed with peripheral awareness that my friends had since left the party of my permanent attendance," she writes in "Drunkalogue 1." "I hopped states like bar stools."
Like poetry, Paige's vignettes ask the reader to do some of the work, picking up on clues to build a narrative. Occasionally they depart from personal narrative altogether, as in "Allegory, America, 2015," a sinister meditation on our nation's inability to confront its long history of racially motivated violence. "She [America] failed her history classes, on the wars and ravages; she slipped the noose of the lessons of the lynchings," Paige writes. "The colossal weight excised from the textbooks, her conscience mute."
Race is a theme threaded subtly through the vignettes, as Paige acknowledges the role that privilege played in her own experiences. Describing her release from jail in "Getting Out — 1201 Baker Street to 1901 Binz, via Fannin, 3.9 Miles," for instance, she freely acknowledges that she was too eager "to get the fuck out of there" to offer her fellow ex-inmates a ride.
There's no sentimentality in Paige's depiction of finding a partial refuge from those memories in Vermont, either. In "The Geography of Happiness, Randolph, Vermont, 2012," the narrator finds herself seeing her new home as "Too white, too smothering. A polite way to think I am bigger than this place." Then she recognizes her wanderlust as the symptom of a lifelong struggle: "I am my own problem — restless, unsatisfied."
Whether Paige finds lasting satisfaction in the Green Mountains or not, readers can be sure to find painful insights and poetic prose in this small book that maps her life so far.
"Composite Sketch"
I am my mother's daughter. My father's daughter. Not Daddy's Little Girl. Josh's older sister, forever, and to the moon. I favour my paternal aunts, with our fair, freckled skin, and our black-Irish eyes, the perfect little diamond of fight in them. Our oil-slick hair. I am New Hampshire and Massachusetts (and now Vermont), minus the scowl and accent. But I can drop my post-vocalic R's on a dime. And I will, if I think it might please you.
I am a creosotic whiff of Phoenix, where Josh was born. I am peelings of rattlesnakes and sunburns. If we're at a cocktail party and you present with flat vowels and the sibilant whine of the Midwest, then I was born in Chicago. In Mom's version her water breaks on the Elevated Train, but this is classic hyperbole. I gave her a belly kick. And it wasn't the EL — it was the commuter train out to Hinsdale.
Later, I am passing at the Boston Yacht Club in knockoff topsiders, holding my left hand up to the sun in an L-formation to remember port from starboard. P-O-R-T, four letters; L-E-F-T, four letters. I am a purple polyester accordion cheerleading skirt for the Catholic Youth Organization and estuary waders for the mud-flats at the Jackson Marine Laboratory at the University of New Hampshire. I am the cream-swipe of tawny lipstick and wood-smoked flannel and Doc Martens. I am San Francisco and Dr. Dre's Chronic 2001 album and skinny and handkerchief tops and one-night stands.
Later still, I am fat and Houston and Seven Jeans and felony drunk driving and two months in the Harris County jail. I am the following orphaned chapter titles:
• Revelations of a Wet Brain in Stilettos
• Mirrors & Beer Goggles & Winged Eye Liner, Oh My!
• In Case of Emergency: Gin Recipes
• No Cocaine For Me, I'm Taking It Easy This Week
• Does My Hair Smell Like Fried Calamari?
I am Dad's disappointed face and Mom's helplessness and orange jailhouse scrubs and one good herringbone suit for the trial that I bought on sale at Macy's after stashing it in the juniors' department and asking Dad for a "loan."
I am all of the above, a mash-up. A composite sketch. I am Punky Brewster; no, Ally Sheedy; no, Neve Campbell; no, Tiffani Amber Thiessen; no, the Mom from Gilmore Girls. A passable Gyllenhaal. I am Velma from the Flintstone's, as my bunkie Yolanda declared with finality, while slammin' bones on the day room table and watching stories on the tiny jail television.
I am something else that finally gave, a barrel over the falls. In AA groups, I hear that I should be "grateful for the gutters," the consequences, the pain, and social facility. I should be grateful for these ranging experiences, but the truth is I am tired of fitting too many descriptions. Goodness requires too much, almost as much as the badness does not.
*Correction, January 11, 2017: An earlier version of this story misidentified the schools at which Alexis Paige currently teaches. She teaches at Vermont Technical College, Bay Path University and Community College of Vermont.