Courtesy Of Saint Michael's College
Greg Delanty
The latest collection of poems from Saint Michael's College professor Greg Delanty, No More Time, is many things: a bestiary, an abecedarius, a glittering display of formal craftsmanship. And the book is a fist shaking in the face of humanity's failure to take meaningful action against mass extinction and eco-collapse.
Sound complicated? It's actually not at all. While the poems adhere to a rhyming structure with which few poets dare to experiment, they're also remarkably straightforward and easy to read. "...The honeybees / are more waning than waxing, warns apiology: / queens, drones, nurses, guards, whole communities. // Protect them, the amber labor force of ecology. / Already, this word-comb is a fossilized apology," Delanty writes in "Honeybee."
A bestiary is exactly what it sounds like: a compendium of animals. Popular since ancient times, the form has been constantly revived over the years by writers and artists, including Henri de Toulouse-Lautrec, Jorge Luis Borges and, most recently, Brattleboro author GennaRose Nethercott, whose collection of stories 50 Beasts to Break Your Heart is forthcoming from Knopf Doubleday Publishing Group.
But because No More Time's bestiary is also an abecedarius — that is, it proceeds in the order of the alphabet (golden toad, honeybee, ibex, and so on) — Delanty's book bears closer resemblance to University of Vermont professor Antonello Borra's 2011 AlphaBetaBestiario, a bilingual (Italian and English) poetry collection by Burlington's Fomite Press and illustrated by Delia Robinson. Borra's book endows the animal kingdom with speech, letting every creature from l'albatro (the albatross) to la zanzara (the mosquito) ruminate on their place in the family of things.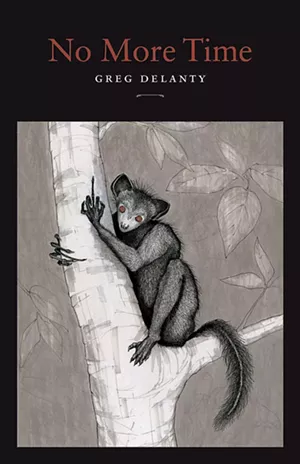 Courtesy
No More Time, by Greg Delanty, LSU Press, 84 pages. $17.95.
How is Delanty's alphabet-bestiary different? Well, it's composed in formal sonnets, for one thing. As if that rigid structure weren't enough, Delanty writes them in flawless terza rima — the three-line chain of rhymes that Dante Alighieri invented for the Divine Comedy. Such is his control of the form that Delanty often employs a few internal rhymes, too: "Your extraterrestrial, wide-eyed dread / and manicured long nails scare, / magnify into nightmare. Folks are misled // by their imaginations to needless fear" he writes in "Aye-Aye."
Rather than the singsong gallop of Shakespearean sonnets readers may remember from English class, the terza rima structure allows Delanty's deft rhymes and wordplay to permeate the poems while simultaneously feeling conversational.
Divided into three parts, the alpha-bestiary comprises the first and third sections, slyly titled "A Field Guide to People." The middle section, "Breaking News," provides a respite from both the formal sonnet structure and the animals, and it allows the poet to stretch out and more clearly articulate the political project of the book.
In "The Great Ship," an evening song of cicadas and crickets transforms into a Titanic serenade: "...the quartet / that comes out on deck and plays away // as the great ship goes down. We listen quietly / from our deck's lifeboat. Nearer, my God, to thee. // Nearer to thee. Play on, brave, noble souls. Play on."
Is this melodramatic? Science says no: According to a chorus of recent studies, the Earth has entered a sixth extinction, with 30 percent of North American birds already gone, in addition to, as the New York Times put it in 2017, the "insect Armageddon." Many of the animals Delanty enumerates are on the brink of disappearing; some are already gone, as he observes in "Golden Toad": "Scary / to read frogs and toads are our coal miners' canary." The sonnet is an almost comical understatement of the frightening news of widespread species loss.
And what about the fate of our own species facing the climate crisis? The worst-case scenarios might still be avoided if humanity takes drastic action now. Still, the late physicist Stephen Hawking once called for humanity to colonize Mars within the next century in order to save ourselves from extinction.
Delanty confronts these sobering facts with honesty instead of shrugging cynicism. One poem from the book's middle section, "Any Way You Look at It," is an unpunctuated fugue of the book's title:
No more time no more time no more time no
more time no more time no more time no more
time no more time no more time no more time...
And so on. While this might seem at first like a repetitive act of copypasta, it happens also to be a double acrostic. Look closely and you'll see the title also repeats vertically, on both the left and right sides of the poem. Acrostics have a close association with abecedarians, going all the way back to the Book of Lamentations in the Hebrew Bible. Not simply a nod to tradition, Delanty's book is a lamentation, as well, one that seems calculated specifically to provoke readers into urgent awareness.
The final poem, "Envoy: Zayante," holds true to the multiple senses of its title. An envoy is a farewell, a postscript poem; it also casts the poet in the role of diplomat for humanity. After all, as Percy Bysshe Shelley wrote in an 1821 essay, poets are "the unacknowledged legislators of the world."
"Envoy: Zayante" closes with "Enough Gregorian cant and rant. We're done. Adelante." That last word, Spanish for onward, fits the rhyme scheme like a glove. It's also a sly homophone for the author's name: both a signature and a call to action.
The Red Eye
A middle-aged woman weeps down the aisle,
rests her head against the windowpane.
Her dyed loam-brown hair is out of style,
gray creeps back at the roots. I rack my brain.
She reminds me of someone I can't put a finger on.
Who knows why in the world she cries, what pain
or hurt? I want to ask her if I can
help, if she's okay. Perhaps she'd not be
embarrassed, welcome concern.
While I shilly-shally, she
closes her eyes, nowhere else now to go
but sleep. The angle of her head on the pane reminds me
of the tilt of the earth. Bingo,
I knew she looked familiar: Gaia, leaning on the window.