Plenty of children's books have big ideas to ponder and inspirational messages to glean, but sometimes kids — and parents — crave something a little lighter. If you're in the mood for a silly read, and don't mind a little scatological humor,
Meet Wild Boars
by Meg Rosoff and Sophie Blackall is an excellent choice.
"Beware of this book," reads a warning on the front flap. "It is full of wild boars! They are dirty and smelly, bad-tempered and rude, so whatever you do, do not try to make friends with them." My kids — Mira, 6, and Theo, 3 — were enticed from the get go.
On the first page we meet Boris, Morris, Horace and Doris, beasts so insufferable that they will assault you with their tusks, stomp on your treats and make nasty smells, even when you are polite to them.
Doris is the worst. "She is stinkier than a stinkpot turtle. She is uglier than an ugli fruit. She is bossier than a Bossysaurus," Rosoff writes. As I read, Theo studied the small illustration of the Bossysaurus, wondering aloud whether such a creature really exists.
[jump]
The book explores what might happen if you invited these wild animals into your house. A series of humorous illustrations show a boar playing dominoes while dressed up like a Viking, a snorkel-clad boar in the bath tub and three wild boars cuddled up in bed.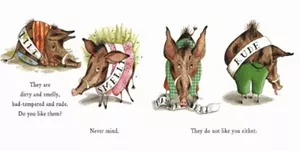 On the next pages we see that peaceful cohabitation with boars is just wishful thinking. Horace soaks in the toilet, Morris pokes at a little girl's jumper with his fly-swarmed snout and Boris busts up puzzles and topples a bottle of glue.
If the retro-feeling pictures look familiar, it's because Blackall is also the illustrator of the wildly popular Ivy and Bean series of chapter books. Her drawings are cute without being cutesy.
So cute, in fact, that her rendering of a big-eyed, diaper-clad baby boar toward the end of the book almost convinced me and my kids that the creatures weren't so bad after all. But then we turned the page and saw the dirty footprints and big, stinky pile of poop the little guy left behind and thought better of it.