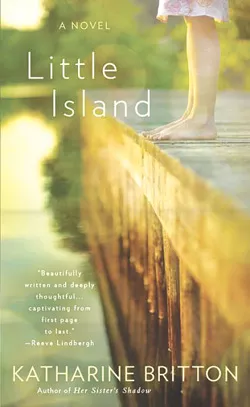 For the first half of Little Island, Norwich author Katharine Britton's unsettling second novel, 64-year-old innkeeper Grace Little is stymied and confused — and we readers are confused right along with her. It all starts with a scene in which Grace, tending to her dying mother, Joan, finds a faded 1937 photograph by her bedside. It shows Joan as a young girl, surrounded by two girls who look like Joan's sisters. Joan wants these people to be invited to her memorial service after she's gone — the only problem is that Grace has no idea who they are. She's spent her life thinking her mother was an only child.
As the novel gets under way, readers quickly learn that Joan is still the single most important person in her daughter's life, even after she's been dead for three months. Yet Grace spends most of the novel realizing that her mother's early life was kept secret from her.
Little Island is built on this kind of mystery. Grace's grown children, Joy, Roger and Tamar, make their way to their parents' inn on the coast of Maine for their grandmother's memorial, each carrying secrets, having secrets kept from them or, often, both. Britton uses first-person narration for Joy and close third for the rest of the characters, switching back and forth among them at least once in most chapters.
Being with these characters is like sitting through a family dinner with people you don't know well, all of them talking at once but none of them willing to tell you what's really going on. Their dialogue gives us lots of details of their seemingly idyllic existence on the island named for their family — the way the sunlight glints off the rocks, the names of all the flowers, the places they picnicked on the nearby islands and the shipwreck stories they heard growing up. But they won't talk about anything that actually matters.
From time to time, the Littles mention a cataclysmic event from the past, but they refuse to reveal any details about it. It's because they can't. They have each, in various measures, been lying to themselves about that event, and most of the other important aspects of their lives, for the last 20 years.
It's a difficult job for a writer to populate an entire novel with people like this — confusing characters who are hard to get to know precisely because they don't know themselves all that well — but Britton succeeds at it. The novel begins from the point of view of Joy, Grace's daughter, as she mourns her son leaving the nest for college. Britton builds tension from the first pages, when Joy takes refuge from her stress and emotional pain by surreptitiously cutting herself.
But then we meet Joy's sister, Tamar, who ratchets that tension up several notches. Tamar is the sort of person we used to call "type A" — so workaholic, self-absorbed and freaked out that she makes Joy look like the picture of emotional health. She shows her true colors when her adorable twin 8-year-olds enter the room — Tamar's husband provides most of their care, and she barely seems to know who they are. She's almost afraid to touch them.
Finally, there's Roger, Tamar's twin, a longtime substance abuser and general layabout who serves as the novel's touchstone, its most lied-to and lied-about character. Roger seems to have no trouble believing his own bullshit. But he's the nicest of the Littles, the most loving and trusting. While his siblings dread the trip to the inn, he loves the place so much he dreams about taking it over one day. When Roger mentions the idea to his father, Gar, during a quiet moment, Gar shoots it down quickly and silently. Roger has always been the sibling who let everybody down, but he's also the one they look to when things start to go wrong. They just hope he'll stay sober long enough to do some good.
We spend about half the novel moving through multiple shifts in time and point of view to get to know Grace, Gar and the grown Little children, peering through these characters' smoke screens to see who they really are. Britton's tight focus on the minute details of interpersonal relationships makes the novel honest and realistic, though the Littles may sometimes seem as annoying to readers as they do to their own unknowable relatives.
Britton's narration constantly plays up the tension, and the dialogue is realistic primarily for what the characters don't say.
During the novel's first half there are pointed references to a car crash two decades earlier, but the details enter the story piecemeal and don't make much sense at first. It's only when we start to see these characters come apart from the stress of all their secrets that the story tightens up and becomes clear.
Little Island's emotional climax, in which the reader gets a glimpse of the secrets everyone's been keeping, takes place as it does in so many families — around the dinner table, when everyone is supposed to be discussing something else. That leads to an action-packed ending where all is resolved and revealed. It takes a while getting there, but Britton makes it worth the wait.
"Little Island" by Katharine Britton, Berkley, 320 pages. $15. Katharine Britton reads from and signs Little Island on Thursday, September 12, 7 p.m. at Phoenix Books Burlington. Info, 448-3350. phoenixbooks.biz