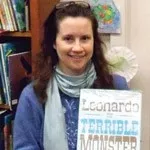 Achilles' summary
"You may not have 1642 chompers like one of the monsters in this book, but you can really sink your teeth into this read. Leonardo is a terrible monster. He tries to be scary but just can't seem to frighten anyone. That is, until he finds scaredy-cat Sam and decides to scare the tuna salad out of him! Then, Leonardo has a really big choice to make."
Favorite part
"Mo Willems is one of my favorite children's book authors. His books are great to read aloud, offering lots of opportunities for a reader to be animated in showing the emotion of the character. In Leonardo this comes during Sam's worrywart meltdown."
Fun facts about Mo Willems
Willems is both an author and illustrator and has created many popular characters. He sometimes incorporates the main characters from one book into other stories. For instance, Leonardo can be found as Trixie's stuffed animal in one of Willems' latest books, Knuffle Bunny Free.
—"The Librarian Likes" features a different librarian and book each month. Got an idea for a future LL? Email us at ideas@kidsvt.com.